if you're thinking of remodeling your kitchen--or if you're just a fan of chic interior design--then you need to see these beautiful design ideas for your kitchen. Kitchens are the heart of the home--where company gathers for parties, where delicious meals are cooked, and where family ventures in a couple (or a dozen) times a day. For these reasons, your kitchen should be easily accessible. warm, and of course, aesthetically pleasing. I've put together some gorgeous design ideas for your kitchen that will definitely have them coming back for seconds and thirds:
---
1

Upholstered Furniture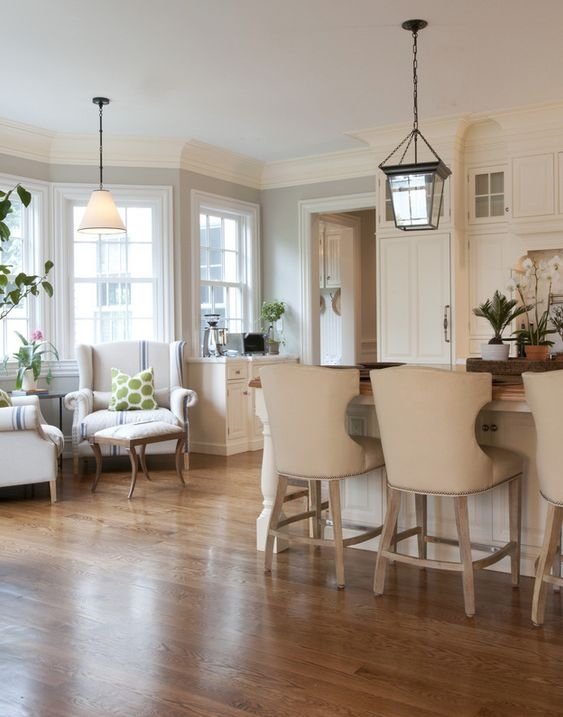 Starting off this list of design ideas for your kitchen is utilizing upholstered furniture. Often times at islands you see bar stools, or wooden chairs placed at kitchen tables, so why not switch up your look with a little fabric? Changing the seating to these wing-back fabric chairs really changes the look of the room and gives a designer feel--not to mention the seats are probably much comfier than wooden stools! If you have kids or are worried about stains and spills, consider using slip-covers that can be taken off and washed periodically so you can still get the upholstered look without the stains.
2

Rustic Chevron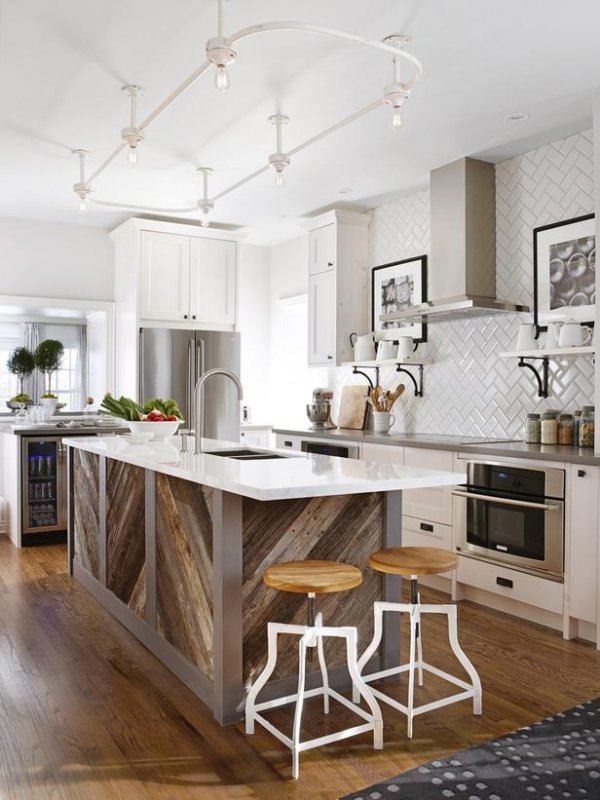 In this picture, the designer used reclaimed wood in a chevron design on the island for a rustic and barn-like feel. This design is also mimicked with the chevron tile on the backsplash continuing up into the ceiling. The white island countertop and walls brighten up the wood and main grey countertops, and modern design and appliances work perfectly against the otherwise rustic feel.
---
3

Exposed Cabinets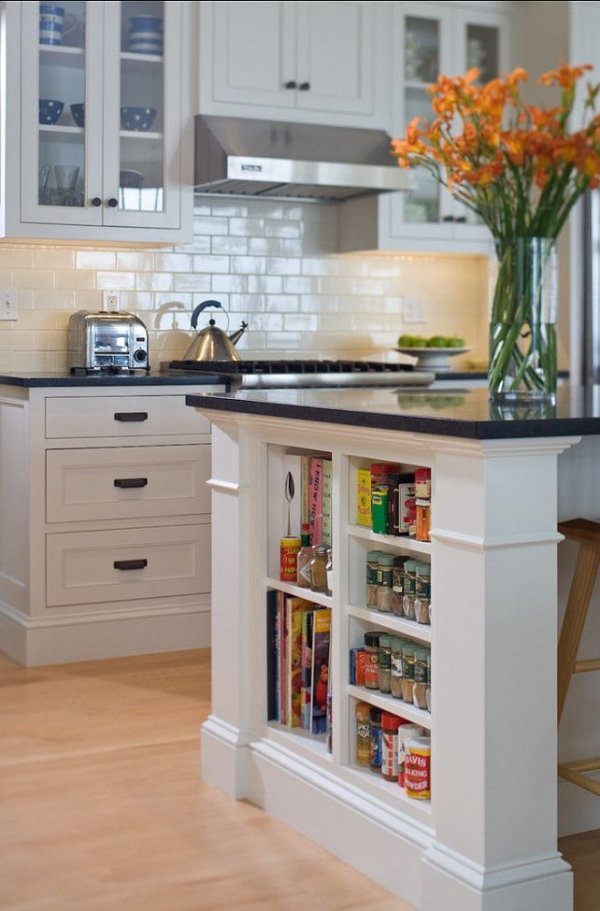 Here, this homeowner opted for no cabinet doors on their island for a more open feel. This style of shelving is perfect for cookbooks, spices, and any other odds and ends you wouldn't mind your guests seeing in plain view.
---
4

White on White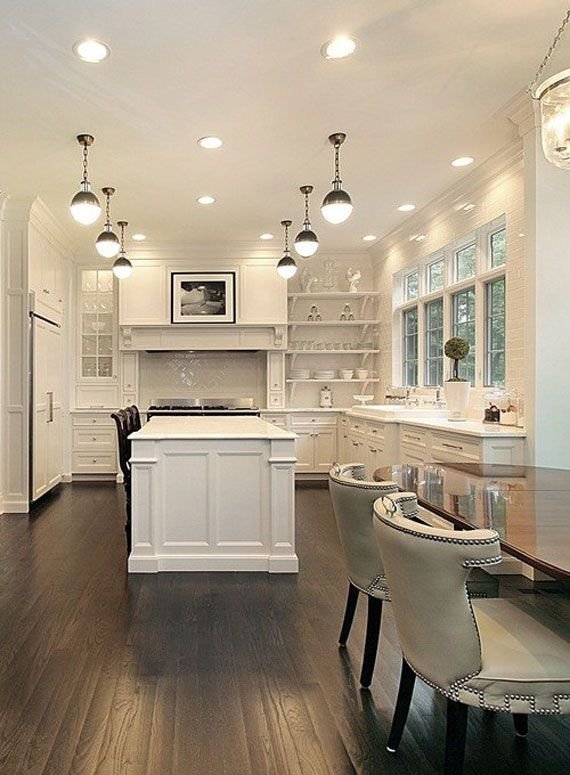 The look of an all-white kitchen is so sleek and popular. These homeowners even took it a step further and chose white dinnerware and accessories to place on their shelves so it looks as though just the outline of the pieces are popping through. However, what's nice about this design scheme is that the floors are a really rich, dark tone to help break up the white monotony, and the kitchen table and chairs also add a bit of depth.
---
5

Slate Contemporary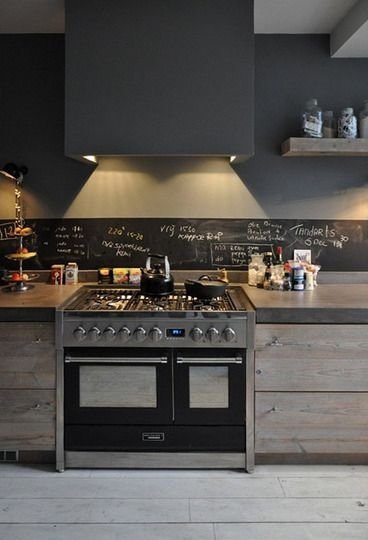 This ultra-chic and modern kitchen has tons of counter space and a really industrial feel--a chef's dream! It appears as though the countertops are made from slate, giving it even more of a rugged look, and the chalkboard backsplash is absolutely genius. Write out recipes, reminders, or just some fun cooking inspiration. The best part is you can wipe it off and start fresh the next day.
---
6

Rotating Sink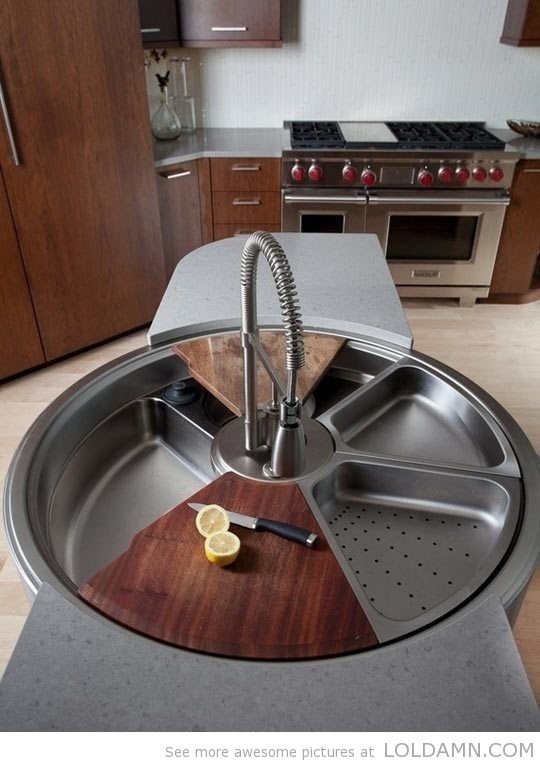 Can you believe this sink? A cutting board, sink, strainer, etc. all in one shot. Just spin it for the section you need to use without sacrificing counter space. How cool!
---
7

Zinc Countertop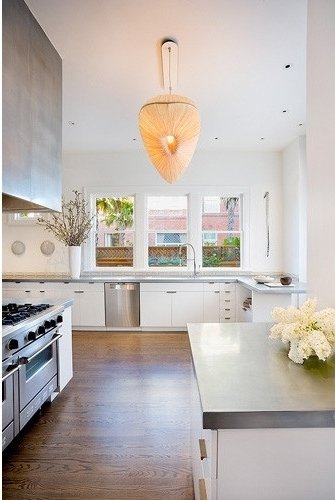 Zinc is a really sleek and shiny metallic look for your kitchen, but just know that it will develop a patina over time (discoloration) and is susceptible to scratching. However, many homeowners choose zinc just for this reason because it gives off a rustic charm.
There are so many gorgeous and unique kitchens out there that's it's hard to put a list together of just a few design ideas. Whatever you choose to do in your kitchen, make it custom to your needs and likings and don't be afraid to go out of the box and try something a little funky. Have you ever done a unique kitchen design scheme? We'd love to hear about it!
---
Comments
Popular
Related
Recent