Whether you're living in a tight space or a college dorm, you're probably in need of some of these storage ideas for small apartments. Especially if you're a young professional who just made the move to a big city, it may seem as though all of the stuff that you brought along on your move is like trying to fit a square peg into a round hole. Fear not, apartment-dwellers—we've compiled a list of some simple and practical storage ideas for small apartments that you'll be sure to love:
---
1

Bathroom Crates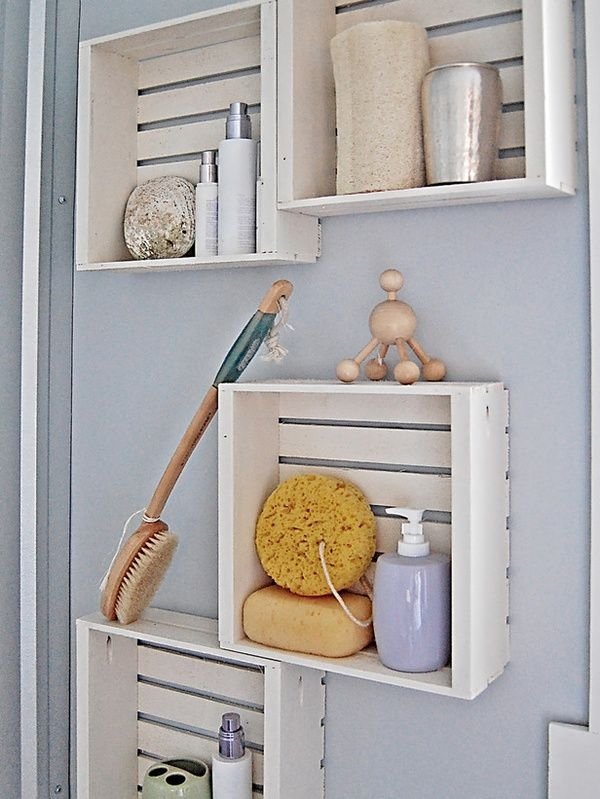 One of the many key storage ideas for small apartments is that you need to utilize every square inch of space. This means storing things vertically and utilizing perfectly good wall space that isn't already spoken for. These crates, when hung flush against a wall, create the perfect bathroom storage for any odds and ends and little things that you just cant seem to find space for. You can find wooden crates like these at craft supply stores and then paint them to match your decor.
2

Mason Jar Holder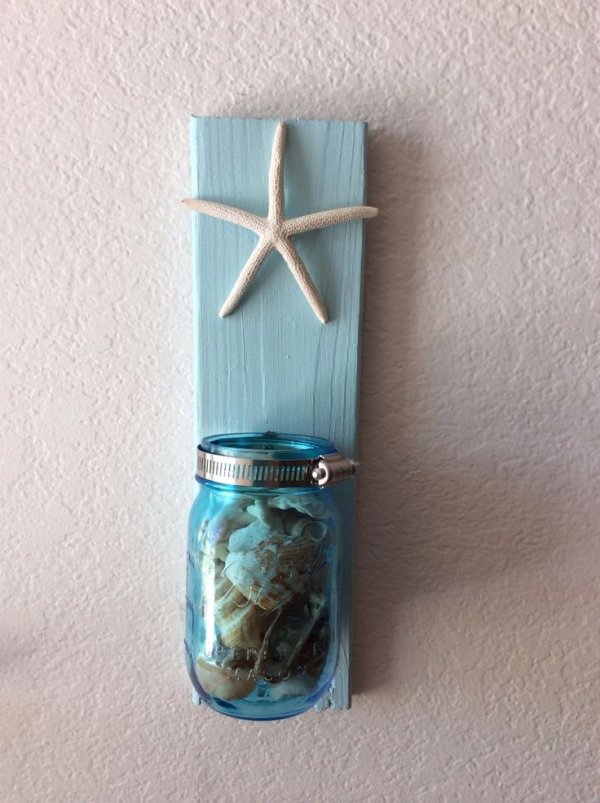 If you're like most people and follow the mason jar craze, then you'll love this holder for toiletries that just won't fit in the medicine cabinet. In this picture, the mason jars are held up on the wood plank with metal hose clamps that have been drilled into the wood.
---
3

Storage Headboard and Footboard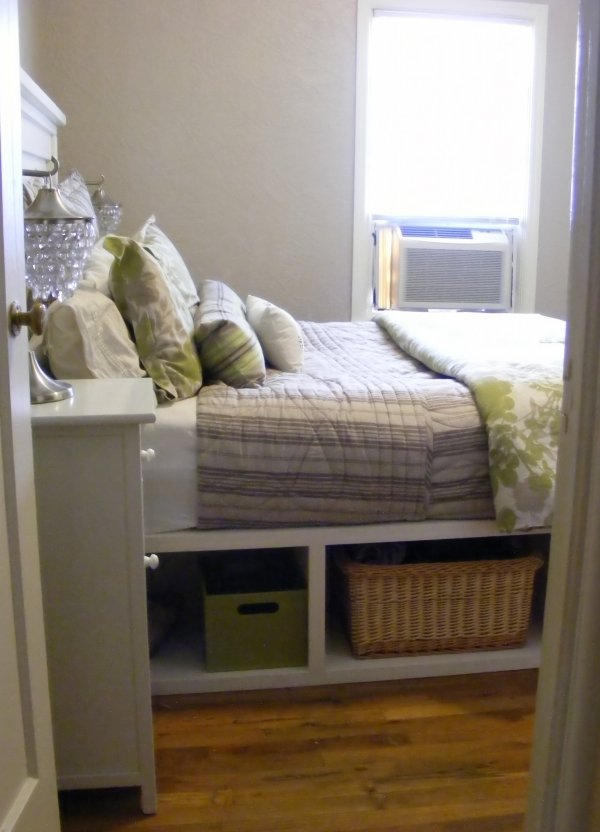 Even if you have a small room, this idea will help maximize storage and is attached right to your bed. Vertical shelves and low, horizontal bookcases like the picture above can be bought at just about any houseware store like Target, Wal-Mart, or Ikea. If you want, you could even place a few vertical shelves next to each other directly behind the bed for even more shelving space.
---
4

Platform Bed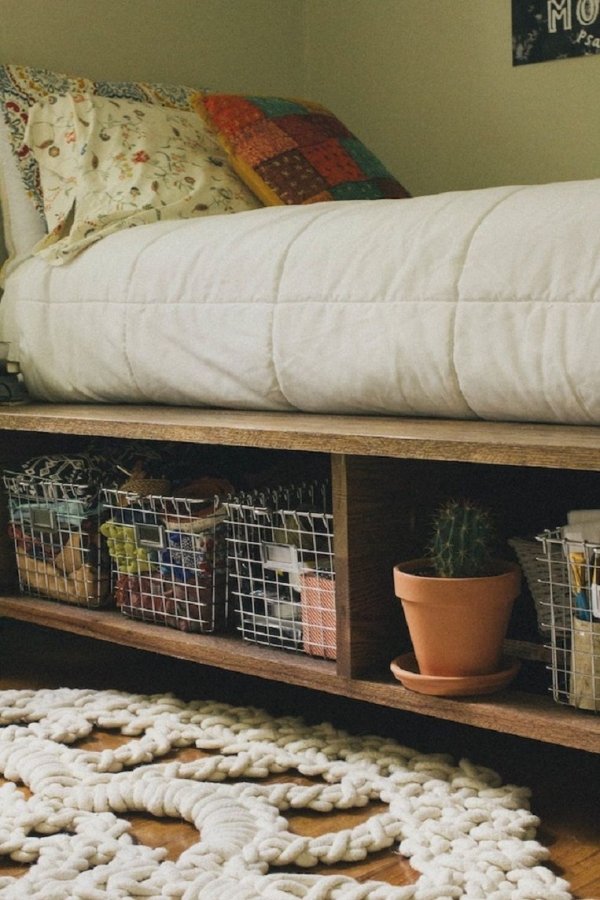 I strongly suggest a platform bed since many have amazing storage options underneath, some even with drawers. Plus, platform beds only require a mattress, so you can save money on a box spring. If you're currently or were once a college student, you understand the importance of utilizing any and all under-bed storage. Same goes for your apartment too!
---
5

Glass Cabinet Shoe Organizer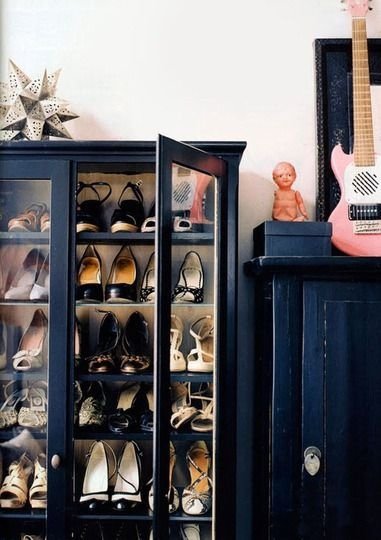 Tons of shoes and nowhere to put them? Seems like a problem for a lot of girls. For a pretty way to display them and keep them organized, use a glass cabinet (which again can be found at most houseware stores) and give those puppies the recognition they deserve.
---
6

Hanging Baskets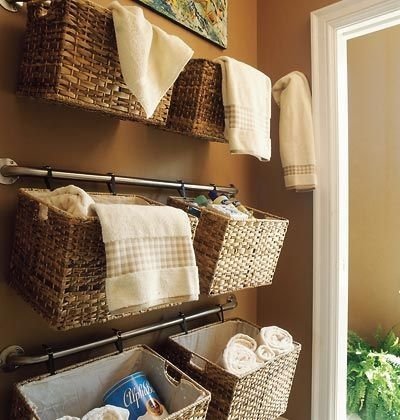 This idea can be used for just about any room in the house, but for this specific picture, we're going to focus on the kitchen. Hang a couple of wicker baskets on towel bars lined up vertically on your kitchen wall, then fill the baskets with towels, measuring cups, utensils—you name it!
---
7

Kitchen Shelves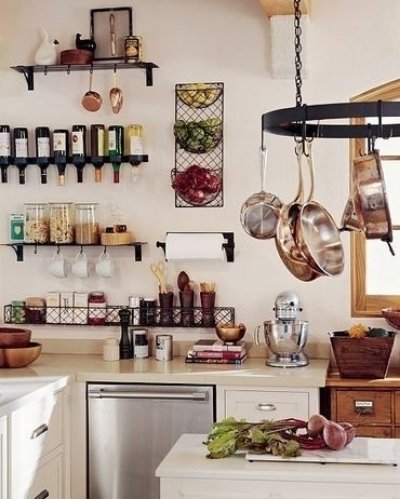 Again with utilizing the vertical space! This kitchen has really gotten it right in terms of storage. Several shelves and baskets staggered up the wall make for both easy and appealing storage. This kitchen also has a hanging pot rack, which is absolutely essential in a small kitchen, especially if the cabinet space is lacking.
Having a small apartment isn't the end of the world, and in fact, it helps you get more creative and thrifty with your space. Storage doesn't have to be expensive, and in the case of many of these DIY ideas, it's actually quite affordable. Have you ever had to get creative in terms of storage for your small space?
---
Comments
Popular
Related
Recent