"DIY": A term every handy man, furniture store owner and many more shudder to hear, and yet new DIY projects for mommies and other everyday, untrained people continue to surface constantly! Even though the professionals would wish you to believe that you need their help to do everything, and that you need to buy the latest gadgets, gizmos and decor to be "trendy," it simply isn't true. There is a wealthy of possibilities to make you house a stylish and still save hundreds of dollars! As a "DIY mom," I love to collect easy DIY projects for mommies such as myself, and now, I'm here to share with you some of my favorite ones!
Table of contents:
1

Wipe Cases or All Purpose Tools?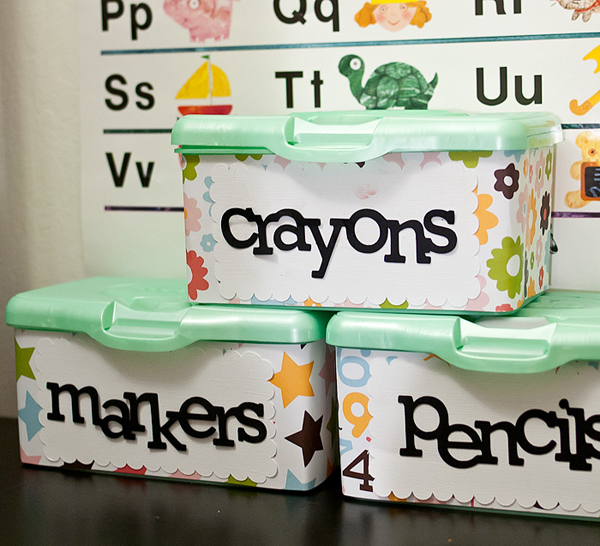 If you are the mother of a "plentiful pooper" like I am, than you have had many wipe cases come through your house, am I right? Well, before you throw away your next one, try one of these DIY projects for mommies that use wipe cases. The possibilities are endless! You can decorate them and use them as grocery bag holders, crayon and pencil boxes and as organizers for small items around your house. You can also use them as first aid kits for your vehicle and extra snack boxes for each of your children on trips. The little plastic opening part on the soft wipe containers make great doors for cardboard houses for your little girl! And, it turns out, they come in handy for yarn separation and storage... ribbon too!
2

Coke Bottle Frog Container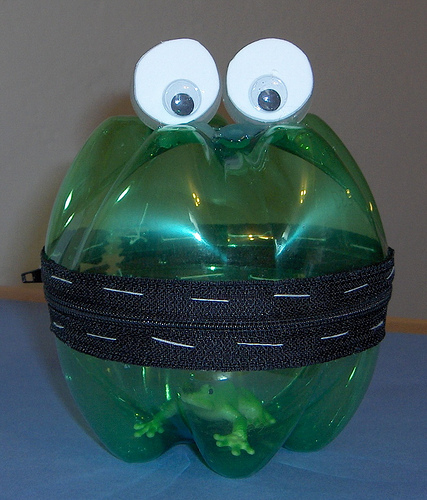 Little kids love to find things and keep them. Now, when I say, "things" I mean rocks, feathers, leaves, things of no value to us mean the world to them. So why not give them a special place to put their treasures? This coke bottle frog is so easy to make! And he is so cute! You just take the bottoms of two coke bottles, make tiny holes around the cut edge with a push pin, then sew a zipper onto the bottle, through the holes. Finish by adding eyes of your choice and there you have it! (Complete illustrated directions can be found in my sources.)
3

Hide the Toys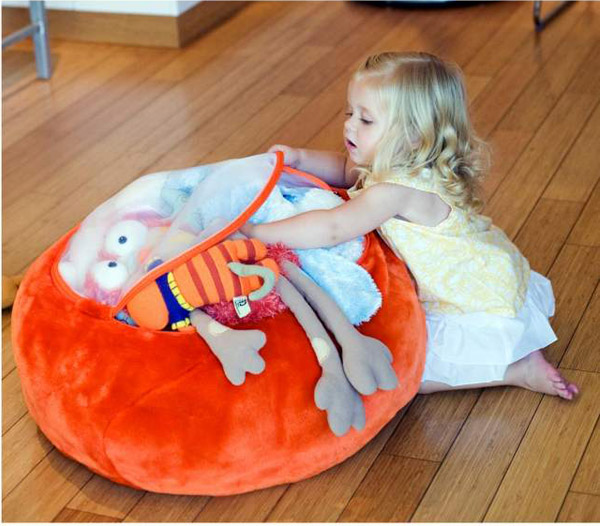 You can either make a bean bag slip cover, which is relatively easy with a little sewing experience, or order you one from Pottery Barn and instead of stuffing with beans, stuff it with stuffed animals! This way, they are easily accessible for the kids to play with, and also make a great place to lounge and read a book! How awesome is that?
4

Play Lego's Much?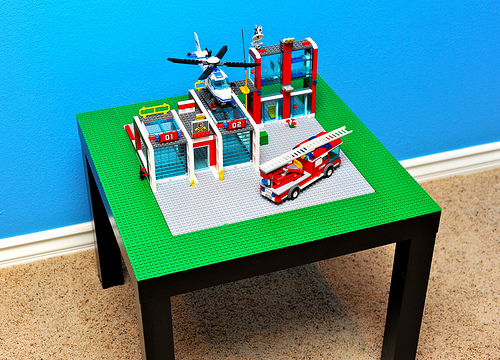 There are so many different ways to make this that it isn't funny! Believe me, I sorted through tons of pictures of different ideas before I found one I could use for the article. Basically, the idea is to purchase some of the larger flat bases for Lego's and screw or glue them to whatever you want, whether it me an old nightstand with drawers for storage, or an old desk, or several Rubbermaid storage drawers lined up with a board across all of them making a counter, of sorts. I'm telling you, anything goes. But it looks amazing, and your kidswill have many years of fun with it, so I'm sure you'll get more than your money and time's worth out of it!
5

Art on the Fridge

My kids are always giving me new pictures that they have colored, and my refrigerator is cluttered with beautiful artwork. While I enjoy every picture, it becomes a little troublesome after a while. My solution will be a set of magnetic frames. Simply purchase some pretty picture frames, remove the glass part, glue strong magnets to the back and there you have it! A beautiful magnet frame to showcase your pictures. You can change them out as a new picture is added to your collection! I could not find access to a good picture of this DIY project, but you will find the link listed down in my sources, so please check it out.
6

Giant Dollhouse

You don't have to spend a ton of money to give your little girl the doll house of her dreams. You can use an old bookshelf or armior and turn it into a gorgeous place for her dolls to live! There really is no right or wrong way to go here, nor very many directions that I can give you, except be creative, use your imagination and have fun! This is a project that could last for years and be something both you and your daughter will remember for years to come!
7

Cloud Dough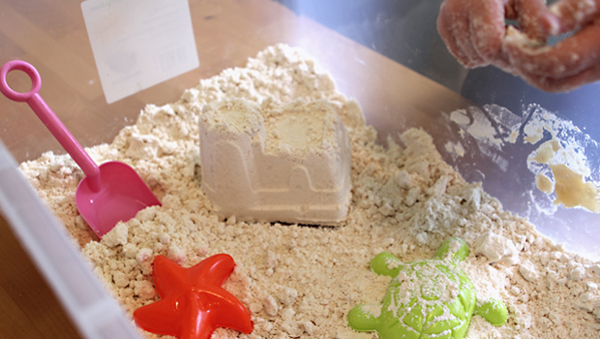 Imagine the hours of fun your children could have with something messy? Forget the mess! It gives Mommy a few minutes of quiet rest! And your comes at nothing more than 8 cups of flour and 1 cup of baby oil. (Or 4 cups and 1/2 cup... 8:1 ration is all you need.) I'm telling you, ladies, it keeps my kids busy for hours! They love to sit at the table and play with it. Honestly, the mess isn't too bad, if you teach them not to throw it around the room or anything. Most kids like to play like they are cooking, which is perfect for keeping them busy while you are cooking their dinner, right?
There are so many other ideas I could list for DIY projects for mommies, and perhaps I will do a part 2 of this article sometime. I love making things that my kids enjoy, but not having to spend a fortune to do so! And I love making things that make my job as "Mommy" easier, too! I'm constantly looking for new ideas to try myself, so if you have any, I'd love to hear from you!
Sources: blogs.babble.com , spoonful.com , hellobee.com, kidsplayideas.com, vintageglamorous.blogspot.com, turkeyfeathers.typepad.com
Please rate this article