DIY envelope clutches are some of the more popular fashion projects today. This is because they're trendy and, most of the time, so easy to do. Even if you have very little sewing skills, you will not find these envelope clutch projects daunting. And don't worry, attaching zippers isn't as hard as it looks. So let's get down to business and check out these darling DIY envelope clutches.
---
1

Printed Fabric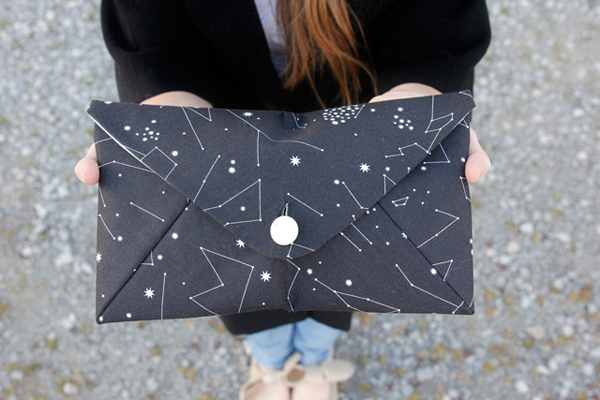 This is a beautiful sewing project that will give you a nice DIY envelope clutch. The basic materials that you will need for this are the pattern, fabrics for the lining and outer section of the bag, fusible interfacing, and a button. To construct, you cut the main and lining pieces following the pattern, fuse the interfacing to the main fabric, sew into an envelope shape and for closure, sew a buttonhole and a button.
---
2

Multi-Style Lock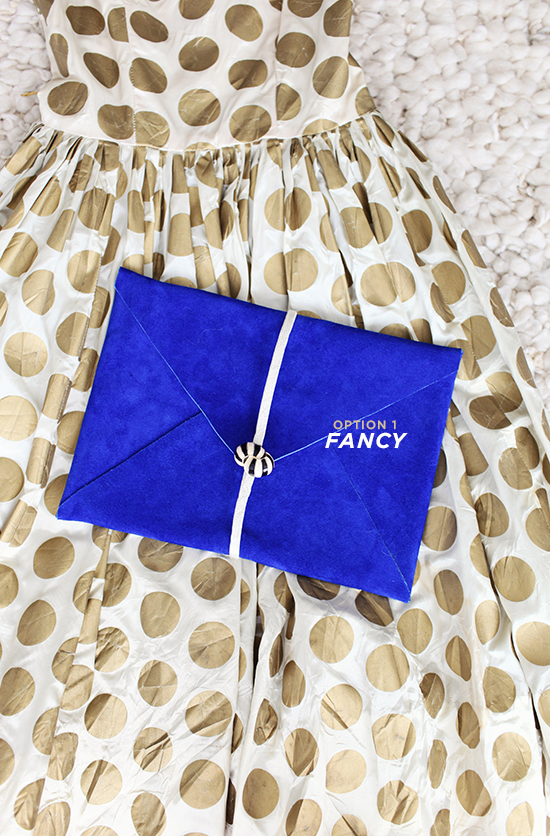 Pretty, right? The best part about this DIY is the fact that you can "lock" it using different styles of string closure. Whether you want a nautical look or an edgy style, there is a way to make this handmade envelope clutch your own.
3

Mixed Print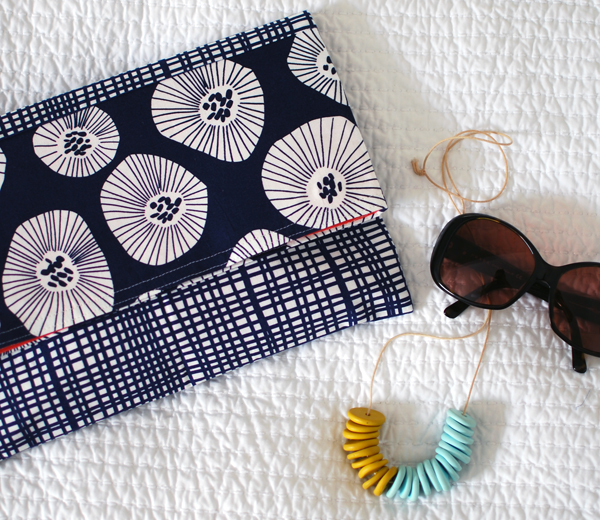 For this particular envelope clutch DIY, a bit of sewing is required. This is very easy, though, because you will basically be sewing only two rectangular bag pieces (main fabric in mixed print and lining). You then use it like an envelope clutch with the upper section as flap.
---
4

Slanting Zips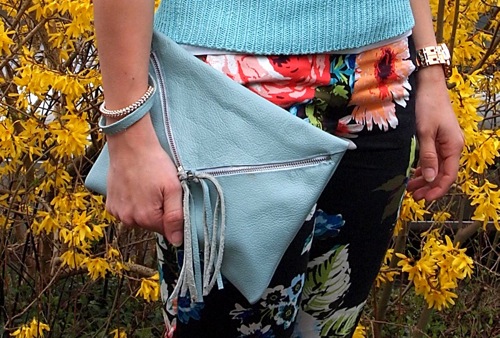 Looks complicated but this is actually pretty simple to make. You will need leather and zippers for this sewing project. You don't have to worry about constructing a lining because the leather will be sturdy enough and will not have raw edges.
---
5

Neon Envelope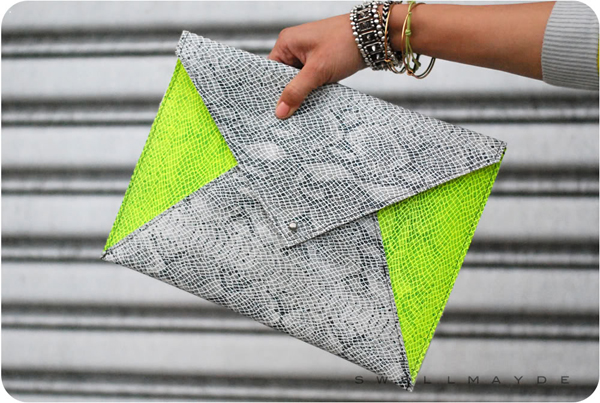 This is a beautiful DIY envelope clutch that sports the trendy two-tone neon look. This is basically two vinyl/leather pieces sewn together to form an envelope clutch. The neon section is achieved with a bit of spray painting. Other things you will need for this project include a screw back button, thread, sewing machine, and an X-Acto knife.
---
6

Clear Envelope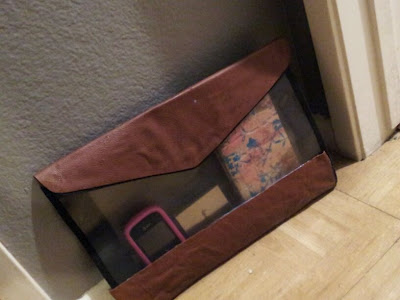 To make a DIY envelope clutch, you can go the recycling route. The basic materials used for this particular clutch are a clear folio (you can get them at any school supply store), leather, scissors, and hot glue. You simply attach the leather to the flap, the back, and a section of the folio, cut off the excess, and you're done!
---
7

Simple Leather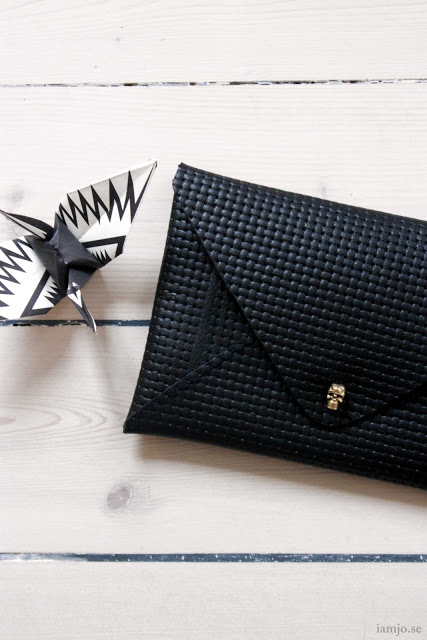 Using half a yard of leather, hot glue, and a pretty button, you can make this sleek and chic DIY envelope clutch. Aside from leather, I think place mats will work for this idea, too.
---
8

Plastic and Leather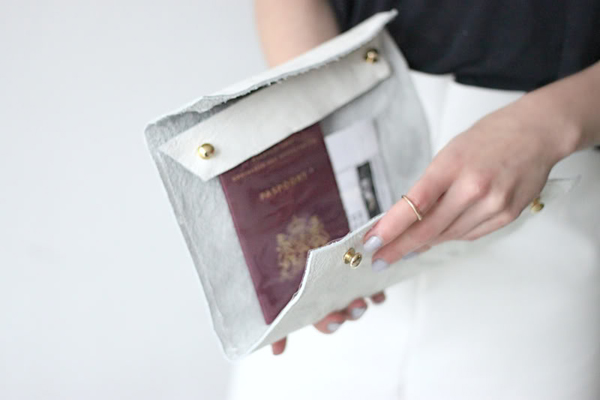 How scrumptious is this clutch? This showcases the trendy clear style and is quite easy to construct, too. For this DIY, you will be needing clear plastic, leather, button studs, and a sewing machine. Using an envelope as guide, you will cut the clear plastic and leather. Sew the leather and plastic together, with buttons attached to the flaps, and then attach two more stud buttons to the bottom of your clutch.
---
9

Place Mat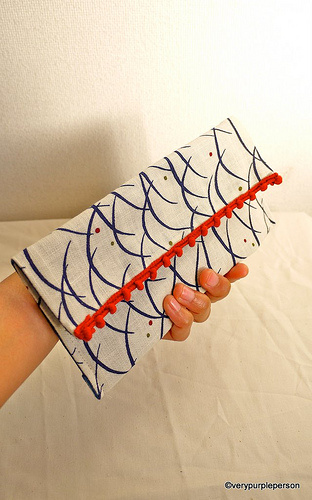 Want an easy sewing project? This one is for you, especially if you have a collection of pretty place mats. You simply fold them into three sections, sew the first fold along the sides to the middle section, and then use the top flap as closure. Add a button and other embellishments if desired.
I hope you enjoyed this list of DIY envelope clutches. Have other tutorials to share? We'd love to hear them!
Sources: seekatesew.com, designlovefest.com, craft.tutsplus.com, girlscene.nl, swellmayde.com, glittergluesparkle.blogspot.com.au, iamjo.se, love-aesthetics.blogspot.com, verypurpleperson.com
---
Comments
Popular
Related
Recent