7 Ways to Spring Clean Your Dorm Room ...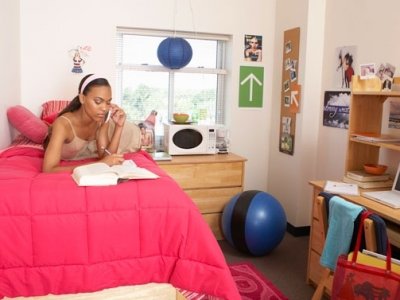 There is no better time than now to spring clean your dorm room. Your dorm room isn't just your bedroom, but your office, kitchen, living room, and everything in between. When your dorm room is messy and cluttered, it can be easy to feel disorganized in all aspects of your life. Get a fresh start this spring and take sometime this weekend to spring clean your dorm room.
The first place to start when you spring clean your dorm room is your closet. It is easy for our wardrobes to take up a ton of space in our tiny dorm rooms, so it is necessary to organize them once in a while. Go through all of your clothes and figure out which clothes you want to keep, which ones you want to donate, and which ones you want to throw away. You will probably be able to reduce your closet clutter in half.
2.

Organize under Your Bed
The most valuable storage space in a dorm room is under your bed, which is why it is so important to keep it organized. It can be so easy to start throwing things under your bed with no rhyme or reason. Go through under your bed and throw out all of the trash. Then invest in some storage bins and place things like extra sheets, towels, and out of season clothing underneath your bed.
3.

De-Clutter Each Drawer
I know the drawers in my dorm room can go from organized to messy in the blink of an eye. Take a trash bag and throw out all the knick-knacks you don't need. It can also be helpful to organize your drawers based on items. I have one drawer for toiletries and make up, one drawer for office supplies, and another drawer for miscellaneous items like headphones and stationery.
When you spring clean your dorm room, you need to do more than organize; you need to get down and dirty and clean. This can range from dusting your windowsills to getting on your hands and knees and cleaning your entire floor. You would be surprised at how dirty your dorm room can get when you don't regularly clean your room.
5.

Your Schoolwork Counts Too
This is the time of the year when your schoolwork starts to get messy and disorganized. Consider your backpack part of your spring-cleaning and organize it all. Clean your backpack out of trash and make sure your binders and folders don't have stray papers just shoved in. You can even take this a step further and clean up all of the assignments on your computer and putting them in folders on your hard drive.
Your desk is a main part of your dorm room, so it should be a big endeavor when you spring clean your dorm room. Invest in some cute storage items such as desk organizers for all of your assignments. Personalize your desk with monogrammed notepads and a super cute desk calendar to keep track of your hectic college life. Once your desk is cleaned and organized, the rest of your room will start to fall into place.
Spring is a time for a fresh start. If you have been bored with your dorm room, use spring-cleaning as an excuse to revamp it. Put up new posters, decals, and pictures to spruce up your walls. You can also update your bedding for something more bright and spring-appropriate. Get rid of your old lamp and hang up some festival lights along your wall to give yourself fresh new lighting. There are tons of ways you can spring clean your dorm and update your space.
Dorm rooms are small so it is easy for them to get cluttered and messy. When we are running around all day with classes and clubs, we don't have a ton of time to set aside and clean our entire room. By spring-cleaning your room, you will be more focused on schoolwork, feel less stressed in your dorm, and feel refreshed for spring. What did you think of these tips on how to spring clean your dorm room? What are some other ways to clean up your dorm room for spring? Is it important to have a clean dorm room or should it fall second to focusing on classes and a social life?
Sources: mtholyoke.uloop.com,
{{#comments_count}} Show Commnents ({{comments_count}}) {{/comments_count}}