Would you like to give your bedroom a makeover, and make it look more elegant? A four-poster bed will add a touch of luxury, but can be expensive. You don't need a four-poster though; why not make your own canopy instead? Bedtime will be a pleasure when you decorate your bed with a canopy like these …
Table of contents:
1

Simple Drape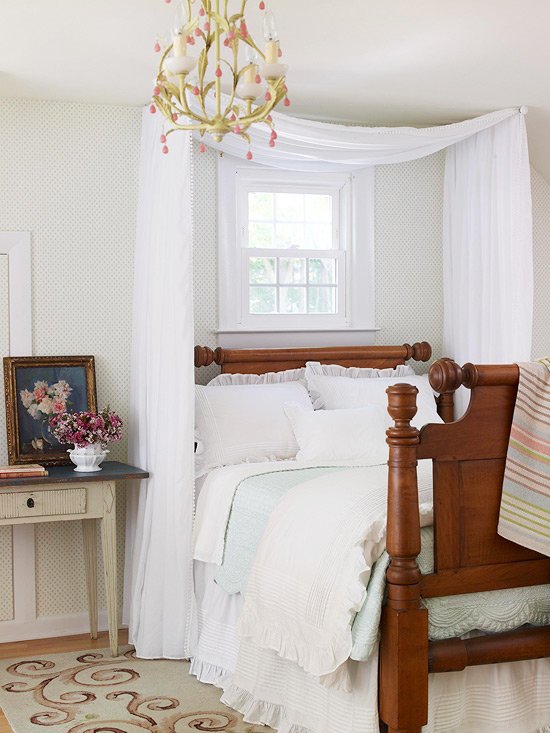 Canopies often hang from a circle, but you can also try this simple draped canopy. It hangs over two curtain rods so that it drapes around the headboard. This gives a very romantic effect that would be perfect for an all-white bedroom. Or you could use fabric that contrasts with your bed linen and the color of your walls.
2

Bold Pattern
Canopies don't have to be girly and romantic. Use your imagination and choose some bold patterned fabric. This canopy hangs over the length of the bed, and gives a striking effect. If you can track down a starry fabric it would be lovely to lie in bed looking up at the stars! You could even get some plain fabric and use a star-shaped stamp to make your own pattern.
3

Switch on the Lights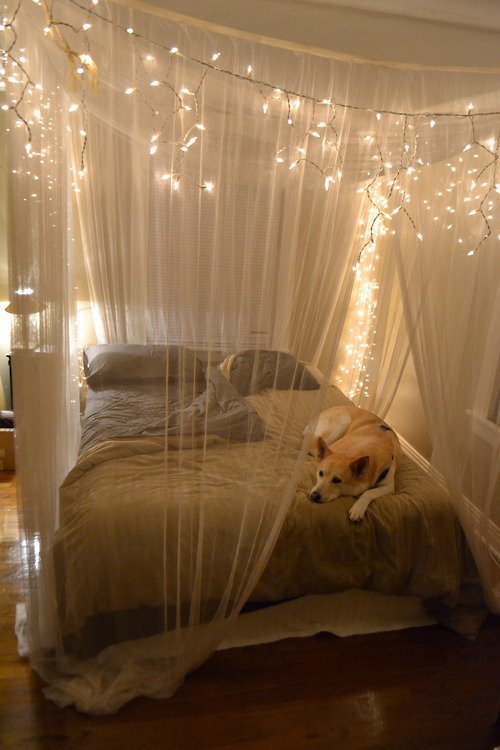 Fairy lights are far too pretty to save for Christmas. With some gauzy fabric and a set of lights you could make a gorgeous canopy. For a minimalist look, use white lights and fabric; but if you prefer a touch of color look for fabric in a rich jewel color like purple, deep red or emerald green.
4

Bohemian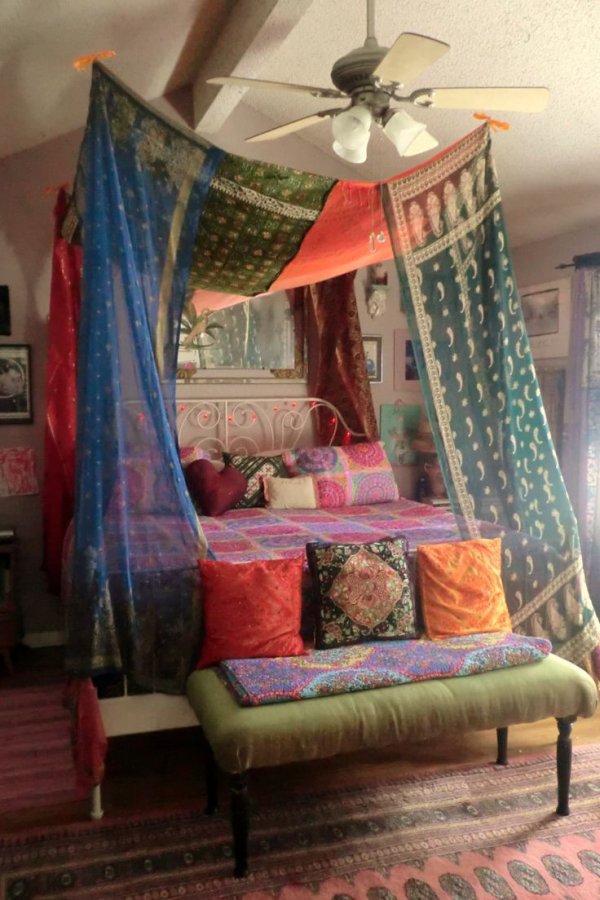 If you're a Bohemian at heart, make yourself a canopy like this one. Pick up several long scarves or throws in a store that sells ethnic/hippy clothing. They don't have to match; in fact, clashing colors and prints could be all the more striking. The scarves will need to be long enough to reach from ceiling to below your bed, so measure up before you go shopping.
5

Sunburst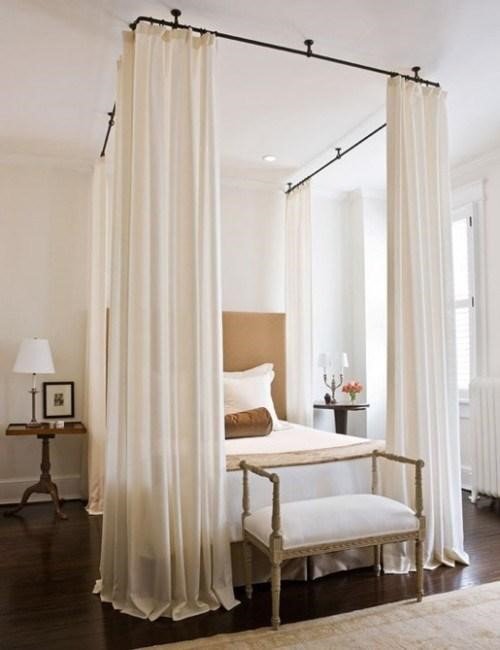 You'll need some experience with DIY to make this one, but if you have the confidence (and the budget to buy lots of fabric) you'll end up with a really striking canopy. It would be easiest to do this type of canopy with a four-poster bed, but with some DIY skills or a good handyman, you could fix it to the ceiling.
6

Fantasy Forest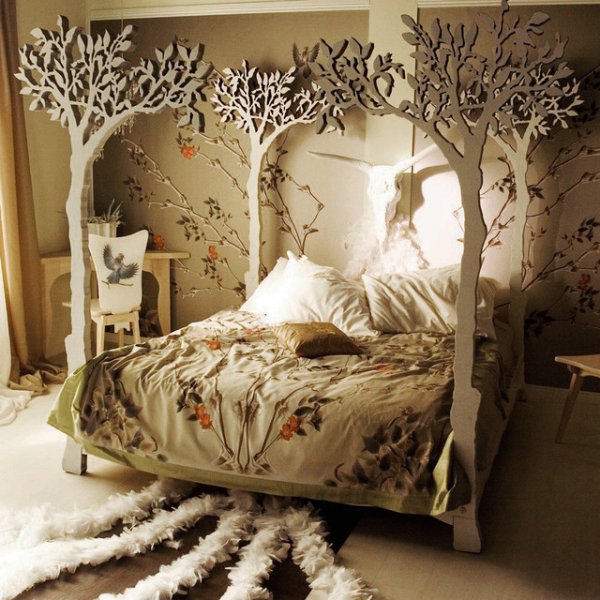 Here's a truly imaginative and beautiful canopy. This 'forest' is definitely not one for the more conventional! It would be expensive to have made, but would be a really amazing feature for your bedroom. Drape some green fabric over the trees, and go to sleep in your very own enchanted wood!
7

Pink Princess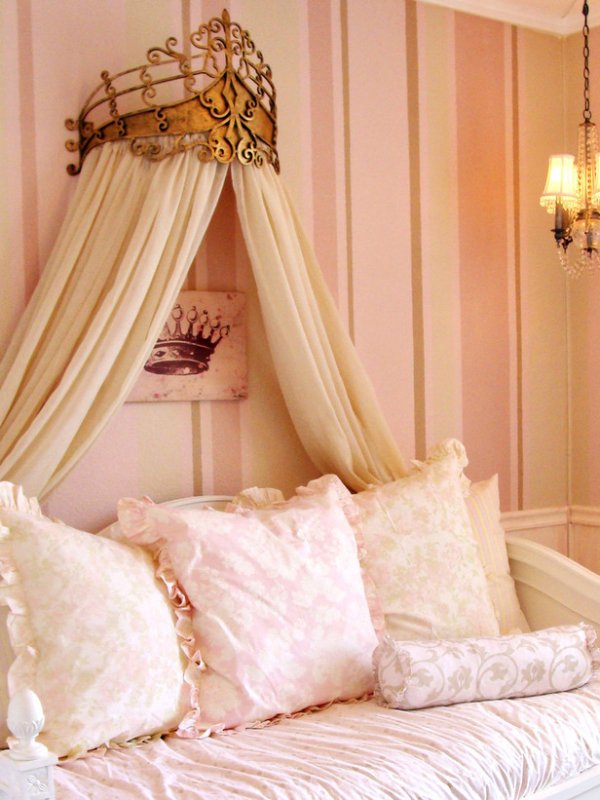 If your daughter loves your new canopy and wants one of her own, here's one fit for a princess. Not all girls are into pink, but if yours loves it then make her this girly pink canopy. Or you could mix up the colors and use lengths of different colors to make a rainbow canopy.
Bed canopies can be simple or ornate, but they're a really good way of giving your bedroom that 'wow' factor. Whether you choose simply draped fabric or a more imaginative idea like the trees, these canopies will make heading for bed a real pleasure. Imagine drifting off to sleep with fairy lights above you! What would your fantasy bedroom look like?
Please rate this article