One of the more fun things that kids can do when school is out is put up a lemonade stand. It's also a capital idea for when you're having a yard sale. A lemonade stand manned by adorable kids would also be perfect for any yard party. If you're getting into the idea, let us help you with one of the following DIY lemonade stands. Most of these are easy to construct and some are fun recycling projects. Hope you like them!
---
1

Crates + Paper Fans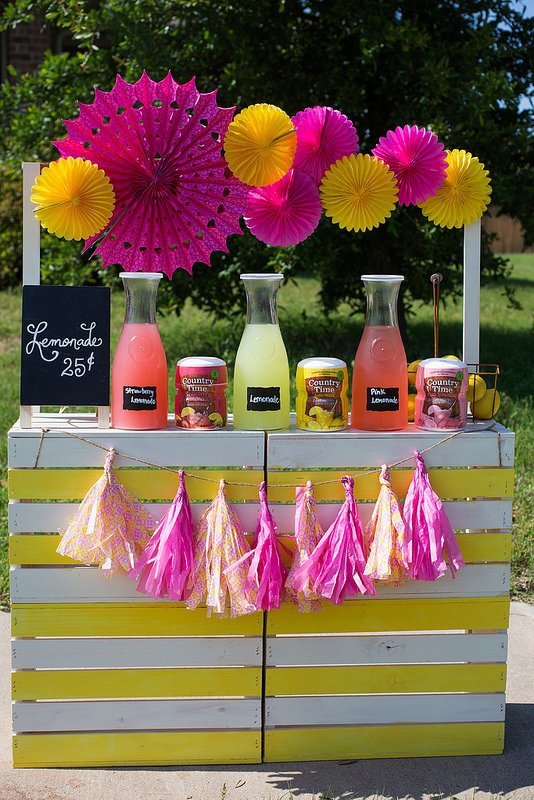 How cute is this DIY lemonade stand? The bottom part or base of this lemonade stand is made of four crates. They were spray painted and then zip tied together. As for the poles to the sides of the base, you can use more zip ties or you can hot glue them to the crates. Don't skip the lovely paper fans along the top. They multiply the cuteness factor of this refreshment stand.
Source: thenerdswife.com
---
2

Crates + Tassels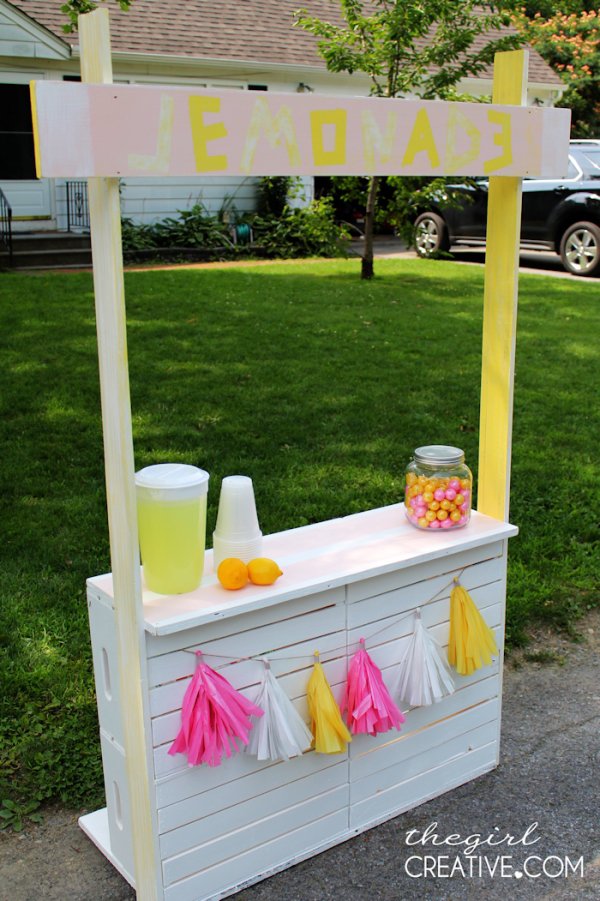 Yes, crates are perfect materials for making your own lemonade stand. Just like the previous DIY, you will stack two crates and assemble them beside two more stacked crates. The tutorial below gives you a more permanent structure, though. You will nail the sections together instead of using zip ties. For a fun detail, don't forget to hang tissue paper tassels.
Source: thegirlcreative.com
3

Reworked Night Stand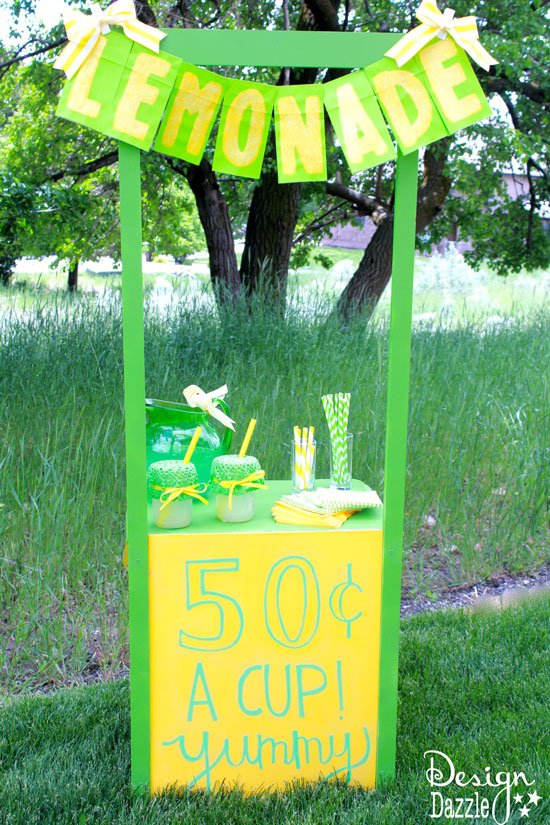 If you can't find crates to use for your DIY lemonade stand, using a night stand is the perfect solution. There is probably one in your garage or attic that could use a new leash on life. You repaint the old night stand, add a piece of wood to the back where you can write the price of your lemonade, and then add the poles and upper section for hanging a sign.
Source: designdazzle.com
---
4

Crates + Lemon Garland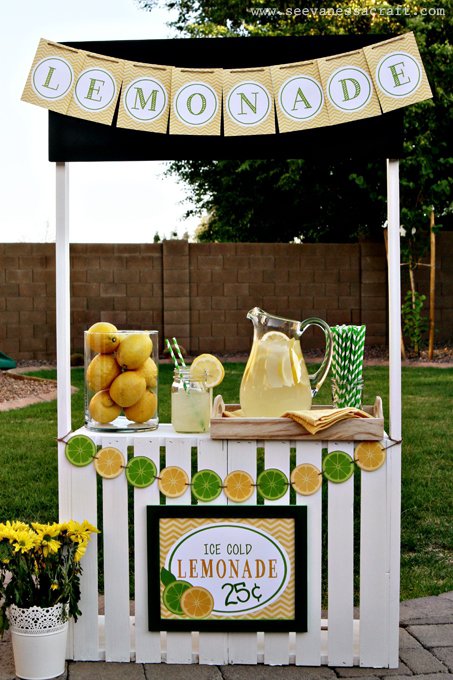 This is one gorgeous DIY lemonade stand. You really can't go wrong with a white+yellow+green color combo. Just like most of the previous refreshment stand DIYs, the base here is made up of 4 stacked crates. We included this tutorial here because it gives you detailed measurements on the other parts of the stand. Take a look and see if you have just the right amount of wood to make a lemonade stand. Don't forget to add the lemon slice garland as décor.
Source: seevanessacraft.com
---
5

$3 Stand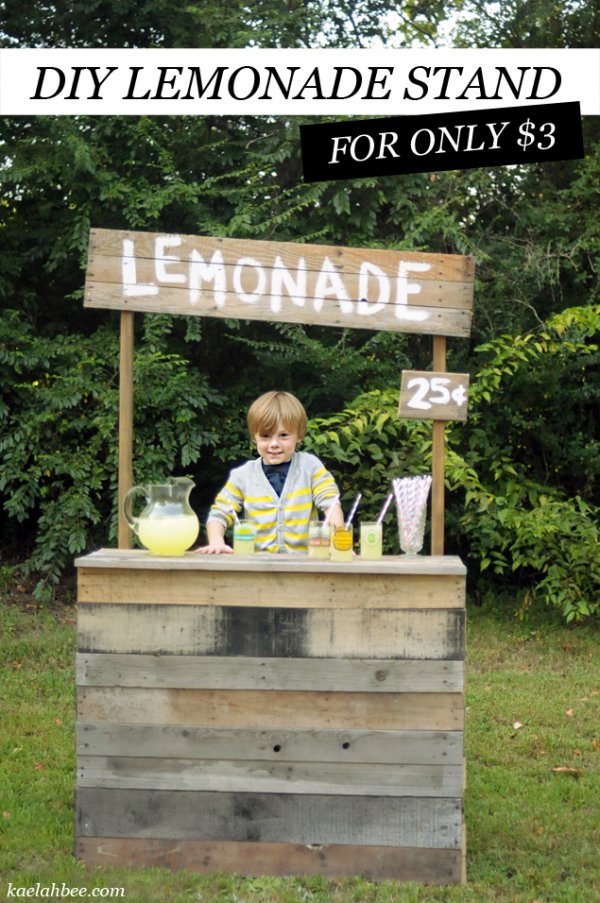 Know a place near you where you can get salvaged lumber? Get some and use the wood to make a fun and rustic-looking lemonade stand. If you already have the screws, nails, and paint in your home, this looks like a project that will cost you practically nothing. Don't you just love those kinds of DIYs?
Source: thecluelessgirl.com
---
6

Thrift Store Find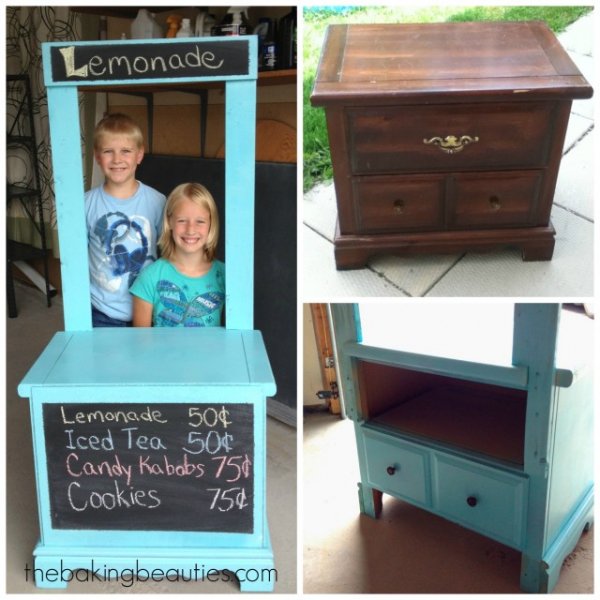 The idea behind here is similar to the side table redo. I included this tutorial, though, because it comes with a nifty recipe for chalkboard paint. If you want to have a chalkboard sign for your lemonade stand, this recipe should be helpful.
Source: thebakingbeauties.com
---
7

Versatile Play Stand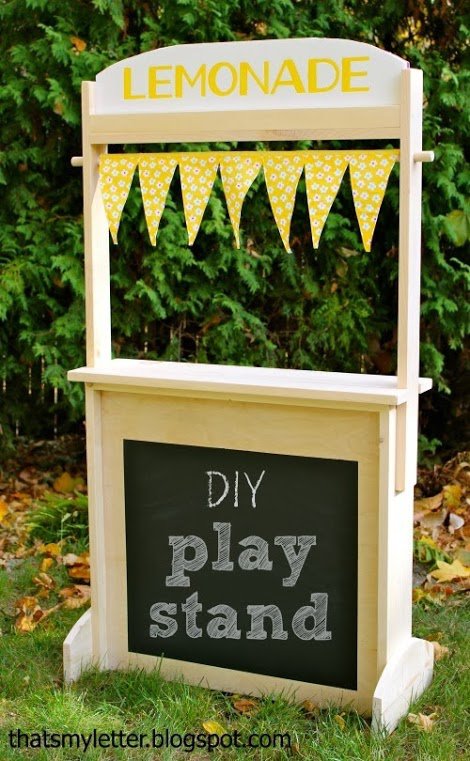 This is a fantastic plan provided by Ana White. Not only is this a wonderful lemonade stand for kids, it can also be used for other pretend games. Whether the kids are selling lemonades or baked goods, putting up a puppet production, or doing any other game that calls for a stand, this great DIY plan is perfect.
Source: ana-white.com
These DIY stands can also work for kids who want to sell things other than lemonade. They are great for back yard shows, too.
More
---
Comments
Popular
Recent