Finding skirts to sew is really easy - there are so many great patterns available on the internet. And the best thing is that a lot of them are free! So if you want to make a skirt for winter to wear with boots, or you have some fantastic fabric for a summer skirt, here are some beautiful skirts to sew that are super easy to make and look fantastic on!
---
1

Sequin Skirt

With Christmas fast approaching, and the party season about to begin, you're no doubt looking for something cool to wear. The problem with buying an outfit is that awful nightmare of turning up in the same dress as someone else. So why not sew up a skirt yourself? This little sequinned number will look gorgeous at parties!
---
2

A Line Skirt

Of all the skirts to sew, an A line skirt is one of the simplest. Plus it's a style that never goes out of fashion, and will always be a great addition to your wardrobe. In fact, this pattern is so easy that you could make more than one - why not try making it in different colours?
---
3

Peasant Skirt

Peasant skirts are always popular, and a good choice for wearing in summer - just team it with a strappy top. The bonus is that you can use different fabrics for an interesting contrast - it's also a good way of using up pieces of fabric that aren't large enough to make something from.
---
4

Wrap Skirt

Are you a fan of wrap skirts and dresses? You may not be able to afford a Diane von Furstenberg original, but you can imitate her style when you make this wrap skirt. So now you know what you can make with that gorgeous print material you've got your eye on!
---
5

Wide Skirt

If you like Fifties-style fashion, then here is one of the best skirts to sew. It'll need quite a lot of fabric, but just think how stunning the results will be! So if you suit this style of skirt, get yourself some fabric and run up this beautiful piece - you'll be delighted with the results!
---
6

Pencil Skirt

Pencil skirts are another style that's always popular. You can choose from a variety of different fabrics, so there are many possibilities. Once you've made your first pencil skirt, you'll probably want to sew more. It's a style that will always be a great addition to your wardrobe.
7

Ruffled Skirt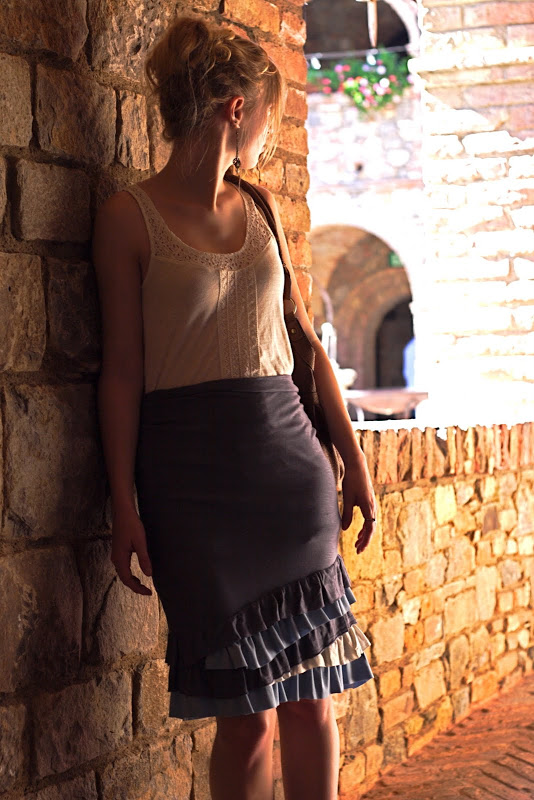 rufflesandrosescrafts.blogspot.com.es
Do you feel like tackling a more ambitious project? This ruffled skirt could be just what you're looking for, allowing you to be creative with the contrast colours. In fact, once you've mastered the art of making a ruffle, you'll wonder why it ever seemed difficult!
---
8

Maxi Skirt

I love projects that reuse old garments, and this is one of the easiest skirts to sew. If you can wear a maxi skirt, then this is the pattern for you. It makes use of old t-shirts that you'd probably otherwise throw away - the great thing is that nobody would ever guess where the material came from!

I hope that seeing these lovely skirts to sew has inspired you to get out your sewing machine. If you don't own one, then borrow or buy one - you'll love making your own clothes! The great thing about sewing is that you can create clothes that nobody else will wear, and let loose your creative side. Are you a super sewer, or has everything you've ever tried gone horribly wrong?

Top Image Source: blogspot.in
---
Popular
Related
Recent