If you're looking for a way to give an old top a makeover, we give you here fabulous ways to embellish a shirt. Not only are these craft ideas simple and fun, they are also quite easy on the pockets. From minimalist chic to somehow edgy, there are wonderful ways to embellish a shirt or a plain top. Let these DIYs show you how.
---
1

Studs and Rhinestones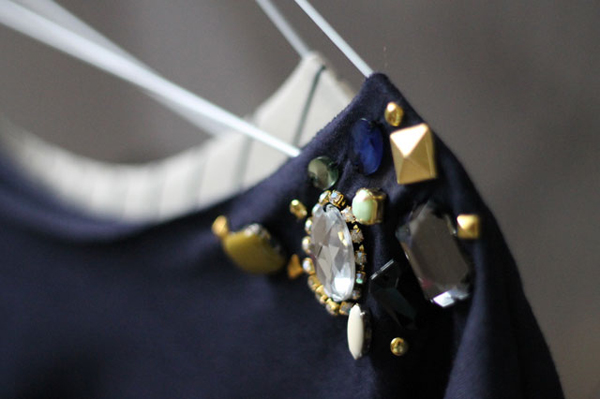 This is one of the simpler ways to embellish a shirt. Using studs, rhinestones, and beads, you can give a boring old top a new (more glittery!) life. Simply attach them to the shoulders or any section you prefer and that's it.
2

Ribbon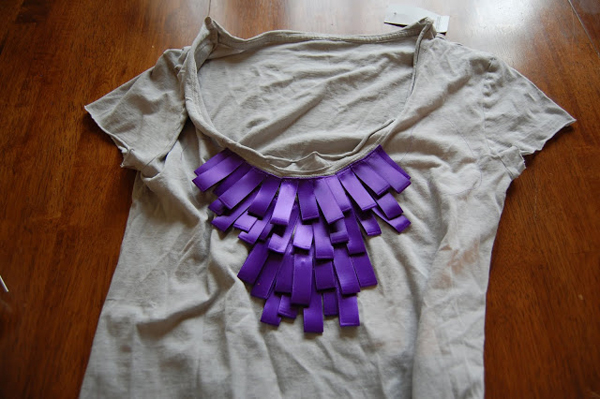 I am loving this combination of gray and violet, and the fact that this was a cheap version of a Gap shirt. To make this, you will cut and iron ribbons (in any color that you like) and then sew them along the neckline of your shirt in layers.
---
3

Tassel and Chains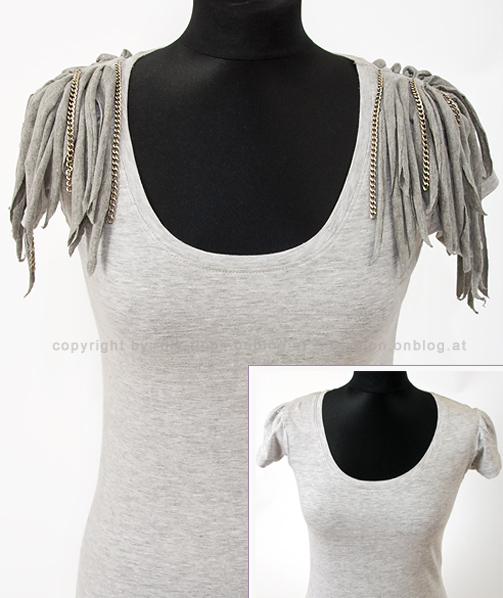 Now THAT is an embellished shirt. For this project, you will need strips of fabric and chain. Make sure that you use fabric that is of the same material and color as your tee. To attach the strips to your top, you make holes along the shoulders, insert the strips, and then add the chains. Secure by hand sewing.
---
4

Lace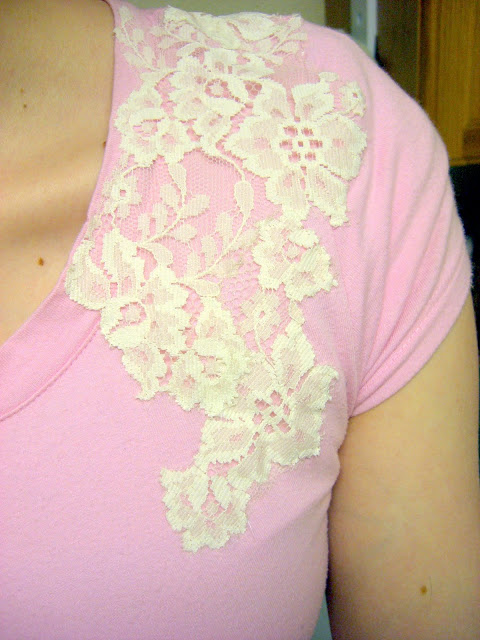 This is one of the easiest ways to embellish a plain top. You simply cut a section of pretty lace and then attach it to one shoulder. Using transparent embroidery thread is recommended when you hand sew the lace to the shirt.
---
5

Doily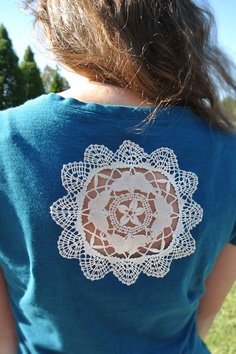 How pretty! This is my favorite among these fantastic shirt embellishment ideas. For this project, you will sew a gorgeous doily onto the back of a shirt. You then cut out the bottom shirt layer and you end up with a sweet peek-a-boo style top.
---
6

Cut-out Lace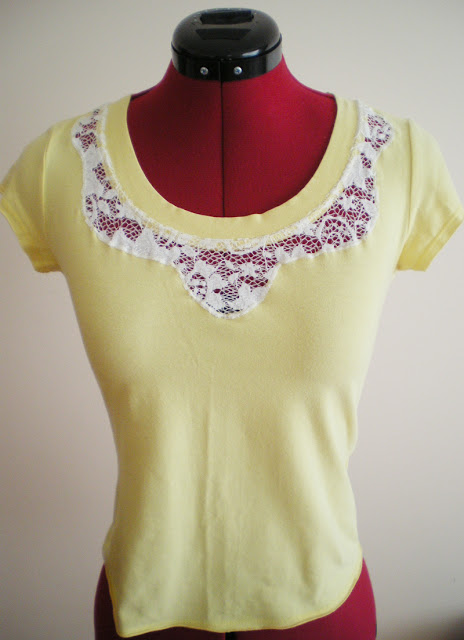 This project combines the ideas behind the previous two DIYs. Basically, you will sew lace along the neckline of your plain top and then cut the bottom shirt layer after. Make sure that you use the proper needle if you're embellishing a knit shirt.
---
7

Sequins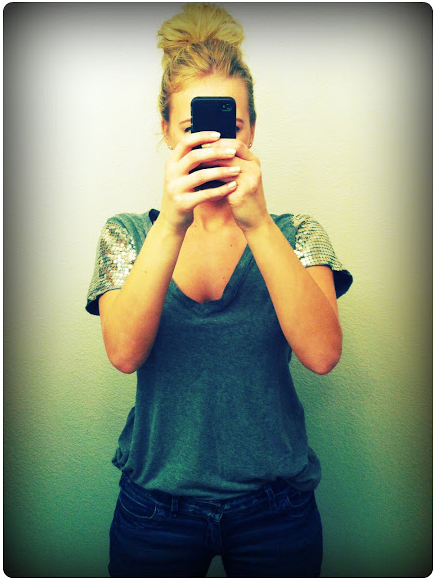 The neckline or back aren't the only sections of your shirt that you can embellish. Doing the sleeves alone is also quite chic. For this idea, you will cut sequined fabric equal to your sleeves and then hand sew.
---
8

Painted Flowers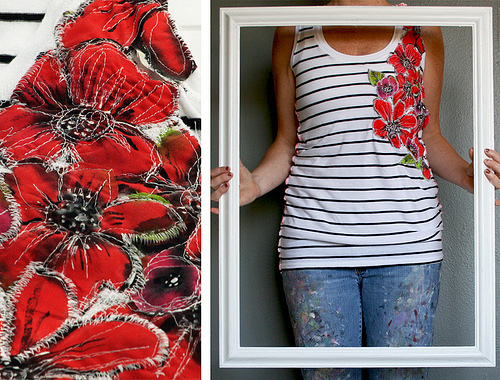 These flowers were painted on a piece of fabric and then sewn onto a top. Gorgeous, right? If you can't paint to save your life, you can opt to use fabric with floral prints. Simply cut a section, iron to fusible interfacing, and then sew to your shirt.
---
9

Feathers, Gems, and Rosette Trim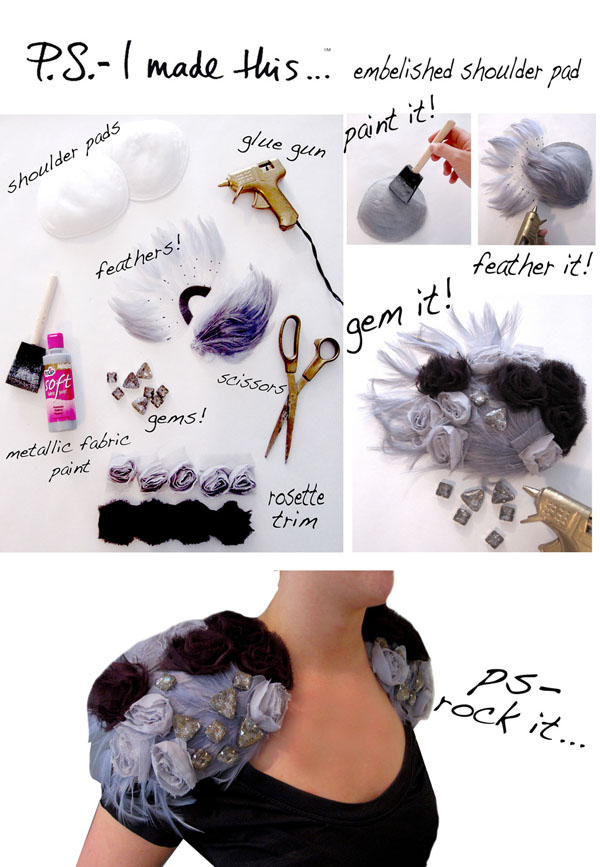 This DIY is brought to us by the ultra talented Erica of P.S. I Made This. As you can see, she chose to make shoulder pads the base for her shirt embellishment. This is a step you will not want to skip if you want to go for the snazzy big shoulder look.
---
10

Knot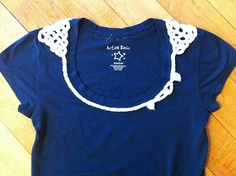 Nautical and perfect for the season, this embellished tee is quite easy to DIY. These are triangle Celtic knots along the shoulders. You can choose to use those alone or follow this design, with the rope sewn along the neckline, too.
Which of these shirt embellishment ideas tickle your fancy? I think I'll try the painted flowers idea; I need painting practice anyway.
Sources: lottsandlots.blogspot.co.uk, treyandlucy.blogspot.com, styleitchic.blogspot.ca, feathersflights.com, scjohnson.com, pearlsandscissors.com, quirkymusingsofa20something.blogspot.com, alisaburke.blogspot.com, psimadethis.com, inspirationrealisation.com
---
Comments
Popular
Related
Recent