I love bold color! Whether it's in my wardrobe or in my home, I just can't get enough of bright colors and eye-catching décors. There's something about bright shades that make me smile, and a colorful room is always a welcoming room. Adding color to your décor has never been easier, either. There is everything from bright wallpaper to bold accessories and colorful furniture, letting you make your room as inviting as you'd like it. Check out these amazing uses of bold color in the home!
---
1

Green Dream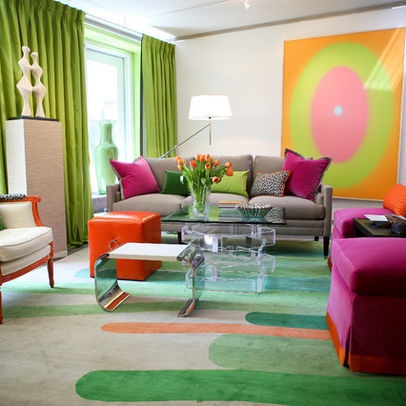 I LOVE this room. It started out as quite a bland living area, with white walls and light brown sofas, but with some quick changes it's become something this vibrant. The carpet is a blend of the two color schemes, which ties in the old sofa and white chair, and the bright green curtains and large wall art draw the eye. The addition of bold pink seats and cushions balances out the green, and that orange pouf is the perfect finishing touch. For this kind of look to keep it's sophisticated style, make sure you've still got some lamps and artwork on display, too, to balance out the bold color.
2

Get Painting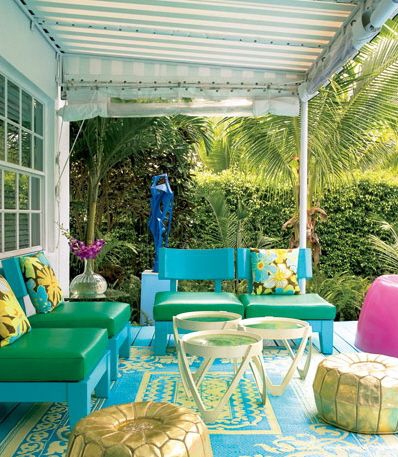 Want to give your conservatory a great new look? Try this. Paint any old wooden furniture with a bold paint such as this bright blue, and add new cushions in a similar color (jungle green, here). Bright patterned pillows can be picked up cheaply in most home stores, and H&M has gold poufs like this in most stores, too. Just add a big plant for a truly exotic feel.
---
3

Bright Room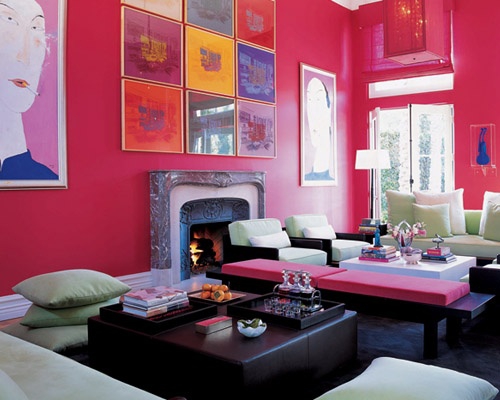 If you opt for a really bold wall color, such as this fuchsia pink, you need to style it well. Large pictures and paintings break up the color and stop the room from feeling smaller, but they also draw the eye up to the bold color. Furniture needs to be more understated so that the room fits together well – think black leather, with cream or light gray cushions. I love the matching lights in this room, too!
---
4

The Statement Sofa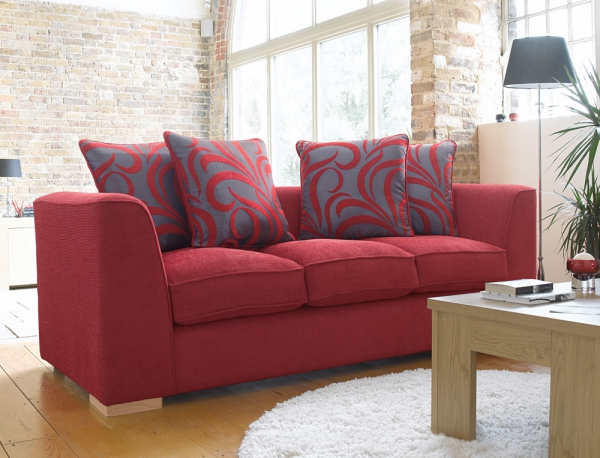 Don't worry if you don't fancy repainting your whole room! This beige room is given a really modern look simply by adding a brightly colored sofa, accessorized with bold and patterned cushions. The lightness of the details makes the red a dominant color, and the wooden table adds that natural Autumn-y feel. I have no idea what the bauble on the table is, but that fits the look well!
---
5

Eye Tricks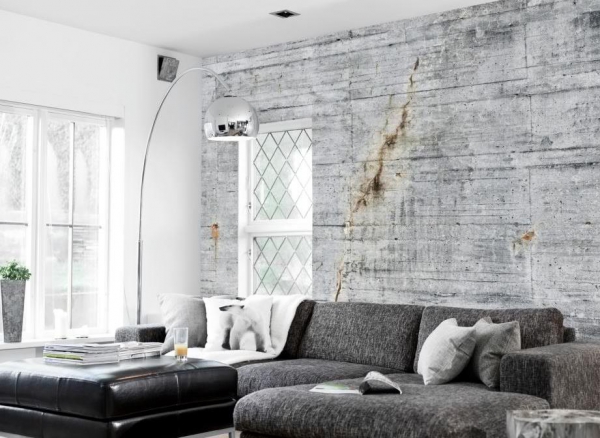 It's no secret that some people don't like bold colors, or simply couldn't relax with them in the room. If this is you, don't worry. This statement room gets the same look by choosing an unusual wallpaper, and teaming it with a contemporary sofa in a classic gray color. The granite and marble details add to that modern feeling, but it's the chrome lamp that really stands out – in such a busy, dark room, the brightness really does make a statement. Easy, and perfect for people who don't radiate to the neon paints!
---
6

New Room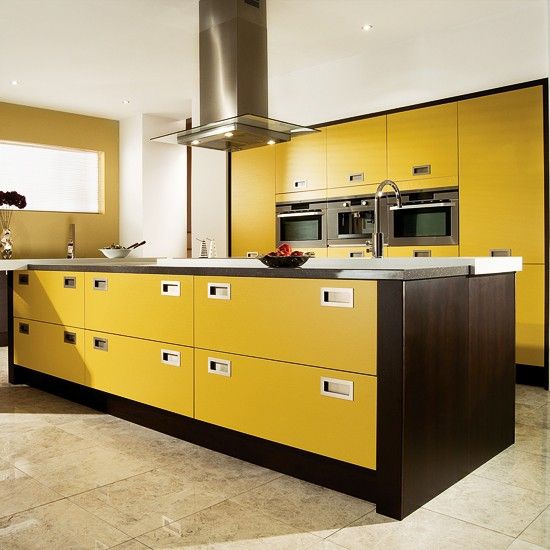 The kitchen is a great place to add bold color, too. Rather than a traditional monochrome look, opt for black and something eye-catching, such as this mustard yellow or raspberry pink. Silver fastenings keep the modern look, as do the silver taps and extractor fan, but the yellow makes this a kitchen that really stands out. The small statement wall on the left is a killer finishing touch.
---
7

Get a Mural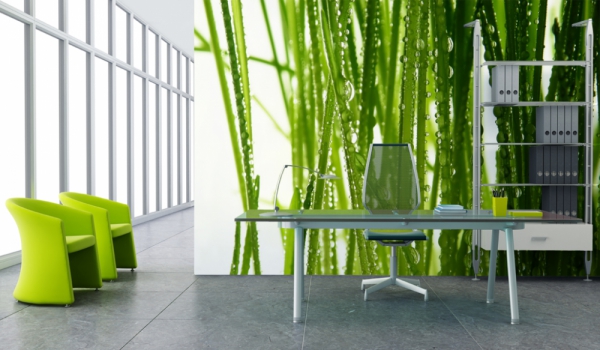 This has to be one of my favorite uses of bold color, and it didn't take much updating. A big mural adds plenty of color to the room, and the green chairs seem understated in comparison. The table is muted, and the details give it a welcoming look. If you aren't sure about updating your room with bold color, a mural is a really easy way to try the look.
I can't wait to add some more bold color to my home. I'm already eyeing up massive murals and striking kitchens, and I can't wait until it's time to replace the sofas! What bold colors are you loving right now?
---
Comments
Popular
Related
Recent