Want to make your mom something special as a Mother's Day gift this year? I always think a DIY project can be more meaningful than a shop bought present - even the smallest shows the sweetest gesture. It doesn't matter if you aren't particularly crafty, there's bound to be something you can make a good job of - especially in this diverse list from Shutterfly.com. Check out their list of creative DIY Mother's Day gifts and have some fun!
Table of contents:
1

Decorative Wall Art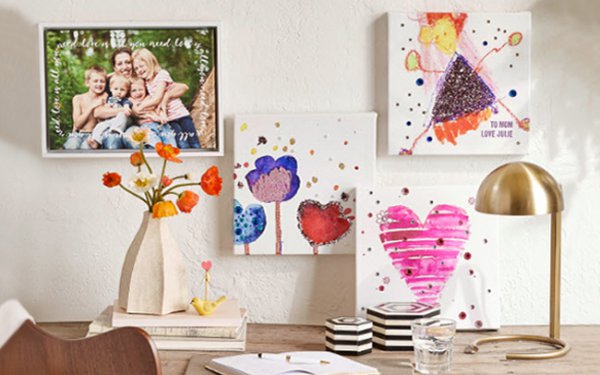 Make for wall art your mom's special day with a favorite family photo. Include an inspirational quote from one of her favorite movies, books or songs. She'll love hanging this in her living room, her bedroom or some other special place in the house.
2

Photo Necklace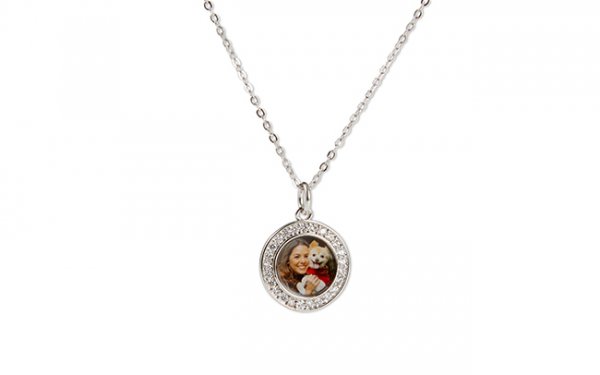 The best Mother's Day gifts are ones with a personal touch. Place a special photo in a necklace for a keepsake that will last a lifetime. She'll enjoy tucking this close to her heart every day, especially on birthdays, anniversaries and holidays.
3

Hallway Rug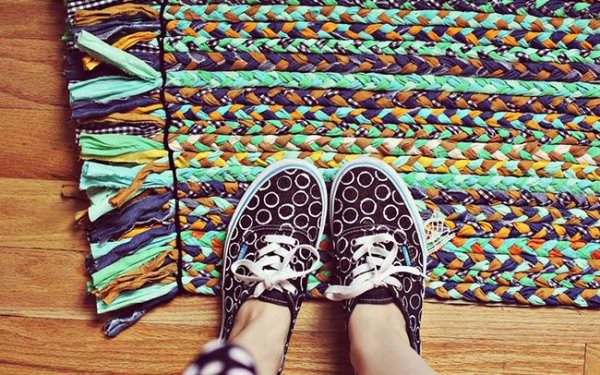 Braid together colorful strands of scrap fabric for a creative Mother's Day gift idea. Perfect for jazzing up a sitting room or hallway entry area, this DIY rug will brighten up the room and her life! Thanks to A Beautiful Mess for showing us a perfect way to use old fabrics.
4

Garden Stone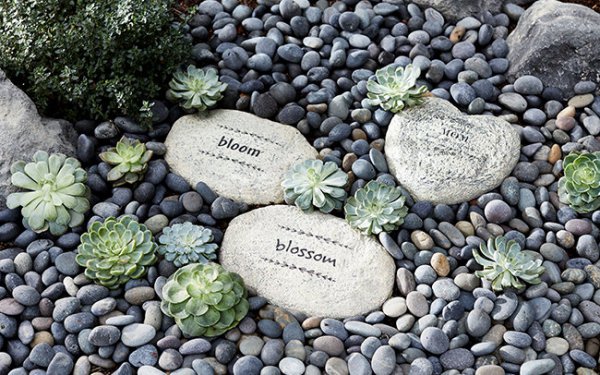 Add a lovely touch to Mom's vegetable or flower garden with a personalized garden stone. Include an inspirational message or quote so she thinks of you every time she sees it. Choose from a heart- or oval-shaped garden stone to match Mom's personal style.
5

Giant Backyard Games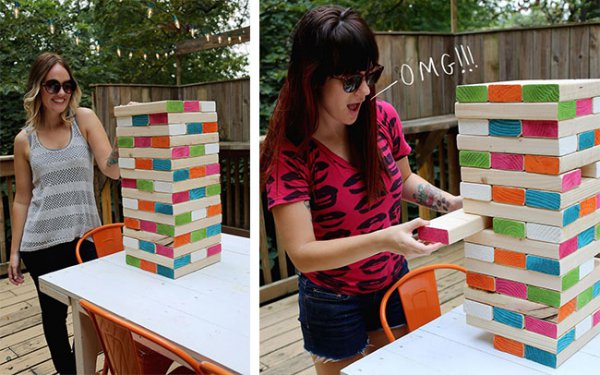 Using 2×4 boards and colored paints, create a giant block game for Mother's Day with this handy guide from A Beautiful Mess. Mom will enjoy playing with you and the whole family in spring, summer and fall. She might even host a game night with friends to enjoy this exciting twist on a long-time favorite.
6

Art from the Heart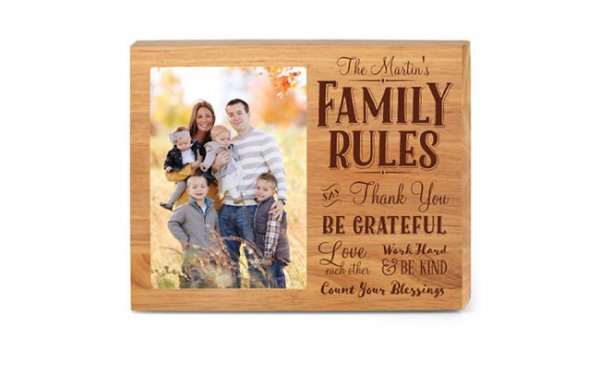 Customize a wood frame and add a photo of you and Mom—or one of the whole family. With a quote, inspirational message or favorite song lyric, Mom will love displaying the frame in her office or at home.
7

Salt and Pepper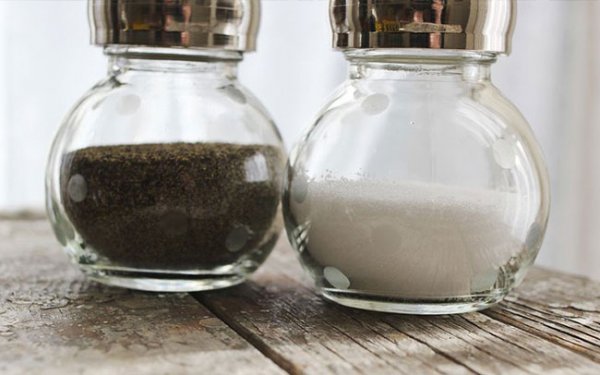 Add a dash of love to your Mother's Day celebrations. Decorate salt and pepper shakers with simple etched designs. Mom can use them every evening at dinner or for special occasions when she hosts guests. Find the tutorial a A Beautiful Mess.
8

Silhouette Art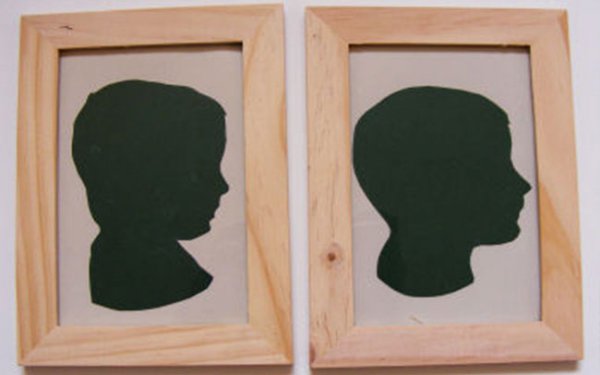 Create silhouettes of children or grandchildren and frame them in wood with tips from Activity Village. Mom will have new home decor and an easy way to think of you. From small to large silhouettes, Mom will definitely find a special place in her home to hang these.
9

Bring Fun to Dinner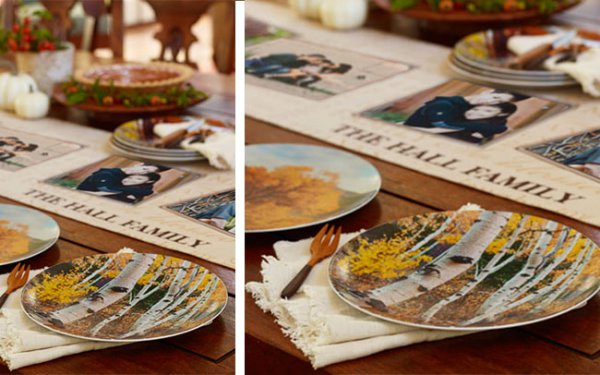 Select Mom's favorite photos and design a table runner for holidays, dinner parties or everyday use. Mom will appreciate how her newest decoration keeps her dining room full of life and love.
10

Citrus Extracts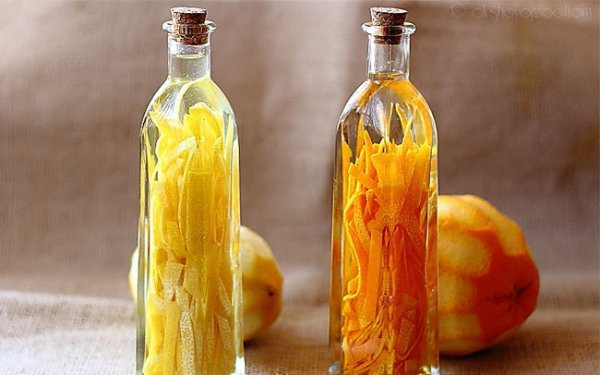 Peel lemons and oranges for mixing your own citrus extracts. Mom will appreciate the fresh taste she can add to her cooking and baking. Learn how it's made on Akshayapaatram's blog.
11

Sweet Sips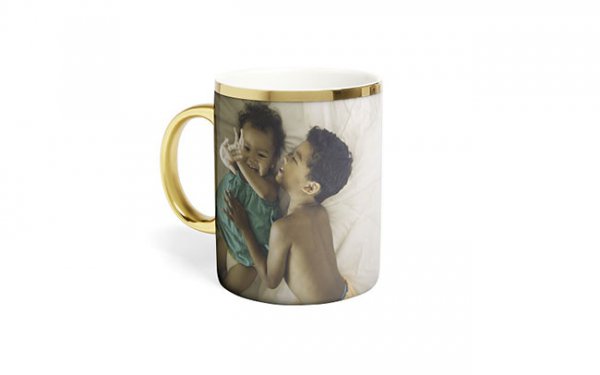 Give Mom a gift she can use every day: a personalized tea or coffee mug. She can start her day remembering favorite family moments—like a spring break vacation or snowshoeing excursion. Even on the busiest days, she'll have a moment to relax and sip her favorite drink.
12

Naturally Sweet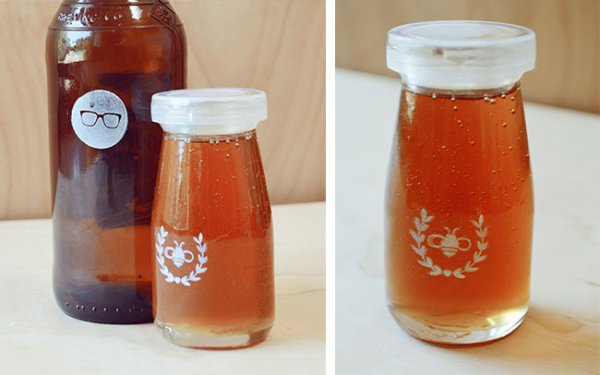 Be a sweetheart like Amy Azzarito by giving Mom natural honey. She'll savor the fresh taste and enjoy the health benefits. Add a shaped design or lettering to the jars for a decorative touch.
13

Family Canvas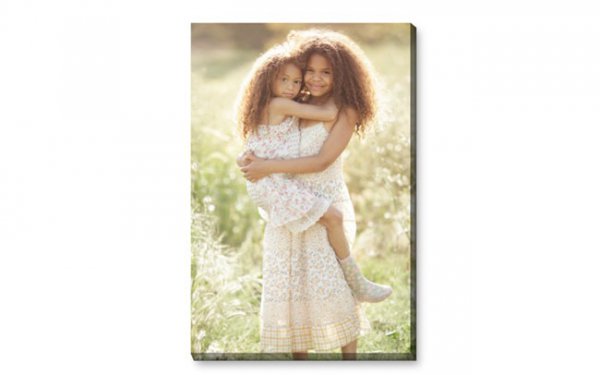 Create a classic and personalized work of art with an elegant canvas print. Mom can hang this in her favorite room and always remember the loving family that surrounds her. Consider using childhood photos or black and white prints for a timeless look.
14

Charm Necklace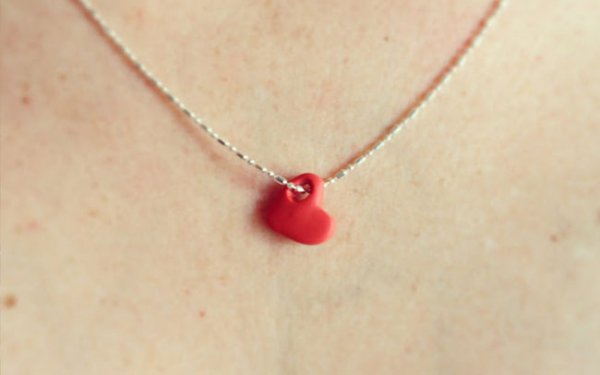 Be Brave Keep Going shows us how to express love and gratitude this Mother's Day by crafting a simple heart out of clay and stringing it through a necklace chain. You and your Mom's heart will remain close with this creative Mother's Day idea.
15

Personalized Serving Tray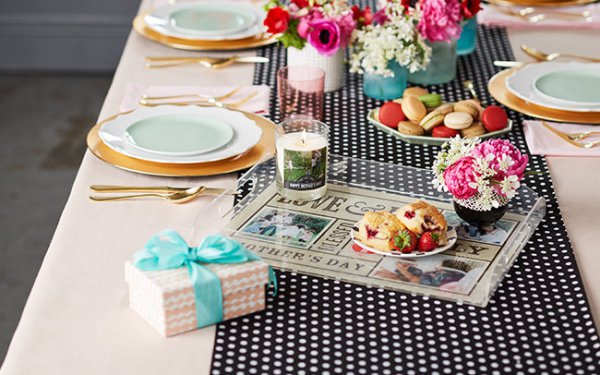 Personalize a serving tray for when Mom hosts. She can use it for appetizers, a snack mix or an array of drinks. She'll be proud to show off the family photos and her creative Mother's Day gift.
16

Pressed Flowers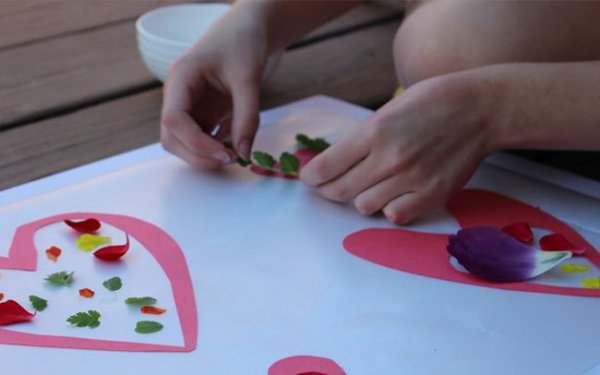 Gather flowers from local fields and gardens using tips from Be Brave Keep Going. Press and preserve the flowers in a unique arrangement—and gift your Mom beautiful wall art. She can hang your handcrafted piece in her entryway, living room or bedroom.
17

Stay Organized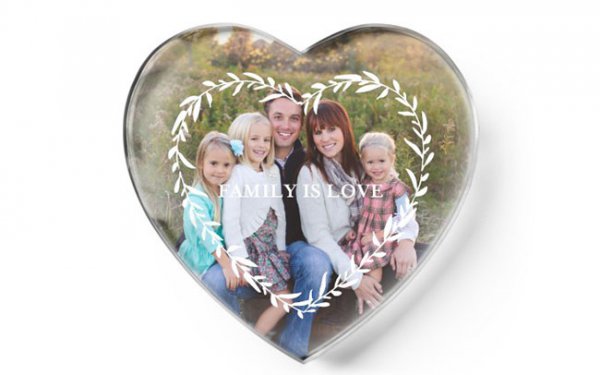 Remind busy moms that they are loved and cared for. With this photo paperweight, she'll always think of peace and joy, no matter how hectic her desk is. Choose photos that will bring a smile to her face, like those from a holiday celebration or family camping trip.
18

Tea Candles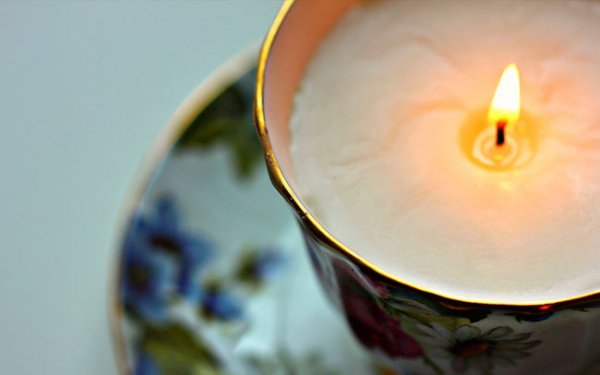 Find decorative tea cups in your home or at second-hand stores. Budget Savvy Diva shows us how to fill them with wax and add a wick. Your Mom will love the beauty of this creative Mother's Day gift idea, especially if she's a tea lover.
19

Chic Yet Functional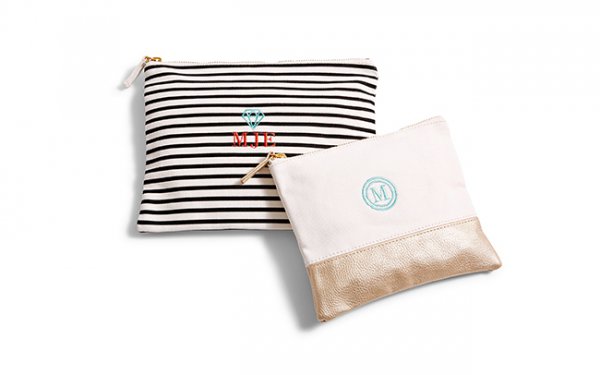 Design a personalized canvas pouch for Mom's jewelry, school supplies or charging cords. Match her style with colors to go with any outfit or purse. She'll love being both stylish and organized.
20

String Art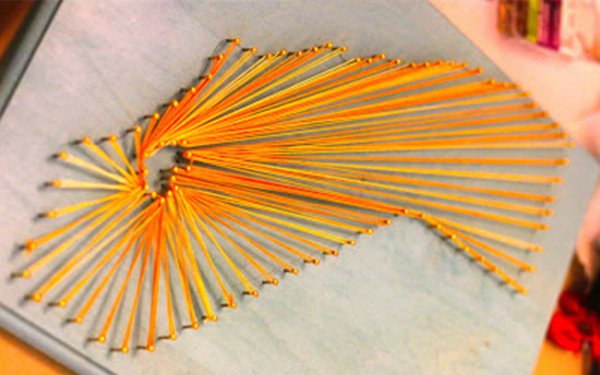 Use a string and pin design from Cause I Like Food's blog to design a shape that has meaning to your Mom—like a heart, animal or home state. She'll notice the extra thought and care you put into this work of art. She'll probably be impressed with your creative skills, too!
21

Emergency Kit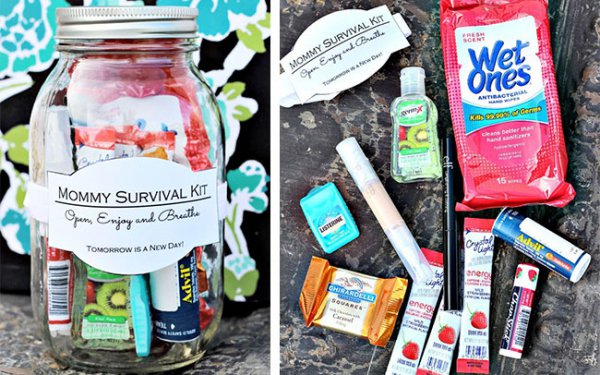 Make up for all the times you gave your mom a headache. Fill a canning jar with Advil, chapstick and other tiny favorites like breath mints and nail polish. She'll get a kick out of this gift idea from Classy Clutter and find herself using it all year long!
22

Smartphone Case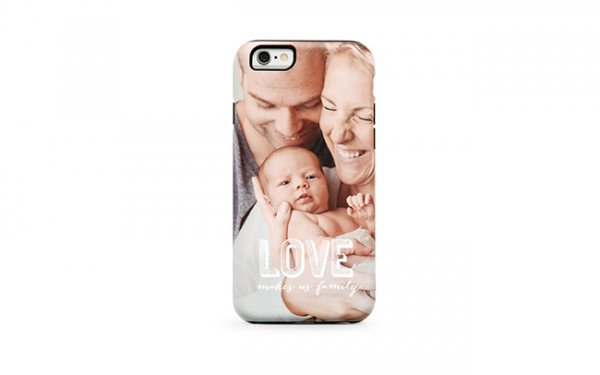 Add personal flair to her phone case so she'll carry her favorite people and moments around with her all day. Design a phone case just for Mom with family photos from vacations, everyday outings or holidays.
23

Lovely Reminders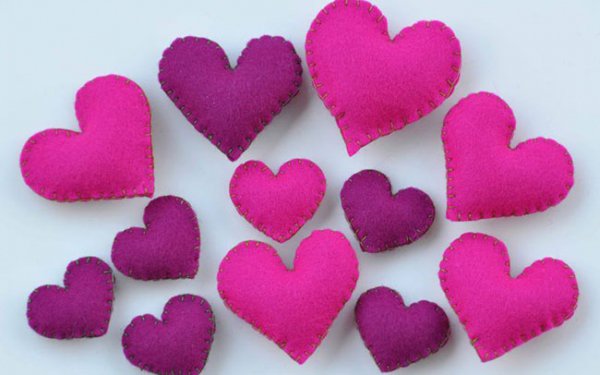 The best Mother's Day gifts come from the heart. Sew tiny felt hearts your Mom can take with her wherever she goes—or leave them in the jar for decoration and a reminder of how deeply she's loved. You can find craft instructions on the Curly Birds blog.
24

Reusable Bags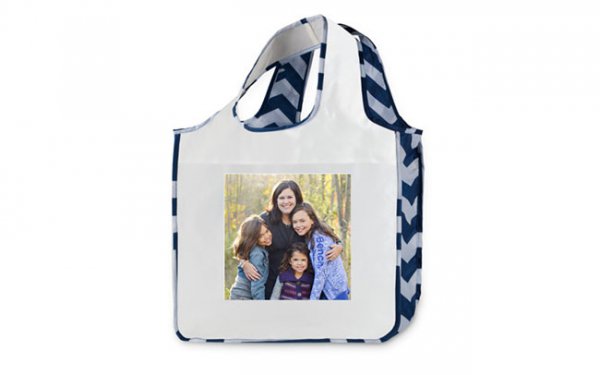 Go green by gifting Mom reusable shopping bags—perfect for groceries, shopping at the farmer's market or carrying items to work. With a personalized look, she can be reminded of your love even on the busiest of days.
25

Bedazzled Barrette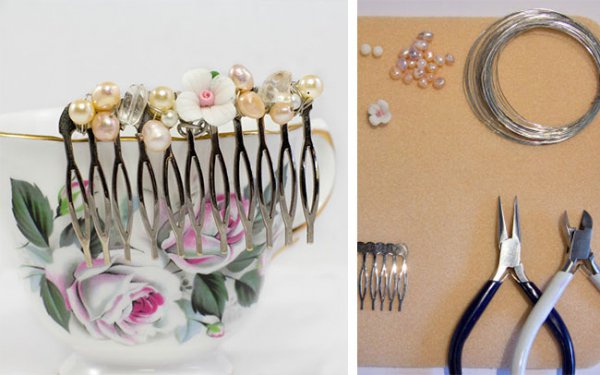 Bedazzle a hair comb, barrette or headband for your mom to pull her hair back in style. She'll be extra proud to show off your gift every time she wears it. For detailed steps, visit Hopeful Honey's DIY blog post.
26

Go Fish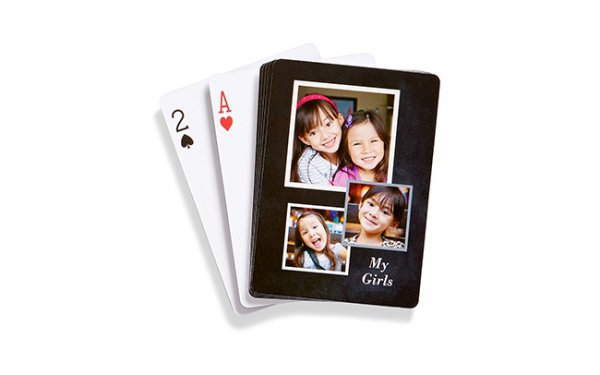 Does your mom love playing a round of cards? Jazz up family game night with a personalized deck, including photos from family vacations, outdoor excursions and cozy nights at home.
27

Family Recipe Collection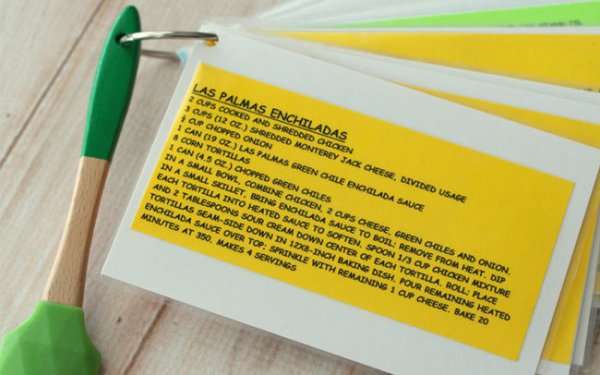 Gather the best recipes from family and friends or draw on your own cooking know-how. Gift your mom an easy-to-use recipe ring. Using Lil' Luna's easy instructions, include a range of recipes, or narrow it down to a category like desserts, soups or veggie entrées.
28

Styling Outdoors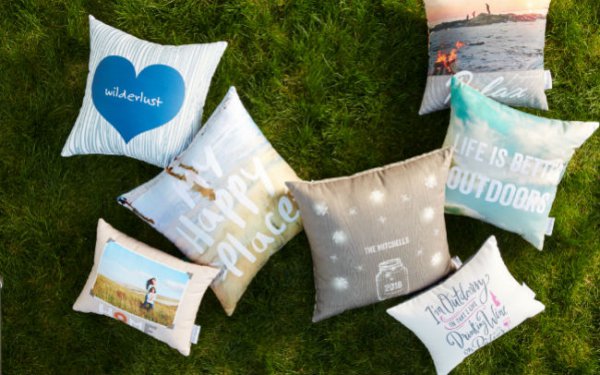 Spice up Mom's deck or patio with customized outdoor pillows. Choose a family photo from a trip or summer celebration to bring extra fun to her spring and summer days.
29

For the Pet-Lover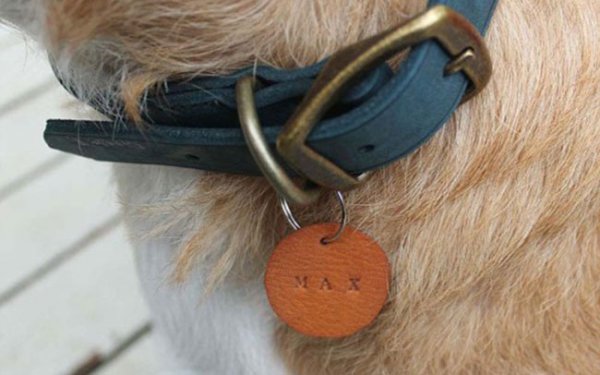 These Mother's Day gift ideas from Design*Sponge are perfect for pet moms! Use key rings and leather to make unique tags for dogs, cats or bunnies. She'll love how personal and classy these look.
30

Homemade Soap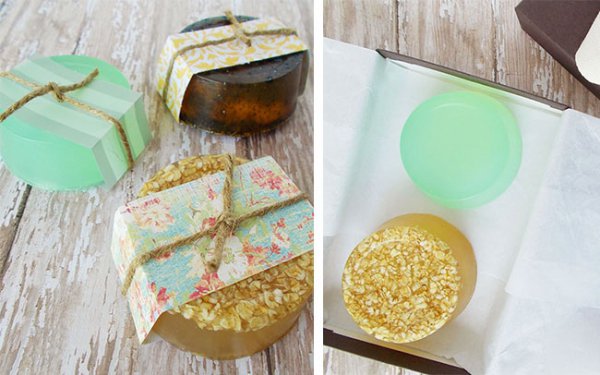 Stir up a batch of homemade soap and tie it with giftwrap using tips from Love, Pomegranate House. Relaxing scents, like lavender or vanilla, will make your mom appreciate you even more (especially at the end of a long day!)
31

Clever T-Shirt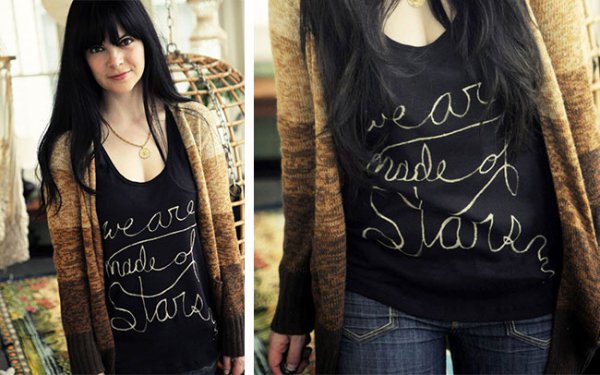 Get creative and design your Mom a catchy t-shirt. Lune Blog suggests picking a favorite phrase or quote she'll be excited to wear. You can also try this on a sleeveless or long-sleeve shirt.
32

Morning Surprise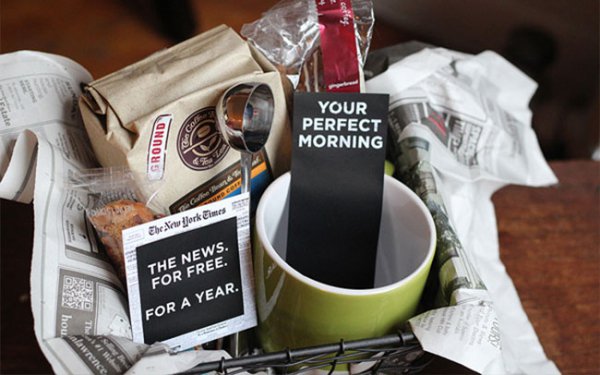 Follow Michelle Edgemont's lead by brightening Mom's mornings with a basket of the best items, like a newspaper subscription, fresh coffee grounds and a mug. She can start her days knowing how much you care.
33

DIY Clock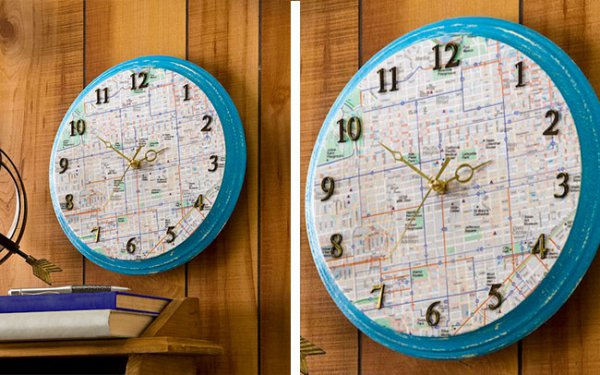 Make a personalized clock from the map of your mom's hometown or current neighborhood. Mod Podge Rocks shares easy tips and a complete supplies list. Even when she's running late, Mom will always think of you when she checks the time.
34

For Keepsakes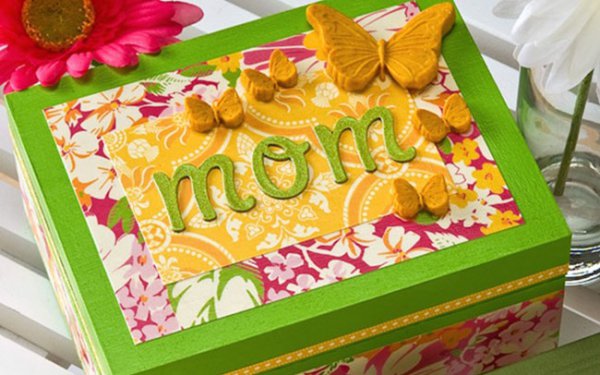 Give Mom a heartfelt reminder of your love with this idea from Mod Podge Rocks. Decorate a jewelry or keepsake box where your mom can store all of her special belongings, like rings, mementos, heirlooms and travel souvenirs.
35

Bookends for the Bookworm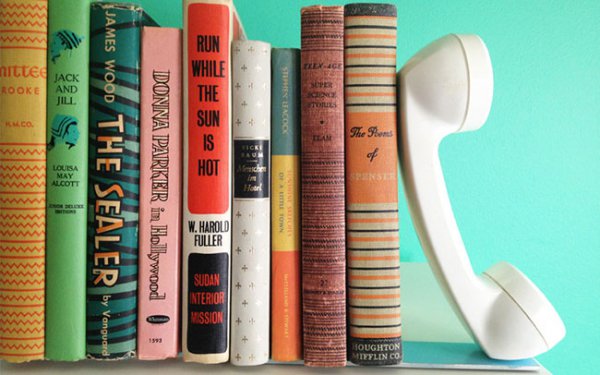 An ultimate choice for a book lover, stylish bookends make for fun and useful Mother's Day gifts. Find an old telephone and recreate a retro look, or go modern with a sleek wood design. Follow the guide from Oh So Lovely Blog.
36

Glass Magnets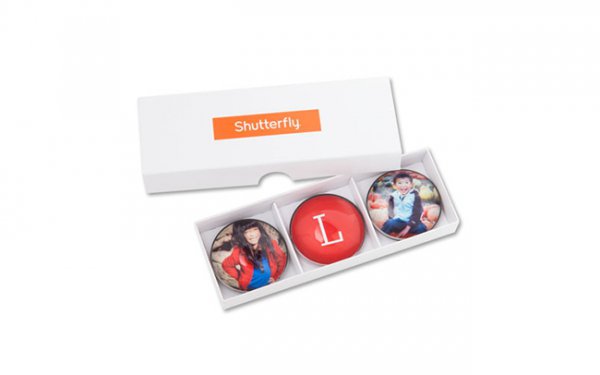 Spruce up Mom's fridge by personalizing your own magnets. Include photos, favorite phrases and bright colors. She will smile every time she hangs a photo or postcard on the refrigerator.
37

Floral Earrings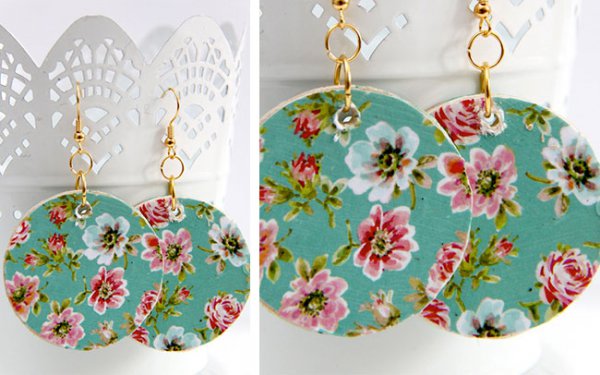 Add flair from Smashed Peas and Carrots to your mom's jewelry collection with handcrafted floral earrings. These will make her feel fashionable, giving her something stylish to wear to community events, drinks with the gals or a night on the town.
38

Birthstone Necklace
Make your gift memorable with a birthstone necklace from the Sugar Bee Crafts blog. To show your thoughtfulness, place it in a shape that's meaningful for her, like a heart, star or her favorite animal.
39

Lift Her Spirits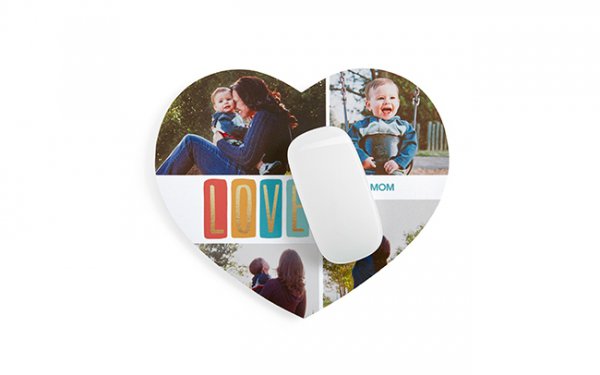 Let Mom know she is treasured each and every day with a personalized photo mouse pad. She'll think of you often—whether she's at home or at the office.
40

Gardening Pots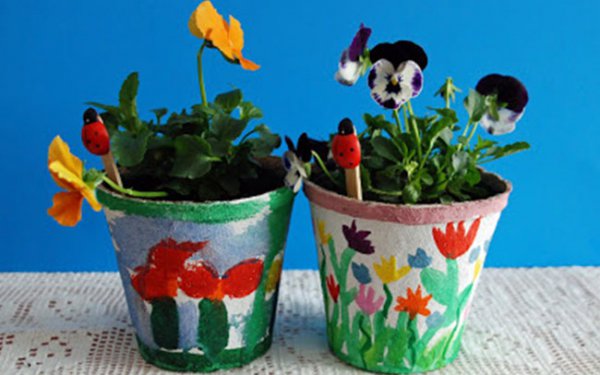 Paint flower pots with fun designs and share them with your mom this May. She'll love the personal touch and fresh blooms. Using ideas from That Artist Woman, you can also paint a canvas for Mom to match your flower pot design.
41

Fresh Herbs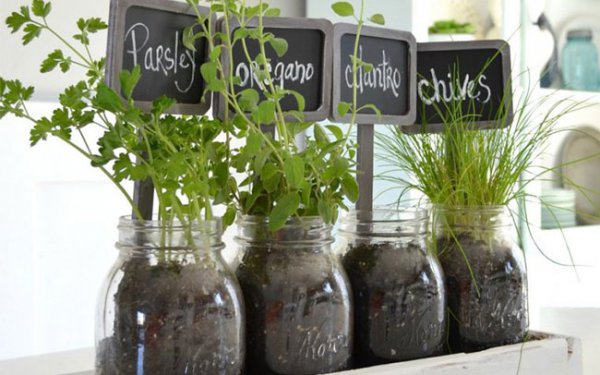 Bring fresh herbs, such as rosemary, basil and mint, into your mom's home. This gift idea from The Aqua House will keep on giving as it grows and produces delicious herbs for her to cook with!
42

Pom Pom Bracelet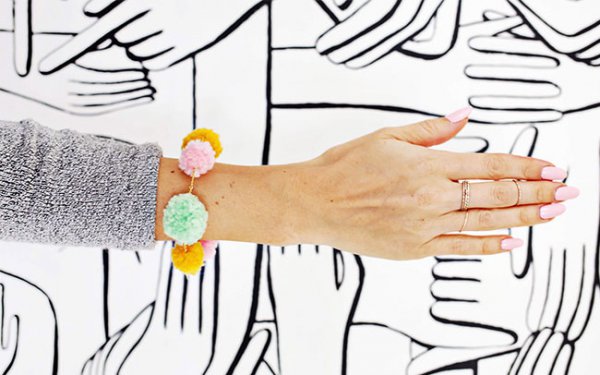 When it comes to Mother's Day creative gift ideas, these pom pom bracelets from A Beautiful Mess are at the top of the list. For a mom with a fun personality, adding color to her wardrobe is sure to be a hit. Sample out a few colors before determining the right mix for Mom.
43

Tic-Tac-Toe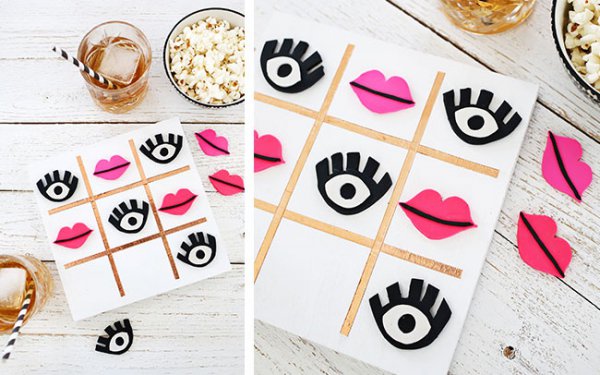 The best Mother's Day gifts are usually personalized with an extra ingredient of fun. With this original tic-tac-toe board made by A Beautiful Mess, your mom will have fun playing with friends and family all year long.
44

Letter Coasters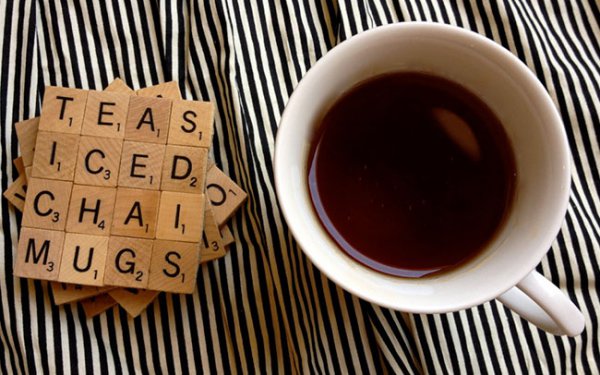 Language loving moms will get a kick out of these homemade coasters from Gourmet Gab. Make a word array with her favorite things like lattes or tea, or go more sentimental with words about love, life and family. Crafting tip: find inexpensive Scrabble tiles at second-hand shops.
45

Warm Her Heart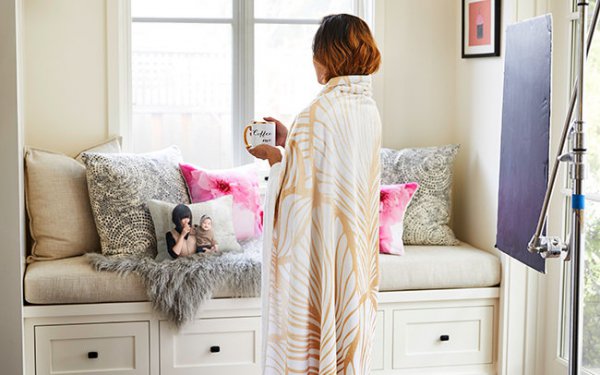 Keep your mom's heart and soul warm with a personalized fleece photo blanket. When she curls up, she'll be reminded of all the love that surrounds her. Perfect for cuddling up on the couch or having a picnic in summer.
46

Baked with Love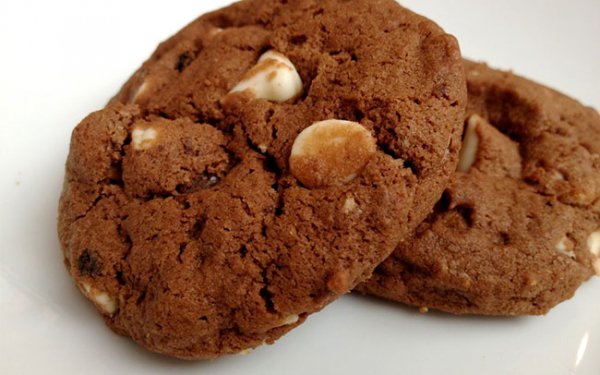 Yum! This Mother's Day, treat your mom to her favorite homemade cookies. For a special touch, present them in a giftbox or resealable container. Try this espresso white chocolate chip recipe from Gourmet Gab. Mom will love not being the one to bake for once.
47

Birdhouse for the Indoors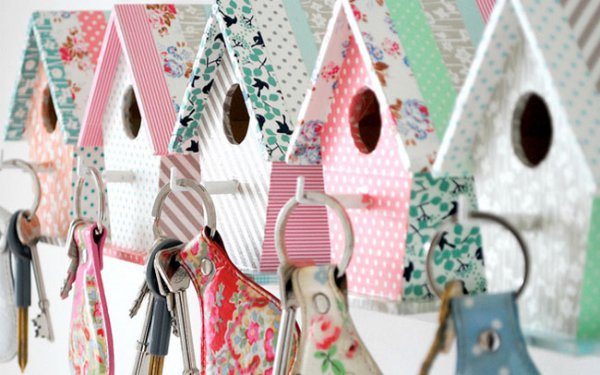 Charming and useful, these Mother's Day gift ideas from Torie Jayne are bound to make her quite excited! Use paints and decorative paper to match these birdhouse key holders to the style of your mom's home, or consider painting a feeder or birdhouse for outside her window.
48

Artist's Rendering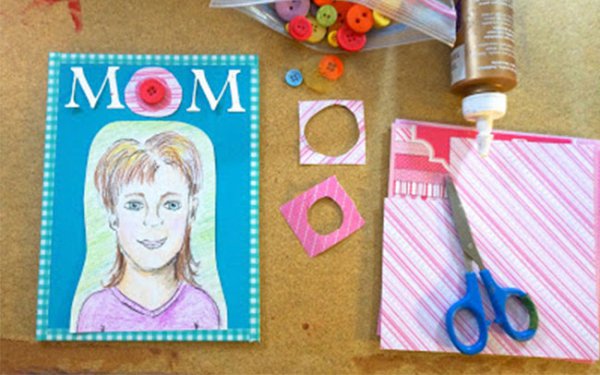 That Artist Woman shows us how to pencil a drawing of Mom with personalized card attached. Mom'll be flattered by her personal portrait and impressed with your artistic skills. She can frame your work or hang it on the fridge after Mother's Day.
49

Paper Flowers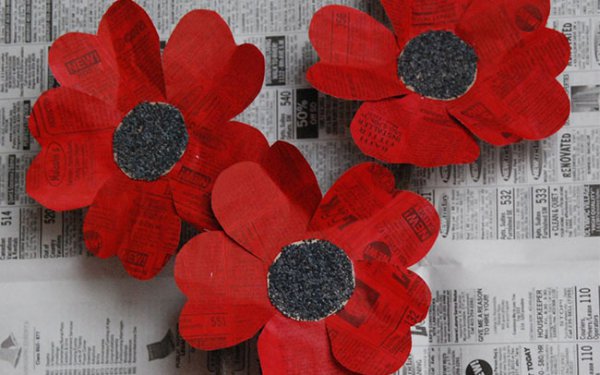 Get crafty and create vibrant flowers out of paper or newspaper following tips from That Artist Woman. These flowers will stay fresh all year long and can be made in all colors like red, orange, blue and purple.
50

Catch All Tray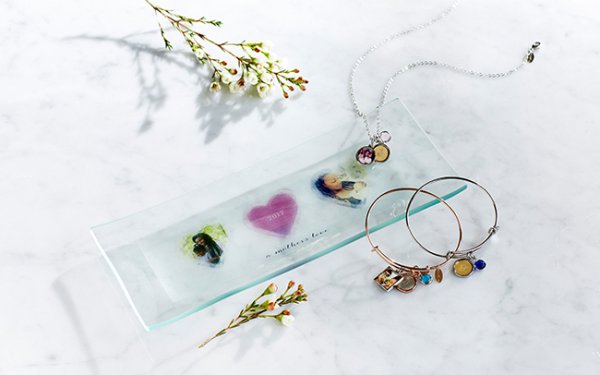 Personalize a catch all tray for Mom to keep her rings, change, keys and more. Add photos from family gatherings, days at the park or other celebrations.
Please rate this article