Have you ever wondered how to transform furniture? It's something I often think about when I'm hunting for the perfect piece…if nobody has created what you are after, is it easy to make it yourself? It seems I'm not the only one. The news has been dominated by bloggers and big names that have bought simple furniture and given it a chic makeover – here's my favorites, and some inspiration on how to transform furniture!
---
1

Curtains…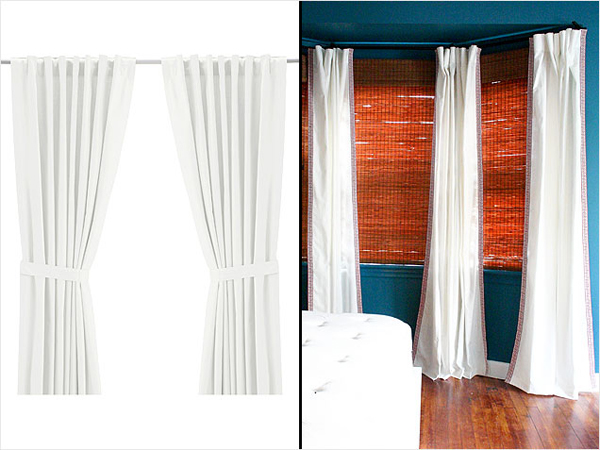 Curtains are complicated. Not only do they need to be the right size and shape, but they need the right design too – and some designs can cost a fortune. So it's no wonder that interior designer Naomi Stein's attempt has been so loved – it's all over social media! Naomi invested in some white Ikea curtains, and cut them into four stripes to cover her bay window. She added her own touch by sewing fuchsia trims down the sides, and the results are amazing. Stunning. I'm in the middle of creating a monochrome pair for my bedroom – it's a great introduction to how to transform furniture!
---
2

Shelves…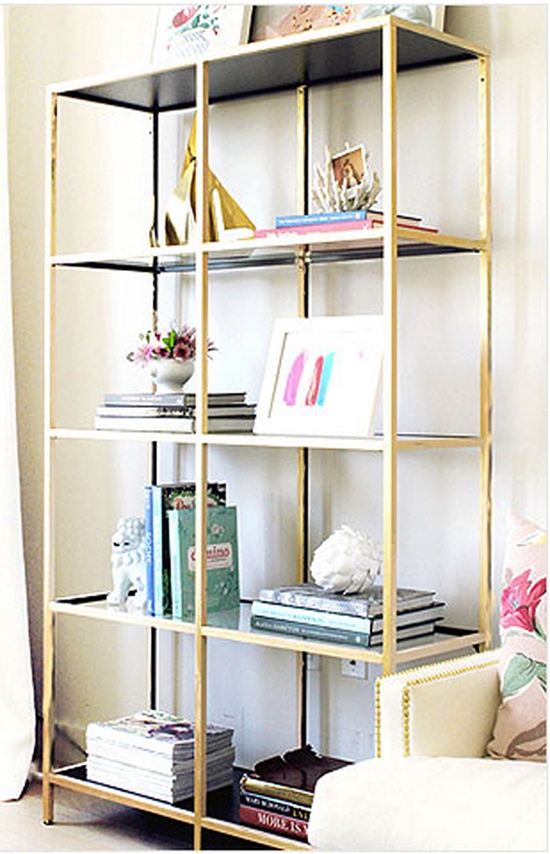 Want a glam shelving unit but have not found what you are looking for? Plenty of people have the same problem, hence the popularity of black and white minimalist shelving. They are surprisingly easy to transform, too – simply opt for one with glass shelves, and pop the shelves out. Spray the frame using acrylic spray paint – golds and neons look amazing – and pop the shelves back in. There's plenty of inspiration on Pinterest, including fabric coverings for the shelves, and even adding drawers. Amazing.
3

Drawers…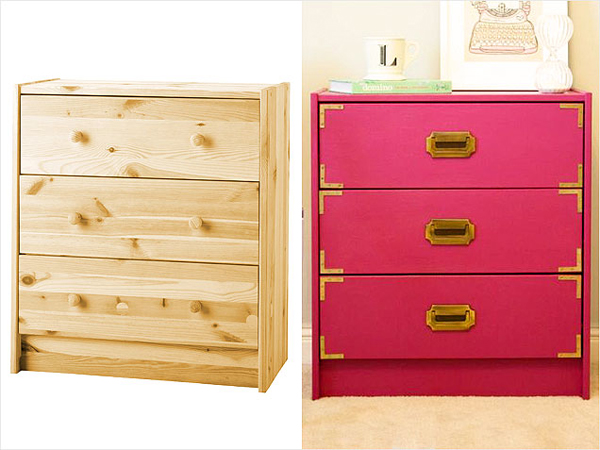 Do you love campaign furniture? I can't get enough of hinges and brass corners on drawers, but this type of design doesn't come cheap. Unless you do it yourself, that is! Invest in some wooden drawers, and paint them a bright color using a high gloss paint. I've opted for cherry red, but they look just as great in any bold color, including black! Once the paint is dry, fix brass corners and add metal drawer pulls. Gorgeous.
---
4

Table…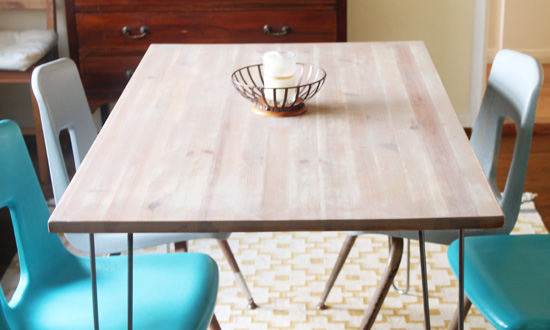 Tired of standard wooden tables, but can't find anything more stylish? Try giving your current table a new look. Swapping wooden chairs for plastic ones adds a more modern touch, and plastic chairs are easy to customize with paint, too. Then unscrew the table legs, and replace standard thick table legs with more unique ones. There's a whole variety of colored, metal and fabric-covered legs on eBay, and they cost very little. Finally, use stains or paint to retouch the top of the table. Even just a high gloss adds a new look, and makes the table stunning.
---
5

Coffee Table…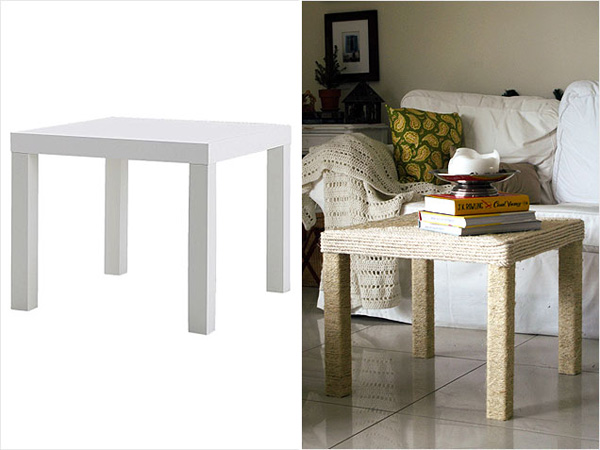 Want something with a more natural feel in your living room? The interior design world has gone crazy for sleek and modern, but there's a huge demand for natural, tactile furniture too. If you can't find any within your budget, invest in a cheap wooden coffee table, and cover it in fabric or materials. I've seen some amazing results using colored fabrics, twines and even rope – just get winding, and glue to hold into place. Stunning.
---
6

Bookcases…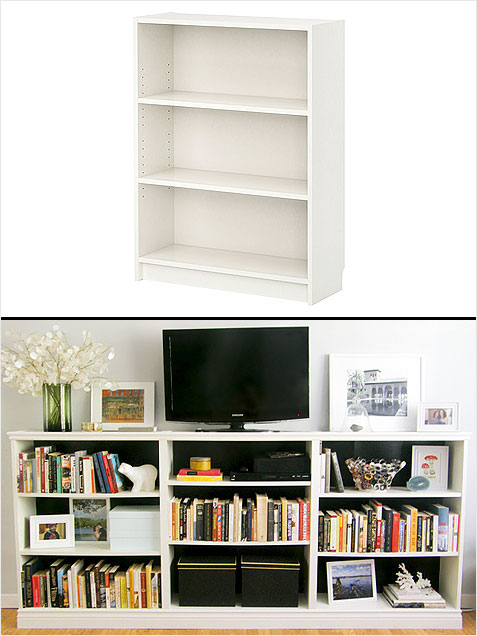 Need some storage but can't find the right size or design? Bookcases can be the answer. First, find a simple white bookcase in the right size. Then decide how many you'll need. Fixing three together to make entertainment stands or kitchen storage is popular, and easier than you'd think – use screws through the back of the bookcases to fix them together, and paint using primer and gloss paint. Then just paint to the right color – reds and pinks are ideal for a burst of color in the bedroom, or opt for silver or black for TVs.
---
7

Photo Frames…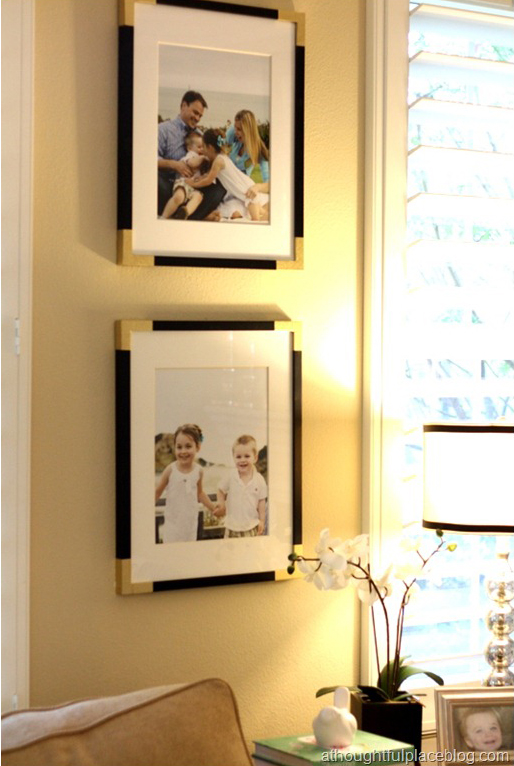 Want a homemade look to your photo frames, without having to actually make them yourself? Buy a few simple photo frames in a block color. Darker colors such as black and dark blue tend to work best for contrast, but anything goes, really! Then measure out pieces of painters tape and apply to the corners. Use small scissors to cut close and get a perfect fold. Finally, spray the painters tape with spray paint, such as gold or bronze. It's a great starter project if you are just learning how to transform furniture, and it's so chic!
Now you know how to transform furniture, the options are endless! Start checking out the cheaper furniture shops, and identifying items you'd love to customize. There's plenty of inspiration in interior design magazines, and I found all the above images on Pinterest, so they are a great way to find new ideas too. Have you personalized any furniture? I'd love to see!
---
Comments
Popular
Related
Recent