Halloween is one of my favorite holidays and as it grows closer and closer to this spooky night of fun, you'll find yourself needing an assortment of ways to decorate pumpkins. You could always go for the traditional carving method, but I like to mix it up a bit. My mom is a fellow Halloween lover, so I'm going to drag all of my craft materials over to her house and have a pumpkin decorating party! I hope to use each of these ways to decorate pumpkins so that I have a variety of fun and interesting decorations!
---
1

Ribbons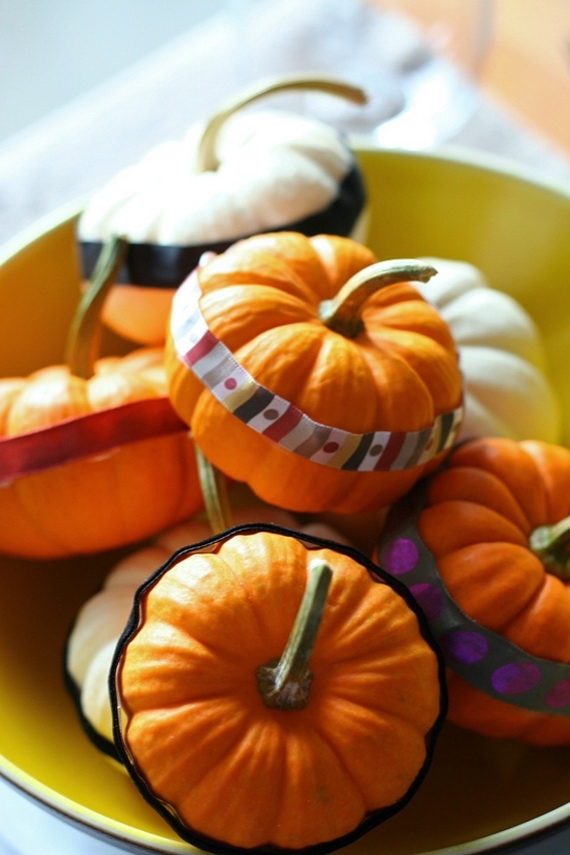 You can buy an assortment of ribbon pretty cheap at the dollar store or Wal-Mart which is great because it is one of the easiest ways to decorate pumpkins ever! Not only is it easy, but it's adorable to boot! You can do a variety of colors or just an assortment of textures and ribbon styles; no matter what you do it will look amazing! Just get out that hot glue gun and glue the strips of ribbon from the base of the stem all the way to the bottom of the pumpkin. Simple!
---
2

Brass Accents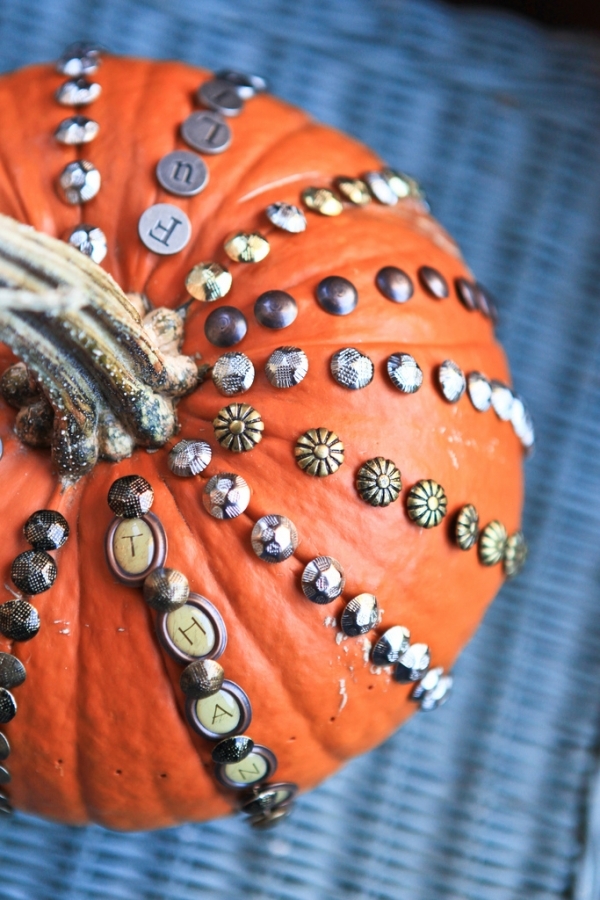 I'm beginning to learn that you can decorate a lot of things with brass tacks and all of the designer brads you can find in the craft shops. Sticking them into your pumpkin gives your festive decorations an edgier feel. With the tacks, you only need to poke them right through the skin of the pumpkin, but with the brads, if they are dull tipped, you may need to poke a small hole first with a knife, scissors or even a pencil point. You can use your accents to give you sleep lines, form a monogram or even cover the entire outside of the pumpkin!
3

Melted Crayons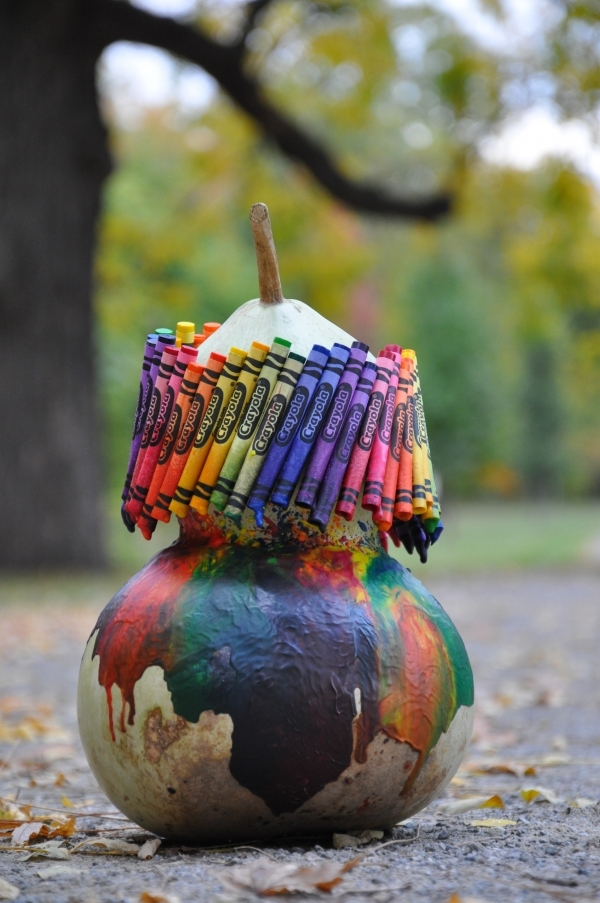 We've all seen the beautiful melted crayon art on canvas, but why stop at a white canvas? Use your gorgeous pumpkin as the backdrop to your melty, drippy works of wax art! You can paint your pumpkin first if you don't prefer to work with orange, but I think some black, green and purple would look phenomenal dripping down over the bright orange. Tape (or hot glue) your chosen colors around the stem and dig out your hair dryer to get the wax running!
---
4

Drill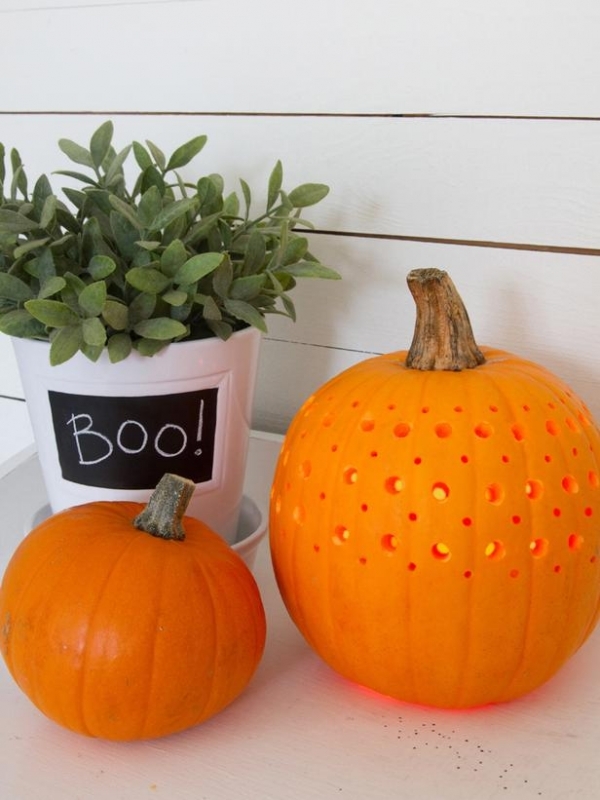 If you still want to scoop the goop out of your pumpkins, this method allows you to get your hands nice and messy! Cut a hole in the top of your pumpkin and scoop out all of the guts and seeds. Use a drill to make random holes, or a pattern in your pumpkin before placing a lit (or LED) candle inside. I LOVE the way this looks, it really gives off a cozy light.
---
5

Mosaic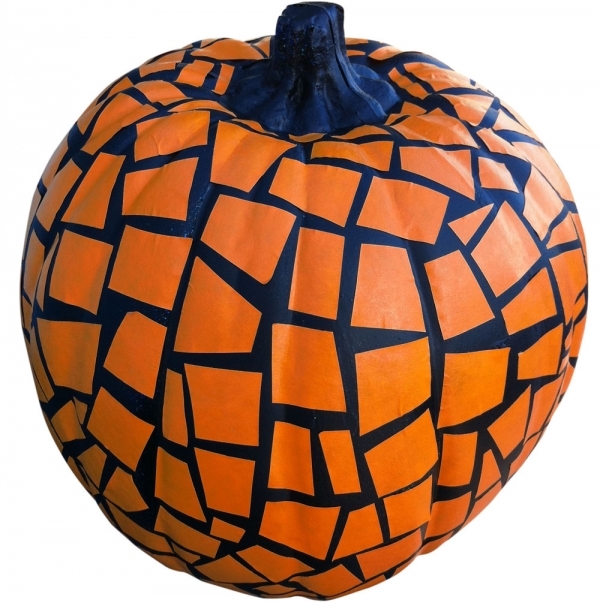 If you have a roll of masking tape, duct tape or painter tape handy, you can pull off this look in just a few minutes! Break off odd shaped pieces of tape and stick them all over your pumpkin. Take white or black…or heck…any color except orange, and paint your entire pumpkin, making sure to cover the tape chunks. After your paint has completely dried, peel off all of the tape and…viola! A beautiful mosaic pumpkin!
---
6

Duct Tape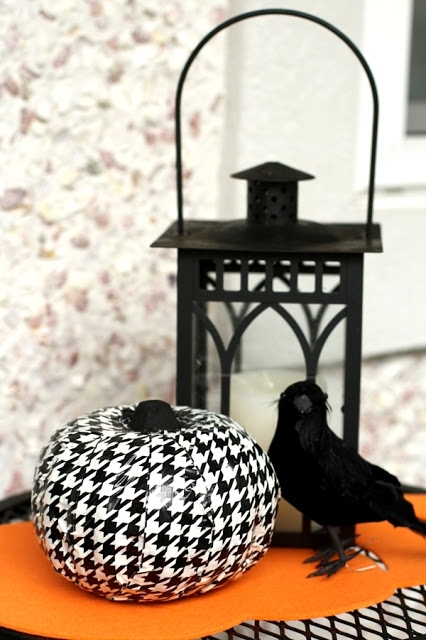 If peeling tape off of your pumpkin doesn't sound like your idea of fun… leave it on. That's right, decorate your pumpkin with some of the amazing colors and patterns of duct tape you can find at any hardware store, office supply store or Wal-Mart. There are even Halloween themed tapes with candy corn, spider webs and all sorts of other things on them. You can make them look crazy or quite chic!
---
7

Stockings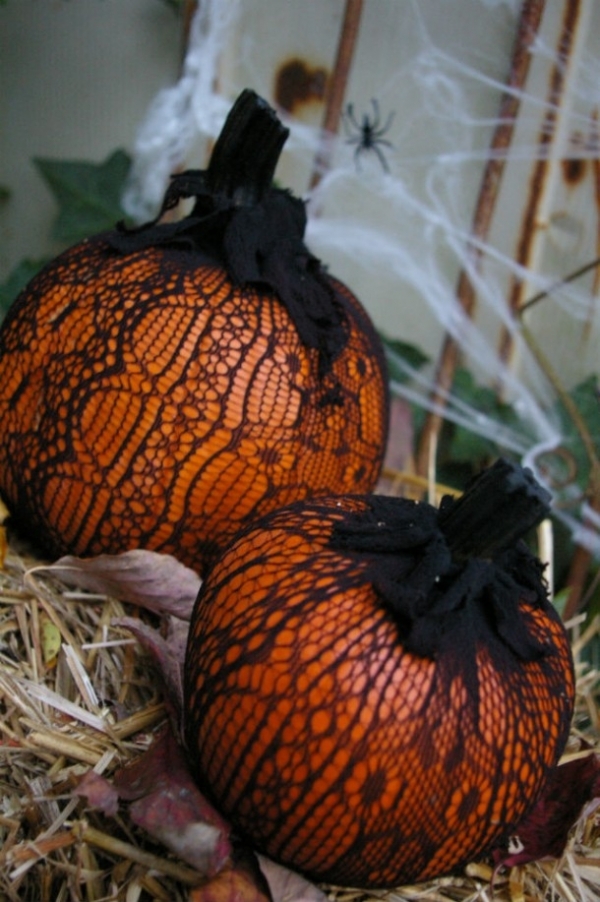 I'm going to end with the simplest way to decorate a pumpkin you have ever seen. If you need to decorate in a hurry for that Halloween party you're unexpectedly throwing, or those pumpkins have been sitting, waiting to be carved, but it's the night before Halloween… throw them in a stocking. That's right, just cut the legs off of a patterned or fishnet stocking, nylon or knit, and slip it over your pumpkin. It makes the PERFECT decoration for Halloween!
I hope you use a few of these ways to decorate pumpkins to spruce up your house for Halloween or for the entire Fall season. Autumn is my absolute favorite time of year and decorating pumpkins just plain makes me happy! What creative ways to decorate pumpkins have you come up with?
---
Comments
Popular
Related
Recent