Handmade cake toppers are beautiful details that can add a touch of whimsy to an already-perfect soiree. Whether you're looking for a DIY cake topper that is specific to an occasion or you only want inspirations, these projects are sure to delight you. Enjoy the following handmade cake toppers, and happy crafting!
---
1

Glitter Hearts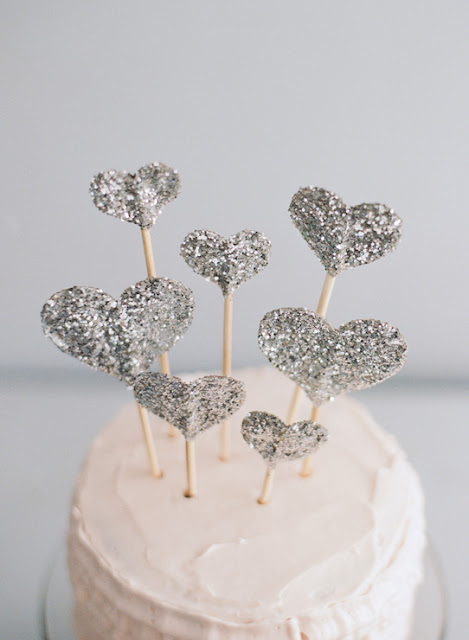 How beautiful is this handmade cake topper? Raya made this for a baby's first birthday but you can easily copy it for a Valentine's Day cake. You simply glue glitter onto paper hearts, attach to skewers, and let dry. You can also use toothpicks instead of skewers.
---
2

Sparkly Pipe Cleaners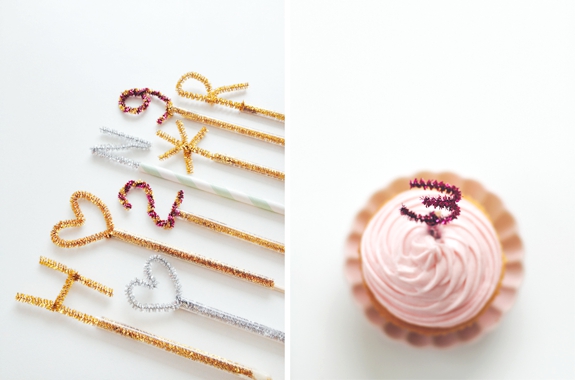 Nothing like sparkle to make a cake look 10x more festive, right? Aside from the visual appeal, these are also quite simple to construct. You shape sparkly pipe cleaners into numbers, letters, or shapes, insert them into straws, and add wooden skewers for support.
3

Flowers in a Tea Cup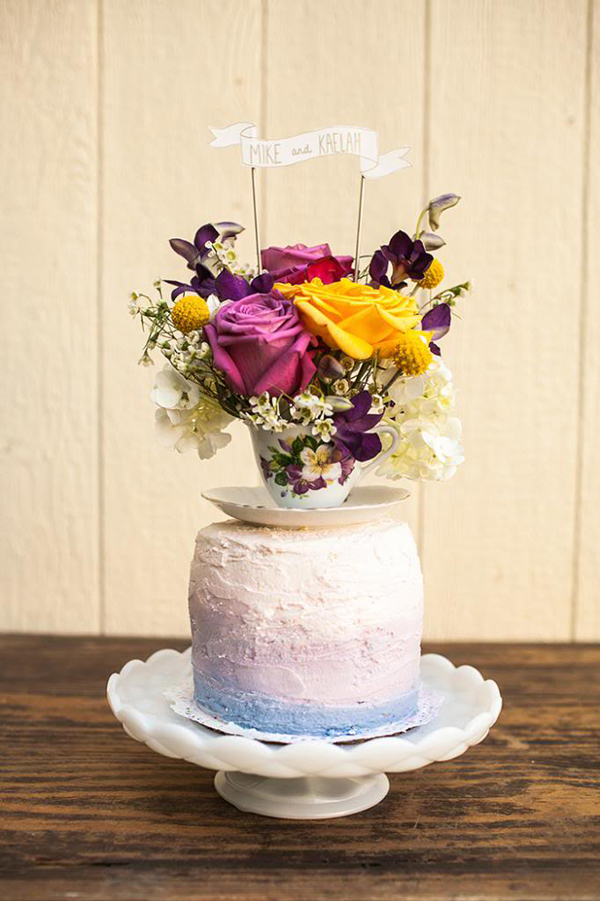 I am in love with this floral DIY cake topper. I love that it's unique, creates impact, and is so easy to recreate. The materials that you will need to make this pretty topper include a vintage tea cup and saucer, flowers, floral foam, cardstock, and wooden skewers. You will use the cardstock for making the banner.
---
4

Fringe Pom Poms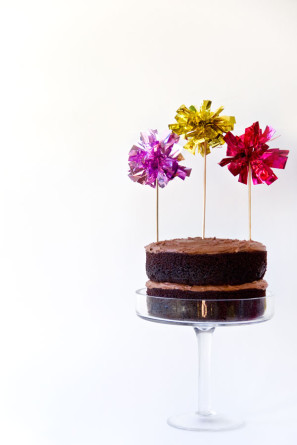 This is yet more proof that sparkly is always a good idea. These handmade cake toppers are pom poms (made of Mylar tissue sheets) attached to wooden skewers. Design variation: use yarn pom poms instead of these fringed metallic sheets.
---
5

Splatter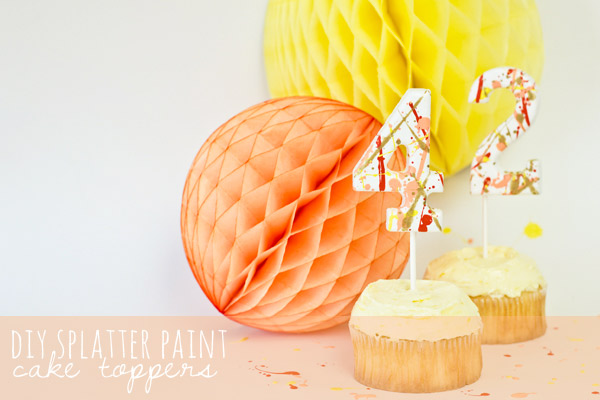 Wouldn't these be great toppers for an artist's birthday party? The numbers used here are by Smoothfoam. If you can't find them, using cardboard ones will probably work, too. For the splatter effect, you will basically be playing with watered down paint in different colors. Fun!
---
6

Cascading Shamrock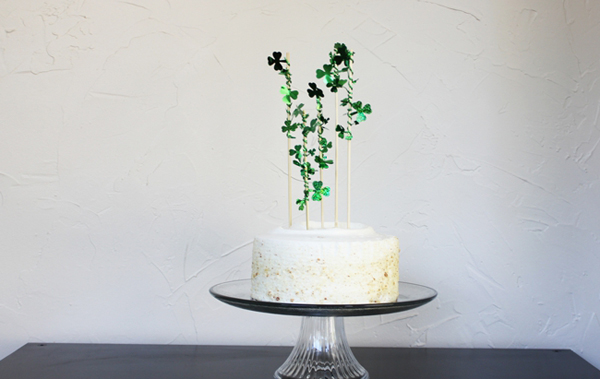 I don't celebrate St. Patrick's Day but I can't help but admire this beautiful handmade cake topper. This was created by wrapping sparkly shamrock decorative wire around bamboo skewers and putting them on top of the cake. You can adapt this idea for other holidays by using tinsel or decorative wires with hearts.
---
7

Glitter XOXO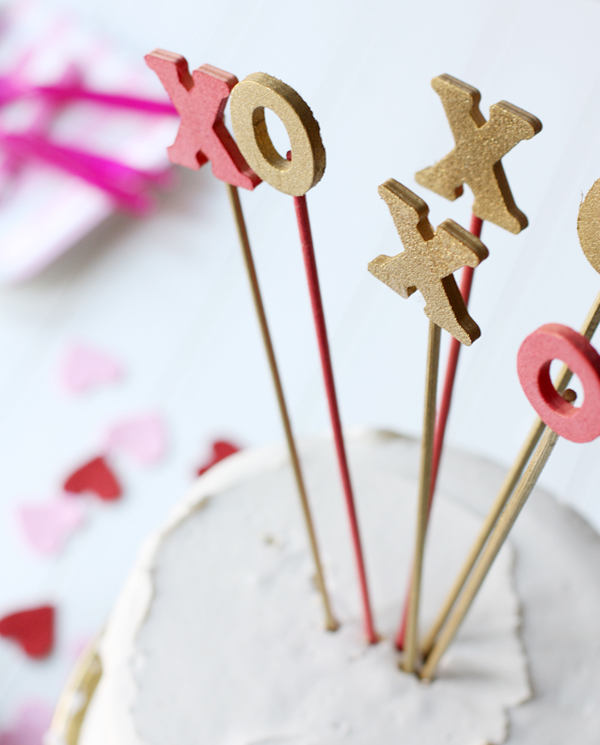 How cute are these XOXO cake toppers? Instead of glitter, the shiny effect was achieved here using metallic spray paint. The letters are made of wood but you can also use cardboard or ones made of Styrofoam.
---
8

Seashell Bunting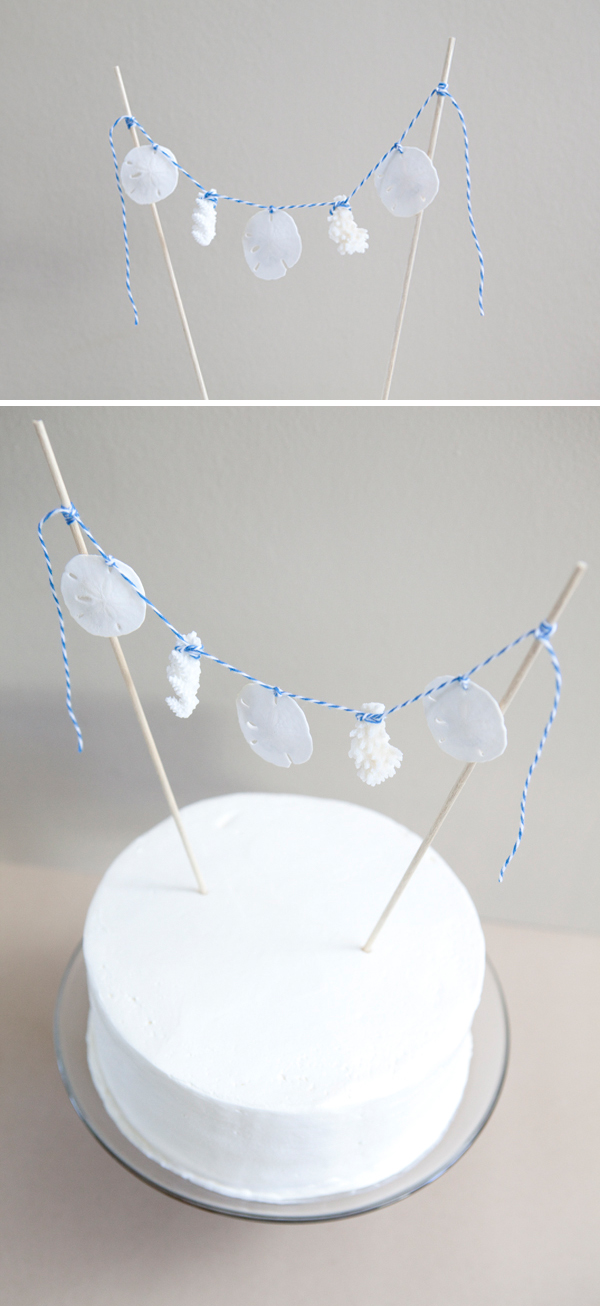 This cake topper would be perfect for a beach wedding. Or for a birthday cake for someone who loves the beach. This is an easy project that will require only tying shells with baker's twine and attaching them to wooden skewers.
---
9

Zinc Letters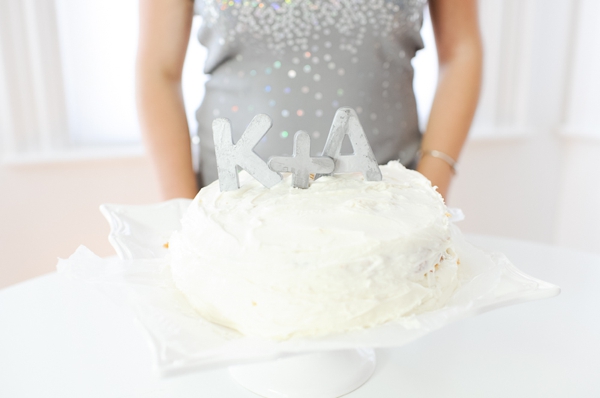 These DIY cake toppers are inspired by Anthropologie items. The store's zinc letters are too big for a cake, though, so you might have to go the crafty route. Thankfully, we have this clever tutorial on how to achieve a beautifully rustic zinc effect on smaller store-bought letters.
---
10

Clover Patch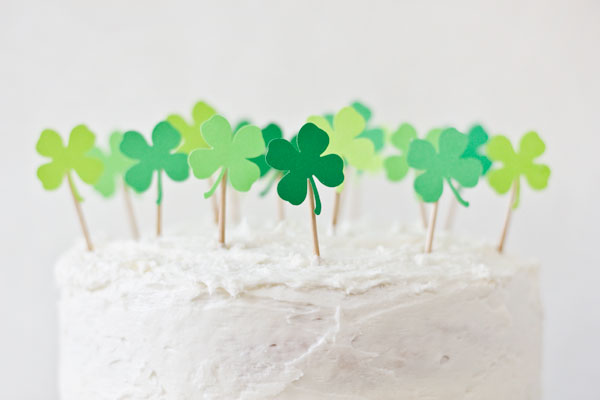 Won't this cake make a St. Paddy's Day party memorable? The toppers are easy to make, too. You make the leaves using a four-leaf clover punch, glue them to toothpicks, and arrange them on top of your cake. Easy!
Aren't these cake toppers beautiful? Which of these handmade cake toppers do you think you'll be making for your next party?
---
Comments
Popular
Related
Recent