Putting Together a Touching Welcome Home Party ...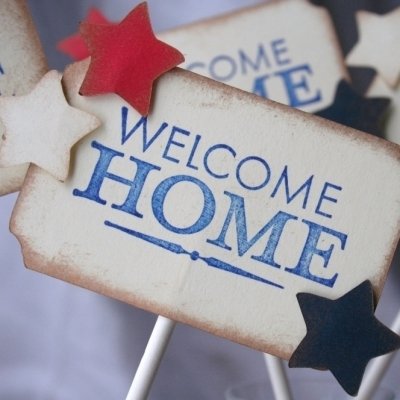 When my husband was away from home for a one-month long business trip, I was busy researching for ideas for a welcome home party. He works so hard for the family and deserves the warmest, greatest, and sweetest welcome home surprise when he gets back. I tried the power of "Google" to look for ideas for a welcome home party but most of the suggestions I found were too generic. So I thought about what my husband would love to see after a long, exhausting work month and realized that it's best to do what's closest to his heart:
1.

A DIY Welcome Home Banner
This is not revolutionary but I consider it as one of my best ideas for a welcome home party because of the amount of work I put into making this banner. I couldn't find any poster board here in China so I used eight sheets of A4-sized bond-paper for the banner. I "connected" them using double-sided tape. Using colored pens, I wrote: "Welcome Home, Daddy Jeff!" I used two strings (which I removed from the twins' teddy bears) and used them to tie both sides of the banner to the wall. The moment Jeff opened the main door, he read the words and smiled … a really big smile!
Jeff celebrated his birthday in August, a few days after he arrived home. My Mom helped me with the balloons – we put some of them in the living room and a lot of them in our bedroom. Jeff was already surprised when he saw the banner. Imagine how wider his smile stretched when he saw the balloons in our bedroom!
The welcome home surprise didn't end there. On top of the bed was a paper bag that contained some little gifts that my husband needs but always forgets to buy. What's inside the bag? Well, two of them are: an eye mask with cooling gel and hand cream.
4.

A Personal Card with Lots and Lots of Pictures
Think Hallmark Cards; that's us. I like looking for templates online, print them and decorate them with a lot of pictures. For Jeff's welcome home card, I printed photos of our date nights, our family movie days, and the twins' daily activities. I wrote a personal message too even with my terrible handwriting. The welcome home card has now joined the Father's Day card on his bedside table.
While he was away, my husband kept on telling me about his "horrible bed that felt like a cold slab on my back". So before I came home, I asked the cleaners for fresh bed sheets so his first night after the long trip will be as comfortable as possible. He didn't notice it but he slept really well that night. No complaints.
Oh how he missed "real" food. Homesickness is a disease that we can't avoid. We can catch it anytime, anywhere. Jeff had it bad. I diagnosed it before he even showed early symptoms. Two days before his scheduled return flight, I made sure his breakfast staples (slices of bacon, potatoes, eggs and skimmed milk) were ready for his mighty comeback.
7.

Clean, Nice-Smelling House
Our home is a total wipe-out especially after the twins' morning and afternoon playtime. It's a real challenge to clean up after the hurricane that involved a lot of running, throwing (of toys), and moving chairs and tables. With the help of my Mom, I was able to keep the toys tidy (even for a just a short while) so Jeff won't trip on his way from the main door to the living room to the bedroom. Everything was arranged and smelled nice when he arrived.
Do you have any more ideas for a welcome home surprise?
{{#comments_count}} Show Commnents ({{comments_count}}) {{/comments_count}}