Recently I was surfing the net and I discovered so many hot DIYs for summer! There are so many smart and sensible DIY projects you can make that'll not only save you money but you also get to create your very own all-natural products! I found all these projects that would make such great DIYs for summer that I had to share them with you! Even if you don't consider yourself the craftiest person in the world, these DIYs will come in super handy while you're getting through the remainder of summer! Let's get started!
---
1

Mosquito REPELLENT Spray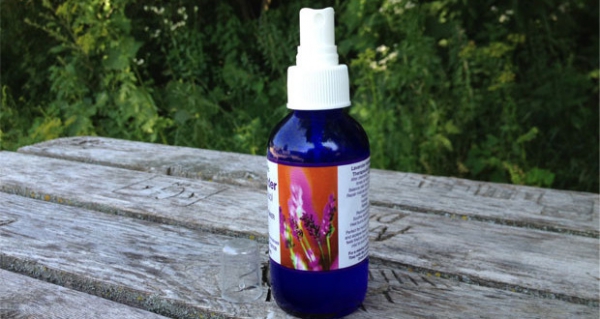 One of the smartest DIYs for summer I've come across is a mosquito repellent spray. Mosquitoes are honestly one of my least favorite things about warm weather, so making this is a great idea! Even if you don't need it, I bet you have friends or family that would love a bottle of it. It's also good to keep the recipe handy in case you take a camping trip in the future. No need to buy a bunch of store-bought chemicals when you can make your own more natural concoction at home!
**
****Ingredients:**
Essential oils: choose from Citronella, Clove, Lemongrass, Rosemary, Tea Tree, Cajeput, Eucalyptus, Cedar, Catnip, Lavender, Mint
Natural Witch Hazel
Distilled or boiled Water
Vegetable glycerin (optional)
**
****Directions:**
Fill spray bottle (I used 8 ounce) 1/2 full with distilled or boiled water
Add witch hazel to fill almost to the top
Add 1/2 tsp vegetable glycerin if using
Add 30-50 drops of essential oils to desired scent. The more oils you use, the stronger the spray will be. My personal favorite mix is: Rosemary, Clove, Cajeput, Lavender, Cinnamon and Eucalyptus… it works great and smells good too! Check wellnessmama.com for other bug spray recipes, also!
**Source: **wellnessmama.com
---
2

Sunburn Treatment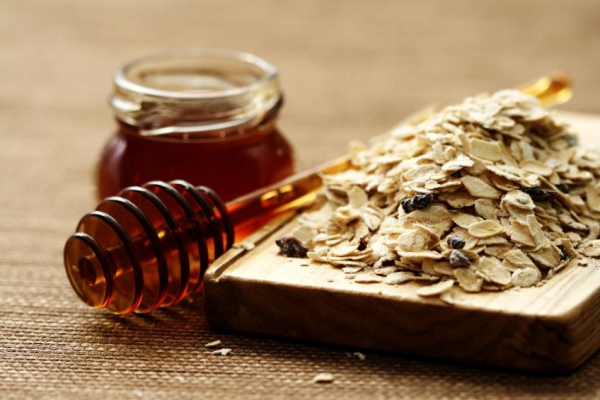 Sunburns can be another common consequence of being outdoors, so a DIY sunburn treatment makes a fabulous summer DIY! Sunburns can be painful, unsightly and very uncomfortable, so making your own sunburn treatment at home is super convenient. You'll just need a few items from the kitchen and you're on your way to ahhhh!
Ingredients:
2 cups of raw, uncooked oatmeal
1 cup of whole milk
1 tablespoon of honey
Directions:
Take two cups of raw, uncooked oatmeal and pour into a tepid to warm bathtub. Oatmeal contains healing properties and serves as an exfoliator and moisturizer.
Add one cup of whole milk to the water. Since milk is full of proteins and vitamins A, D, and E, it has strong soothing properties.
Add one tablespoon of honey to the bath. Honey is high in vitamins B, C, D, and E and is a natural antiseptic salve for the skin.
Soak in the tub for five to 10 minutes. Rinse off, take a sigh of relief, and gently pat your body dry.
**Source: **bellasugar.com
3

Beach Texturing Spray for Hair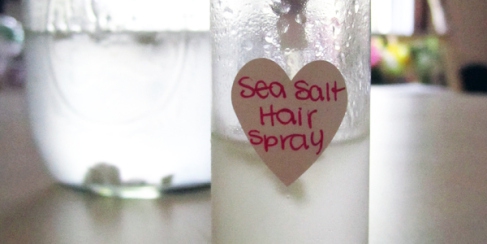 We adore the look of easy, beachy waves, but it's not always possible to make it to the beach for those natural tousled waves. Try this DIY summer beauty product and create your very own texturizing spray to form sexy, effortless waves, minus all the sand in your swimsuit! Now you can wear beachy waves all year long if you want!
Ingredients:
1 tsp. sea salt
2 tbsp. leave-in conditioner
Nickel-sized dab of water-based pomade
1 tsp. of coconut or argan oil
1 cup of hot water
Directions:
My advice is to pour the hot water into the spray bottle, then add your nickel sized dab of pomade, salt and argan/coconut oil. Put the top on the bottle and shake to break down those ingredients while the water is hot. Then add the leave-in once those ingredients dissolve.
The reason this spray is so great is because it never feels dried out or hard– every ingredient is soft. Best to let it air-dry and gently scrunch as it dries. You can use it on long or short hair without worrying about it getting "crunchy."
**Source: **womansday.com
---
4

Cooling Cucumber Toner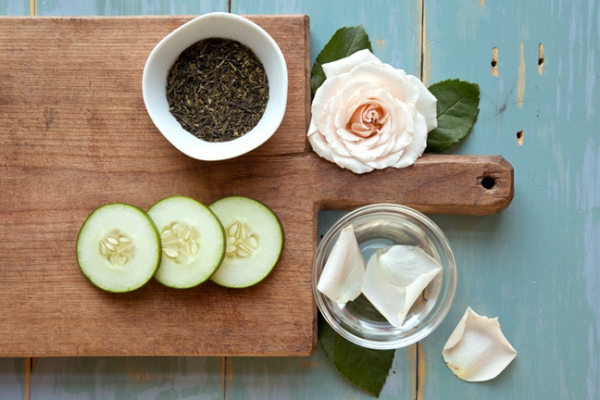 Another helpful summer beauty product to make yourself during these hot months is a cooling toner! No need to go out and buy a fancy, expensive toner when you can make your own all-natural toner to cool off and tone your oily T-zone! This toner is said to be mild and work on just about all skin types, so it would make a great gift for a girlfriend, too!
Ingredients:
1/2 cucumber with peel, chopped
3 tablespoons witch hazel
2 tablespoons distilled water
Directions:
Put all of the ingredients in a blender or food processor and blend until smooth. Pour the mixture through a fine-mesh sieve to remove all of the solids, then pour the toner into a clean bottle with a tight-fitting lid. Store this toner in the refrigerator for a longer shelf life—it should last for several weeks.
To use, apply the toner to your face using a clean cotton ball.
Yield: 4 1/2 ounces
**Source: **thebeautydepartment.com
---
5

Summer Avocado Mask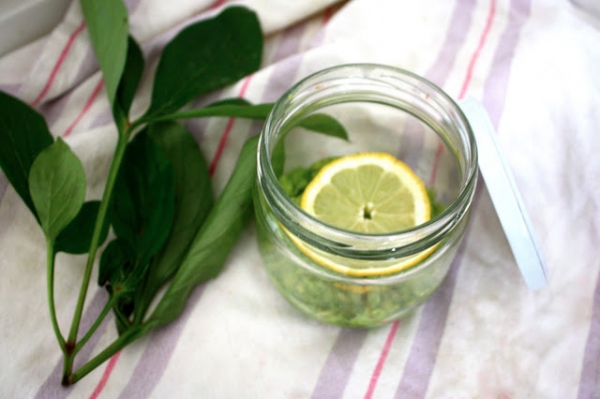 If you're looking for another option to soothe sunburned skin or maybe you just want to give yourself a nice mask that will reduce redness and soften your skin, this mask will do the trick! All you need is an avocado, lemon juice, honey and olive oil, and you're all set for a moisturizing and calming face mask that'll leave your skin glowing!
Ingredients:
1/2 avocado
1/2 lemon juice
2 tbsp. of honey
1 tbsp. of olive oil
Directions:
Mix all the ingredients together, apply and enjoy looking like a dinosaur for about 15-20mins.
**Source: **alionsnest.com
---
6

Foot Soak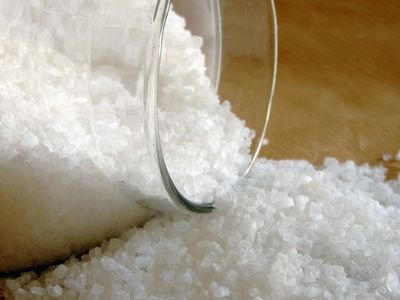 Summer is a great time to wear your favorite sandals, wedges and flip flops. But, if your feet are starting to look and feel a little rough, it's time to give them a nice, relaxing soak! Soak your feet in this Epsom salt soak and scrub to soften and refresh your feet. Not only will they look great, they'll be soft and ready to show off in no time!
Ingredients:
1/2 cup of Epsom Salt
2 quarts of warm water
Few drops of eucalyptus oil
Directions:
Dissolve a half cup of Epsom Salt into two quarts of warm water. Pour the water into a container and soak your bare feet for 15 to 20 minutes. For an extra treat, add a few drops of eucalyptus oil for a refreshing scent. Massage the entire foot with Epsom Salt, concentrating on the heels and ankles to remove any dry, rough spots. Then rinse your feet with clean tap water and dry them thoroughly.
**Source: **ajc.com
---
7

All-Natural Body Mist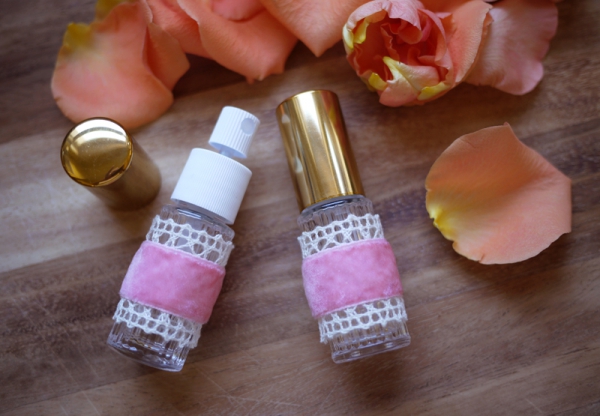 Body mists are a great alternative to perfume, especially on sticky days where you don't want to wear a heavy perfume but still want to smell nice. This summer DIY recipe will show you how to make an all-natural body mist that smells great minus all the chemicals and preservatives! Stick this in the refrigerator for a little while to really cool you off on a hot day!
Ingredients:
Distilled or spring water, I used the distilled bottle water.
Essential oils of your choice, in my case rose, lavender and lemon
Glycerine
Clean spray bottle for storing the mist.
Tooth pick and a bowl for making oil mix.
Directions:
I was making 200 ml of body mist in which 80% of the part is water only, So next 10% has to be the mix of essential oils. For my floral citrusy mist I used 40 drops of rose oil + 25 drops of lemon oil + 20 drops of lavender oil. Mix the oils together using the tooth pick. You may think that it will be great to put the oil directly in spray bottle but doing that will not let you know how your final mix of oil smells like.
Put a tiny part of oil mix on your skin and take a sniff to check if you are getting your desired fragrance. You can alter the scent by increasing your favorite oil ratio. Now fill your spray bottle with distilled water. Do not fill the bottle completely. Fill just 75-80%. Now pour the essential oil mix in it and then add equal amount of glycerin in the mix.
Close the cap and shake everything together. The mix will look cloudy initially but after 5- 10 minutes everything will settle down and the content will look perfect. To beautify the bottle you can make a fancy sticker and paste it on the bottle. That's all your personalized all natural body mist is ready to use.
As this mist has no alcohol in it will take time to dry on skin. Alcohol helps perfume/mist evaporate on skin faster, leaving only the fragrant oil behind. If you are fine with using alcohol you can add any color less and odder less alcohol likes vodka in equal proportion of water. However I wanted my mist to be alcohol free so I skipped this part.
Essential oils are good for skin and most of them have antibacterial and antifungal properties too. So this mist will not only make you smell good but will keep your skin healthy too. I spray it lavishly on myself after bath and the smell last on me for about 4 hours. I feel that stronger smelling oils like jasmine or sandalwood will last even longer.
**Source: **makeupandbeauty.com
These summer DIY projects will be helpful in getting through the rest of the summer and just about any time of the year! There are so many genius DIY projects out there that I can't wait to try! I think making my own beauty or household products is just as fun as using them! What's your favorite DIY product?
---
Comments
Popular
Related
Recent