7 Simple Tips for New Sewers ...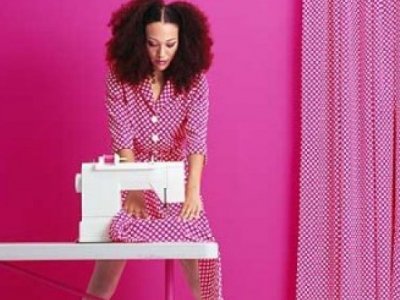 These tips for new sewers are intended to help people who want to begin sewing but don't have anyone to teach them. Moms and grans used to pass on their knowledge, but since many now haven't learnt sewing skills themselves, they can't show us how to sew! When you're a novice it's easy to make mistakes that put you off continuing, but do persist as sewing is a great hobby. Try these tips for new sewers …
1.

Start Simple

One of the best tips for new sewers is to start with simple projects. This will allow you to get used to using a sewing machine and give you some confidence. Try a simple bag, a cushion cover or a hair band to begin with. There are lots of patterns and tutorials online for the kind of easy project that would suit a novice sewer.
2.

Read Instructions

Always read the instructions carefully before beginning. Many a project goes wrong because of the failure to understand a crucial step in the instructions. So go through them as many times as necessary until you are absolutely clear on what you should be doing. As part of the learning process you will need to familiarise yourself with sewing terms (see the next point).
3.

Learn the Lingo

As a new sewer, you may find yourself completely confused by some of the words and phrases used. What on earth is basting? How do you tell the right side and the wrong side of the fabric? If you don't know what a term means, look in a sewing book or find an online glossary.
4.

Buy Cheaper Fabrics

When you're new to sewing and not very confident, it's wiser not to splash out on expensive fabrics. You'd be really annoyed if you mess up a project using fabric that cost you $30 a meter! Start off with cheaper fabrics so that any mistakes you make won't be costly ones. However, you should avoid using cheap thread, as this tends to break and causes more trouble than it's worth.
5.

Prewash

Always wash fabric before you start sewing. You might think that there is no point washing fabric before it's even had the chance to get dirty, but it's an important step in making a garment or item. The reason is that fabrics can shrink when washed. If they're going to do so, you definitely want them to shrink before you start sewing, or your lovingly-sewed garment may not fit after its first wash.
6.

Iron as You Go

Ironing is often overlooked in the sewing process, but it's one that shouldn't be missed out if you want your work to turn out as good as possible. Pressing the pieces as you work will help keep the seams straight; wonky seams will ruin the entire garment and it won't hang correctly.
7.

Pins & Needles

You might think that pins and needles are the simplest part of the process of sewing, but it's essential to use them carefully and correctly. There are two main types of machine needle - ball point or sharp. Sharp needles will do for most kinds of fabric, but you should use ball point needles for knit fabrics. Glass or pearl head pins are easiest to see, and always remove pins as you work. Sewing over pins will break the needle.

Sewing is making a big comeback as people rediscover the fun and satisfaction of making their own clothes and things for their home. Once you get the sewing bug your machine will be forever humming! You might make a few mistakes, but that also helps you to learn. Are you a machine maniac or a sewing phobic?

{{#comments_count}} Show Commnents ({{comments_count}}) {{/comments_count}}