Proof You Need to Take up Sewing Pronto ...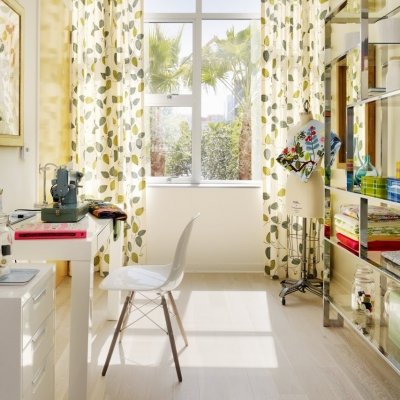 I have to say, as much as my mother used to try and encourage me to take up sewing when I was younger, I was reluctant to do so, but I have now realized there really are many reasons to take up sewing pronto. Now that I have started to sew, my mother loves to whisper "I told you so" under her breath, but that's what mothers do I suppose! She was right though and I wish I had taken it up earlier, but I won't tell her that and hey, I'm sitting comfortably at Sewing Central now so here are my reasons to take up sewing.
One of the THE most important reasons to take up sewing is that you'll learn all about fashion and style. Taking up sewing means you will learn about the technical side of creating your own unique clothes in different styles and fabrics and you will also learn about the evolution of fashion over the decades. If you have a passion for fashion then I urge you to take up sewing.
Sewing is very therapeutic and when I get my sewing machine out, I'm completely in the zone. Although you're concentrating on what you're doing, which is essential, you're fully in the moment and forgetting about your troubles as you think about how you're going to create your masterpiece.
3.

Unleash Your Creativity
Sewing is a fabulous way to unleash your creativity. There are no limits to what you can do once you have leant to sew. From clothes to unique soft furnishings, you can create one-off pieces that people will marvel at for years to come.
4.

Simple (Well, Sort of)
Sewing is relatively easy to pick up. Once you have mastered the sewing machine, you can start with some basic creations such as cushions and tote bags and then graduate to more complex creations with patterns. There are some great books on the market for first time sewers and some tutorials on YouTube to help you master the basics. There might even be some lessons going on in your local area where you can learn with like-minded people, which is always fun too!
The great thing about sewing is the fact that you can create one-off pieces that other people are unlikely to have. Whether you're creating something from scratch or altering something you have found in a thrift shop, you're unlikely to go to a party or to work and find someone in the same outfit. Take up sewing and be unique!
I love the social side to sewing. It can be something you do on your own if you feel like retreating to your sewing den or you can have sewing afternoons where you get your sewing machine out and have a good old gossip with pals (I know, I'm so rock 'n roll!) I wouldn't recommend 'driving' your machine under the influence though; the sartorial consequences could be dire!
I know that fabric can sometimes be costly but it all depends on where you buy it from. You might be able to pick up some bits of fabric from a thrift shop or you could always use fabric from an old garment to make something new. Another great thing about learning to sew is that you don't have to enlist the services of a tailor to make adjustments to clothes. Taking garments up or in can be costly but learning to do it yourself will mean that you can save money and feel super smug that you did it yourself!
How about you, has anyone else caught the sewing bug? I think I may be hooked!
{{#comments_count}} Show Commnents ({{comments_count}}) {{/comments_count}}