It's graduation season and if you're the graduate, you are probably trying to plan an epic party to celebrate the event. Finishing school, whether it's high school or college, is a big achievement and something you definitely want to throw a big bash for. Thanks for Seventeen magazine and HGTV, here are some fab ideas to make your party something really special. All of these DIY ideas are simple to execute and will make your graduation party totally memorable for yourself and all of your guests. Congratulations!
---
1

Chalkboard Speech Bubble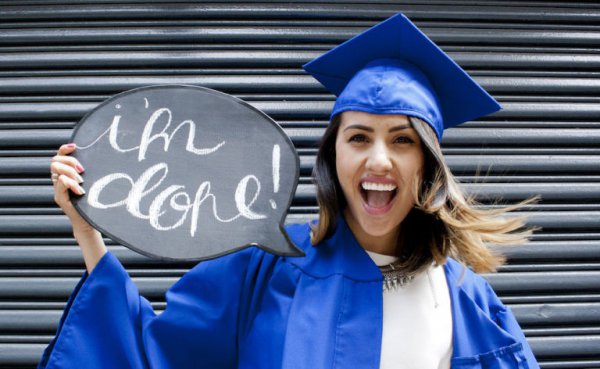 This craft turns any party into a 'gram-worthy photoshoot. Write "I'm done!" like this girl did, or scrawl your own brilliant phrase.
---
2

Cocoa Krispies Treat Graduation Caps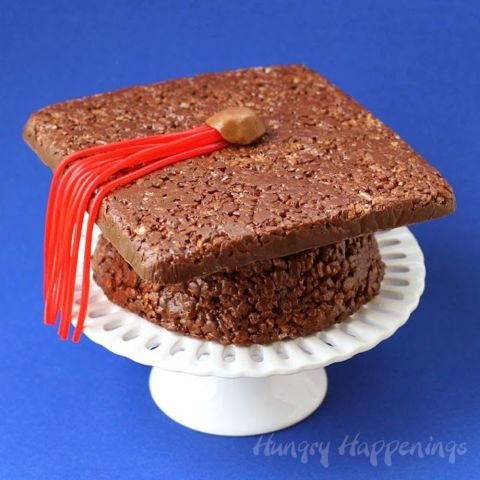 Chocolate-lovers need these mortar board-inspired desserts. And if baking was one of those skills you planned to learn after you graduated, no sweat — the recipe is pretty easy to follow.
---
3

Tassel Garland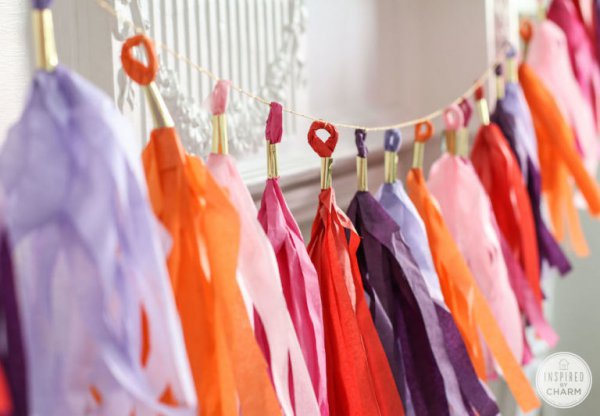 This colorful tassel garland is surprisingly easy to make and has a big impact on any room.
---
4

Confetti Balloons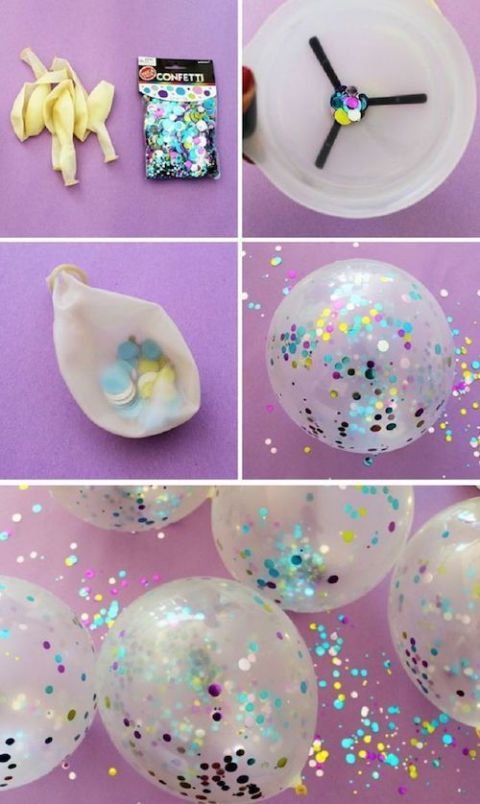 Make clear balloons more festive (and less boring) with confetti! Sprinkle small amounts of tissue-paper confetti through the mouth of the thing, then blow it up and shake to dispense it around.
---
5

Class Rings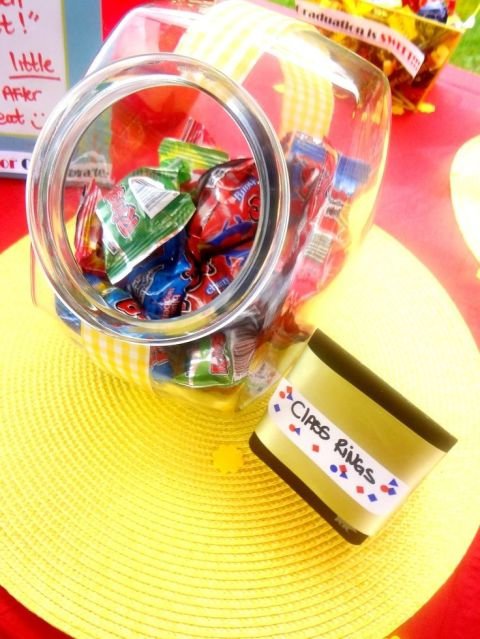 For an inexpensive centerpiece, fill a clear cookie jar with Ring Pops, tie it with a ribbon, and label it as your "class rings." LOL.
---
6

Graduation Cap Straw Toppers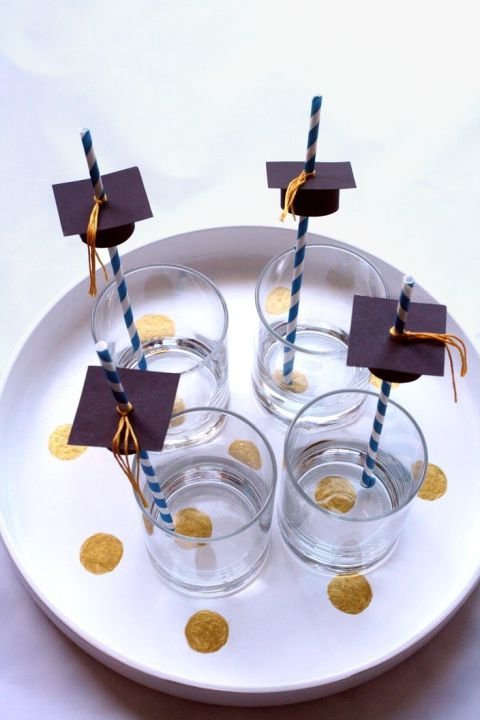 Think of straw toppers like a statement accessory for your drink. To make them, cut a square out of construction paper and punch a hole through the center. Then cut a long rectangular strip out of the paper, form it into the shape of a cylinder, and glue it to your first piece to make a hat. Slip a straw through it and top it off with a tassel made out of embroidery string.
---
7

Memory Jar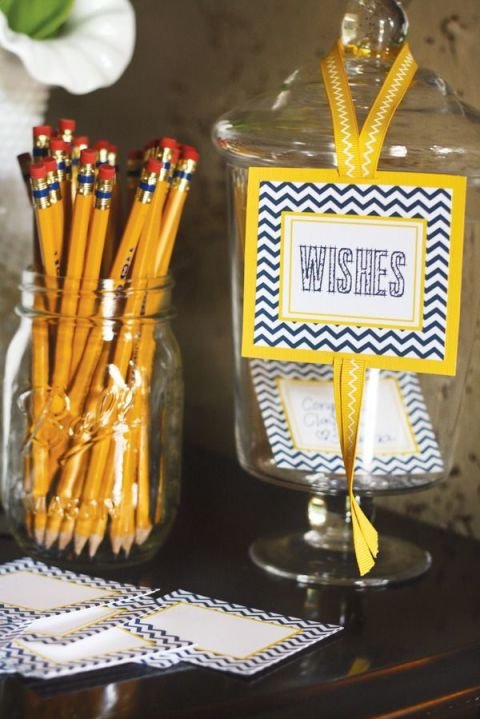 Have your guests take a trip down memory lane and write down all of the amazing times you've had together. At the end of the night, you can read about the impact that each person who attended had on your school experience. All you need for this super easy decoration is a clear, labeled jar and colorful cardstock!
---
8

Drink Stand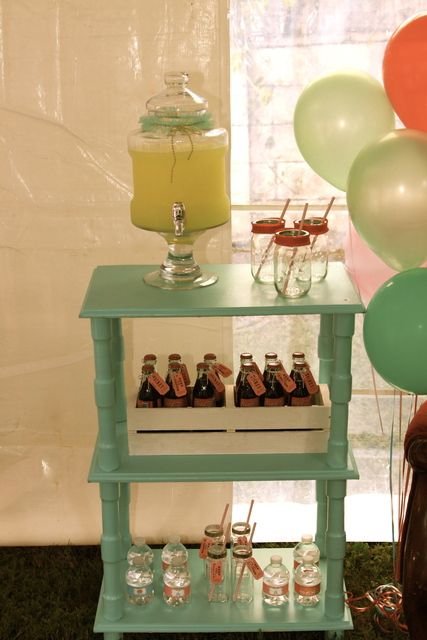 Instead of stashing drinks in a cooler, make a drink stand. Repurpose an old end table and paint it with the colors of your school's mascot. Stack water, straws and mason jars on the shelves.
---
9

Card Box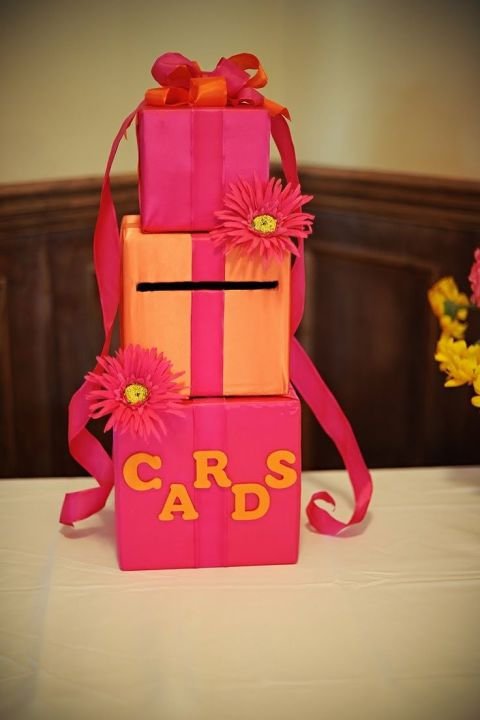 Cut a slit out of a cardboard box — decorated with tassel or ribbon — to create a special place for guests to leave cards.
---
10

Keys to Success Board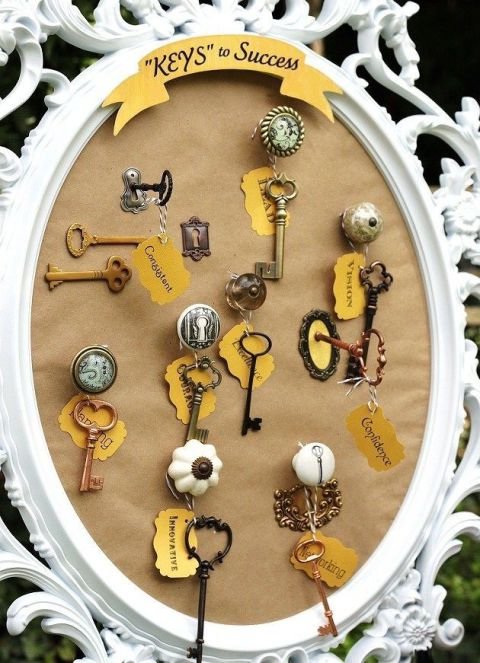 Add a classy touch to your grad party by letting your guests offer their "keys" to success. Cut out a large piece of foam core and decorate it with craft paper. Place the foam core into a pretty frame and cover it with push pins. Place keys on a table underneath the frame and attach a piece of string to them. Keep a pile of hole punched notecards next to the keys. Before your guests head out, they can write any advice that they have on the paper, attach it to the key and hang it on the board.
---
11

Lightbulb Souvenir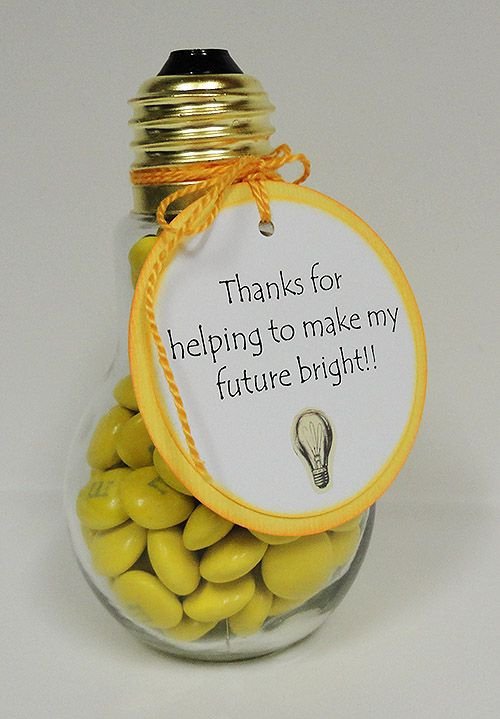 Show your guests how important their attendance at your party is to you by giving them a lightbulb souvenir. You can purchase lightbulbs in the shape of a jar and unscrew the cap to fill them with gumballs.
---
12

Graduation Cap Souvenir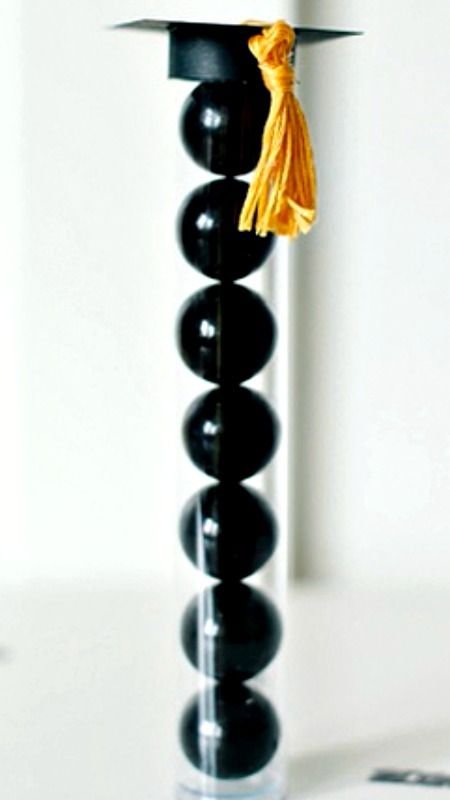 Use gumballs to create graduation cap souvenirs! Cut a cap out of cardstock and fill a plastic tube with the colors of your choice.
---
13

Hot Air Balloon Mobile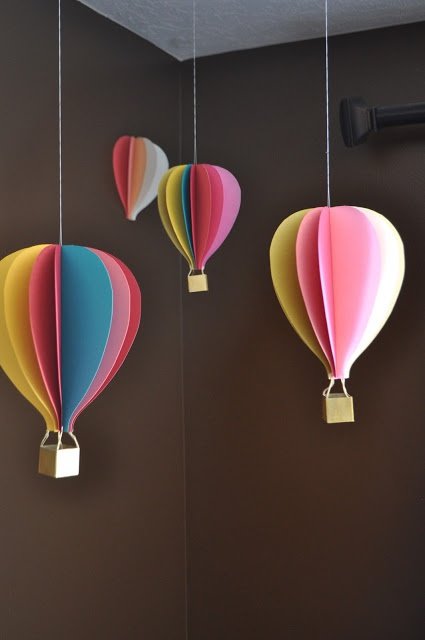 If you loved Dr. Seuss books growing up, then Oh, The Places You'll Go! could be the perfect theme for your grad party. Create mobile hot air balloons out of colorful cardstock.
---
14

Set up a Popcorn Bar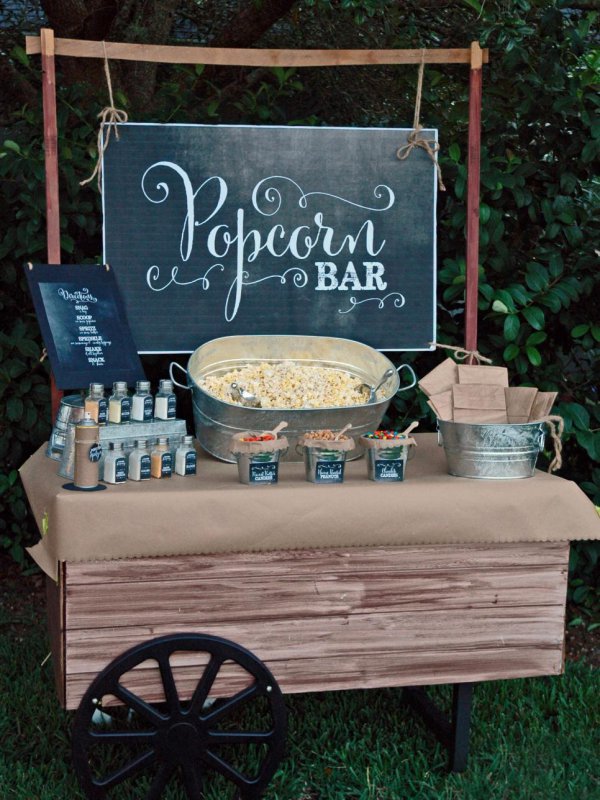 Impress guests by assembling a popcorn bar with flavorings and toppings. Pop the popcorn just before the party starts to ensure it tastes fresh. Choose containers that complement the theme of your graduation celebration.
---
15

Try a Cotton Candy Bar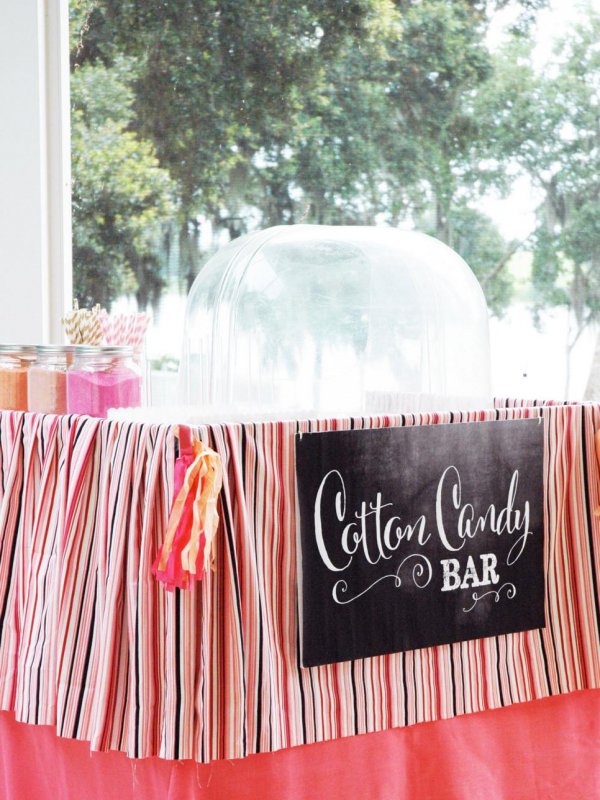 If you prefer sweet rather than savory, opt for a cotton candy bar at your graduation event. Don't forget that cotton candy comes in all colors — pick the color that best suits the grad.
---
16

Create a Photo Wreath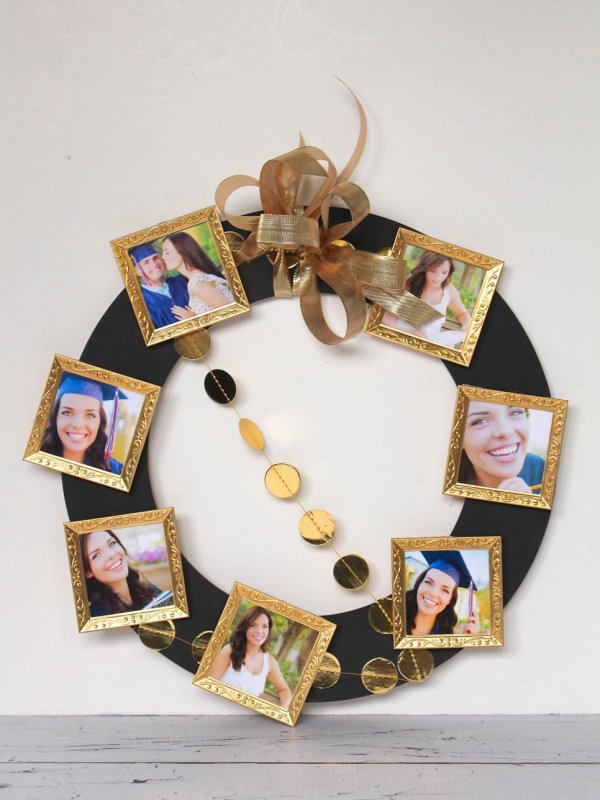 Greet guests with the sparkling smile of the graduate. Make this adorable photo wreath, and hang it on your front door for guests to admire as they arrive. This DIY guarantees a great first impression.
---
17

Bake Graduation Cap Pretzels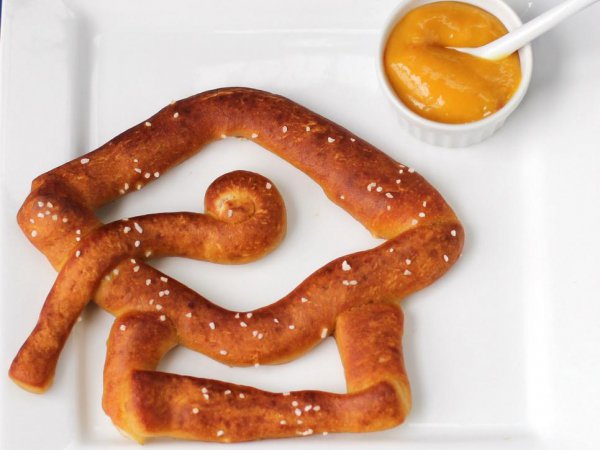 Fill your home with the irresistible aroma of these deliciously-festive pretzels. Serve the salty treats with mustard and a cold refreshment.
---
18

Let Dr. Seuss Inspire Your Decor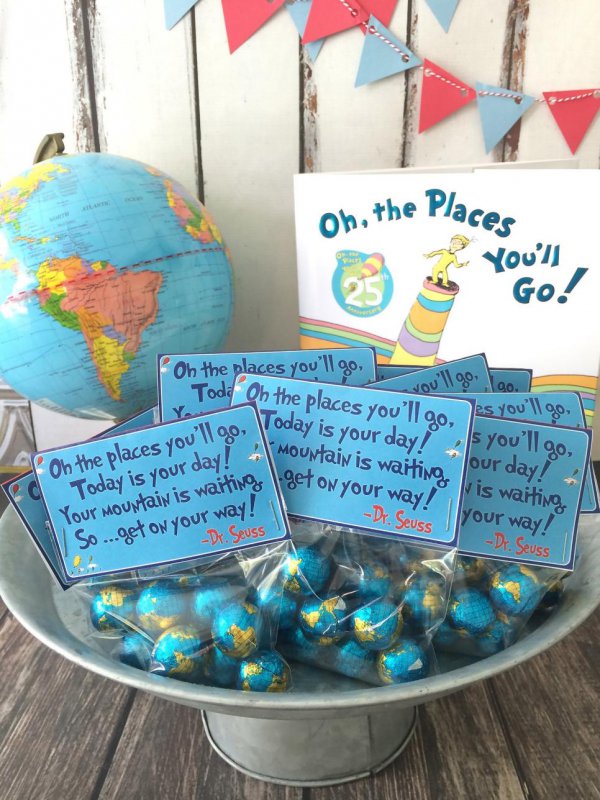 Design a party theme based on Dr. Seuss' Oh, the Places You'll Go! for the grad who's young at heart. Whimsical yet worldly, the theme will please partygoers of all ages. Fill treat bags with globe-shaped candies for guests to take home.
---
19

Decorate a Box for Cards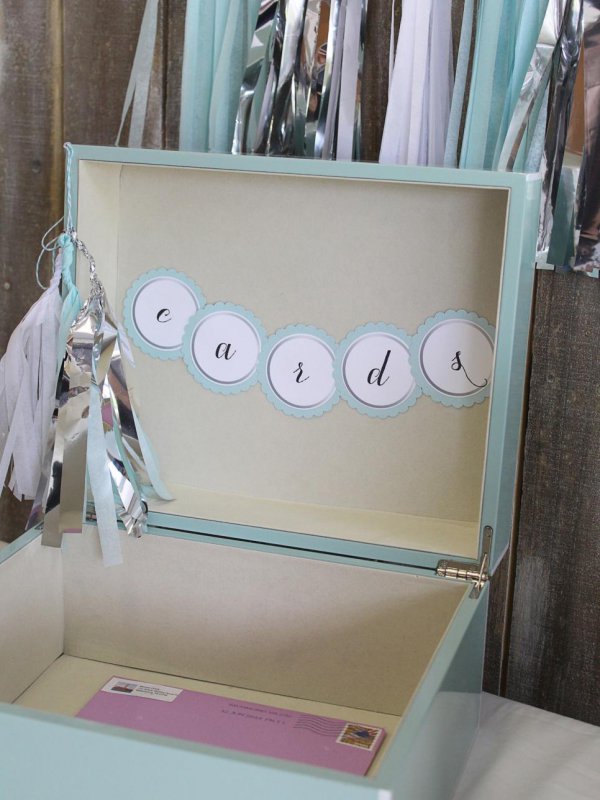 Friends and family will appreciate a designated drop-off for graduation cards. Get crafty when designing the box, using paint or wrapping paper to coordinate with your party's color scheme.
---
20

Craft a Tissue Paper Party Sign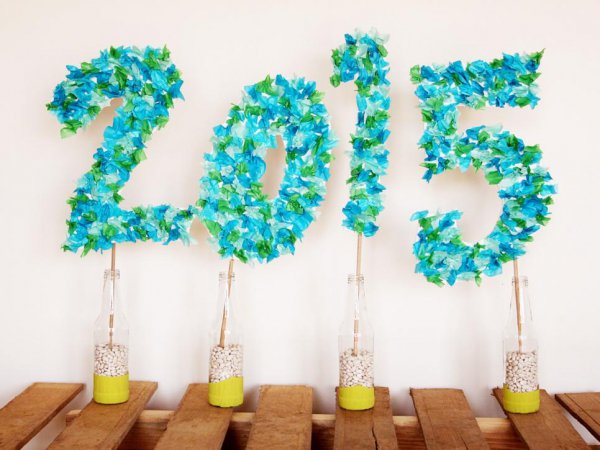 Bring the graduation year to life with this DIY tissue paper sign. Simple and budget-friendly, the sign packs a powerful punch. Consider choosing tissue paper in the grad's school colors.
---
21

Capture the Moment with a Photo Booth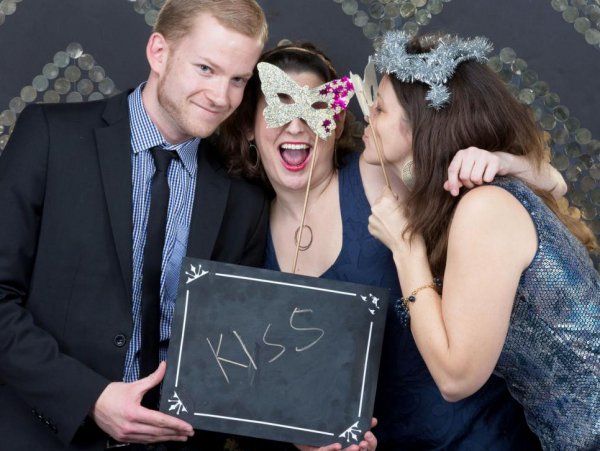 Buy or make signs and props, and set up a photo booth. The photos — some silly, some serious — will document the day for years to come.
---
22

Bake Your Way to a Clever Theme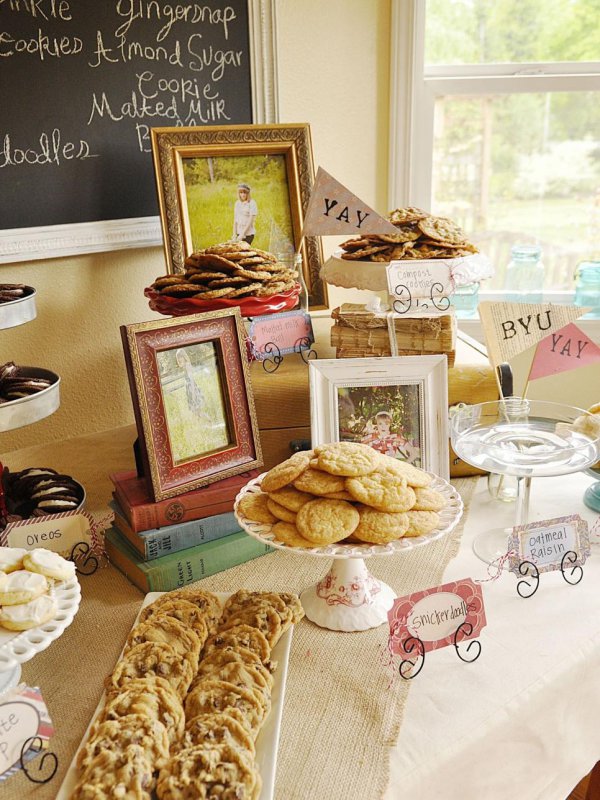 Is your grad one smart cookie? Convey the idea with a cookie bar, which can be just as charming as it is delectable. Offer an assortment of cookies to please every taste bud at the party.
---
23

Opt for an Unconventional Guest Book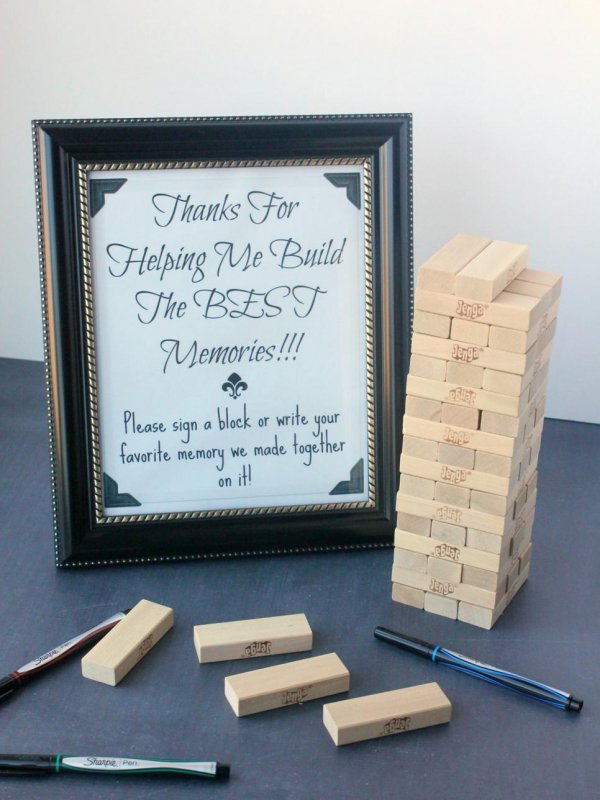 Invite guests to sign Jenga blocks with memories rather than offering a traditional guest book. The grad can take the game, along with the sweet memories, into the next phase of life.
---
24

Ask Guests for Advice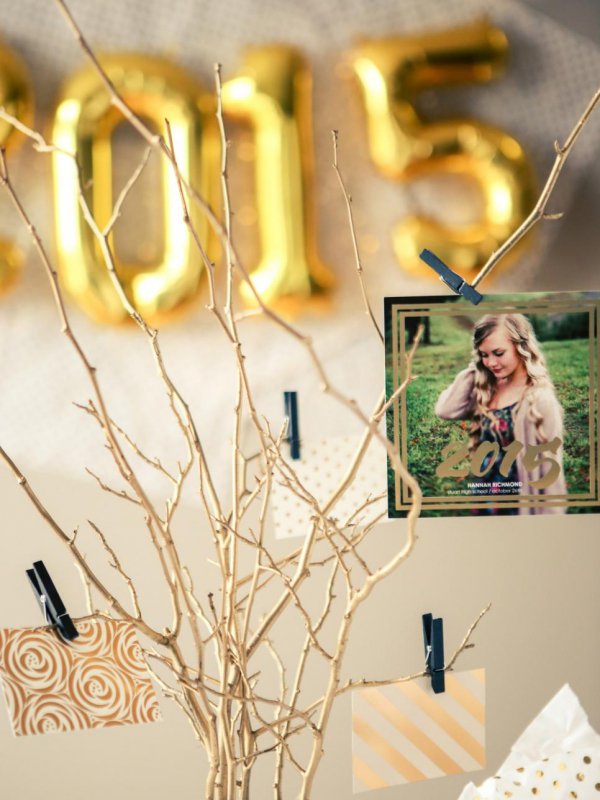 Create this DIY advice tree where guests can leave notes, wishes and advice for the grad. Set the tree on a table with patterned note cards, a pen and mini clothespins. This project is affordable, quick and easy — perfect for a last-minute party addition.
---
25

Build a Beverage Station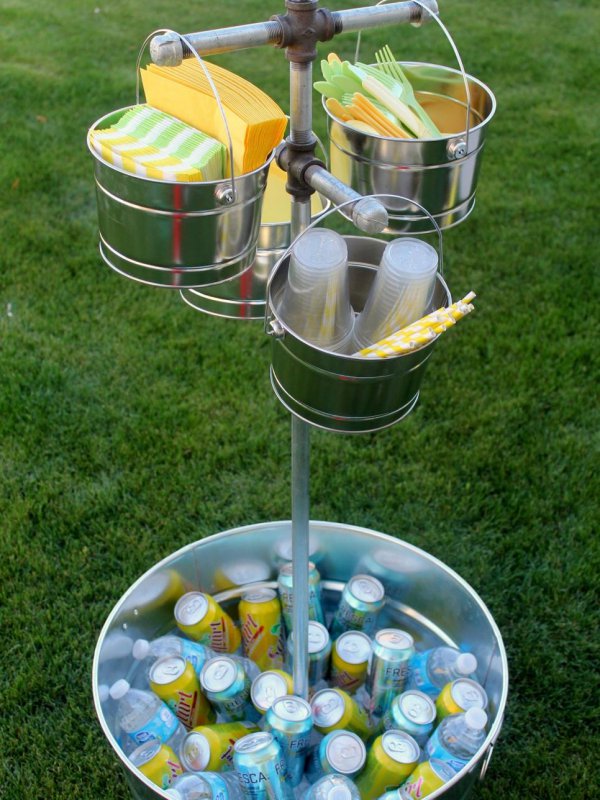 Gather some pipes, pails and a tub, and construct this nifty beverage station. Ultra-functional, the drink caddy can also store napkins, utensils and cups.
---
26

Create a Graduation Photo Collage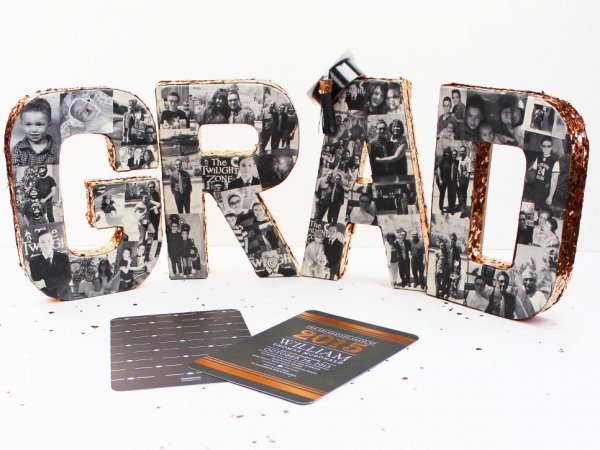 Offer a personalized tribute to the grad with these photo collage letters. Select meaningful photos from throughout the years, and print them in black and white for a unified look. Display the handmade keepsake as a centerpiece on a prominent table.
---
27

Design a "Bright Future" Theme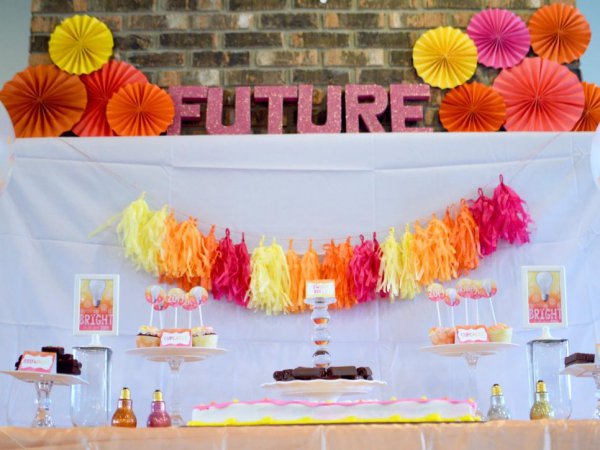 Celebrate your graduate's bright future with this cheerful theme. Choose vibrant, sunny colors, and accessorize with glittered light bulbs. Consider using a crisp white backdrop to accentuate your party colors.
---
28

Give out Sunglasses as Favors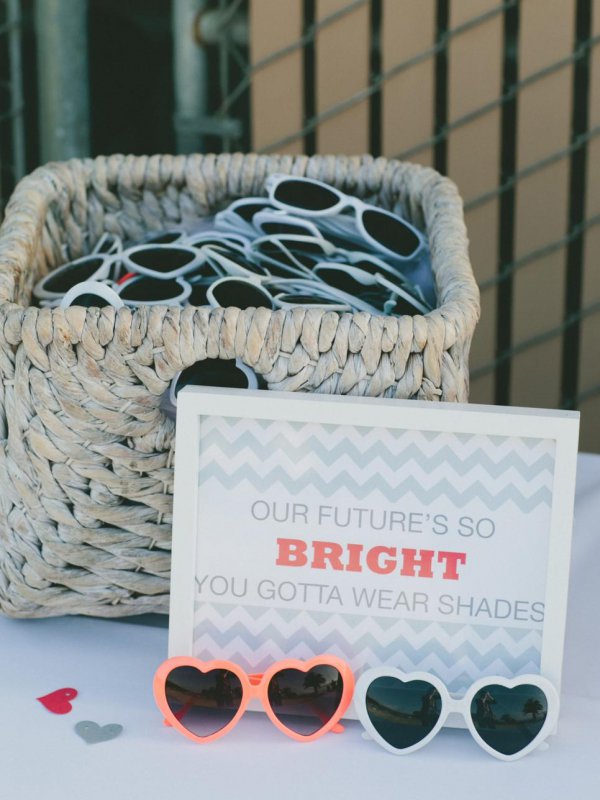 Though this idea would work great for a bright future-themed party, it could also work as a fun accent to any type of graduation bash. Buy inexpensive sunglasses in bulk, and make a sign to match your decor.
---
29

Inflate Balloon Superlatives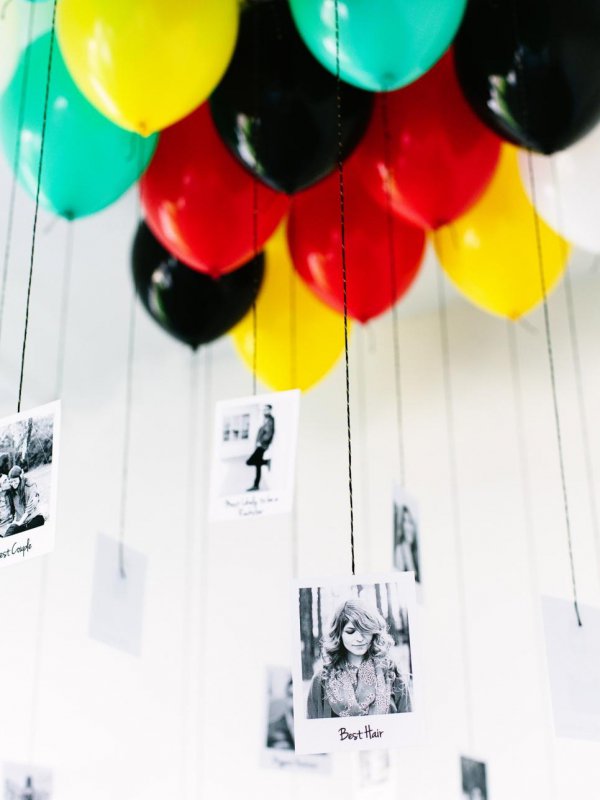 Display yearbook superlatives at your graduation get-together by attaching them to colorful balloons. Scatter the balloons throughout your party space, or corral them in one spot for maximum visual impact.
---
30

Arrange a Graduation-Themed Candy Bar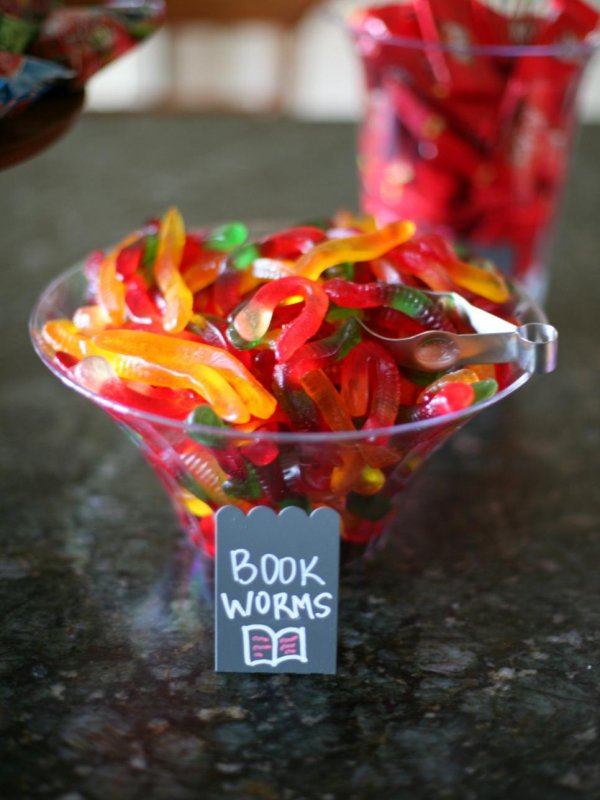 Set up a table dedicated to candy of all kinds. Add a creative label to each bowl or jar to reinforce the graduation theme.
---
31

Play a Game of Backyard Dominoes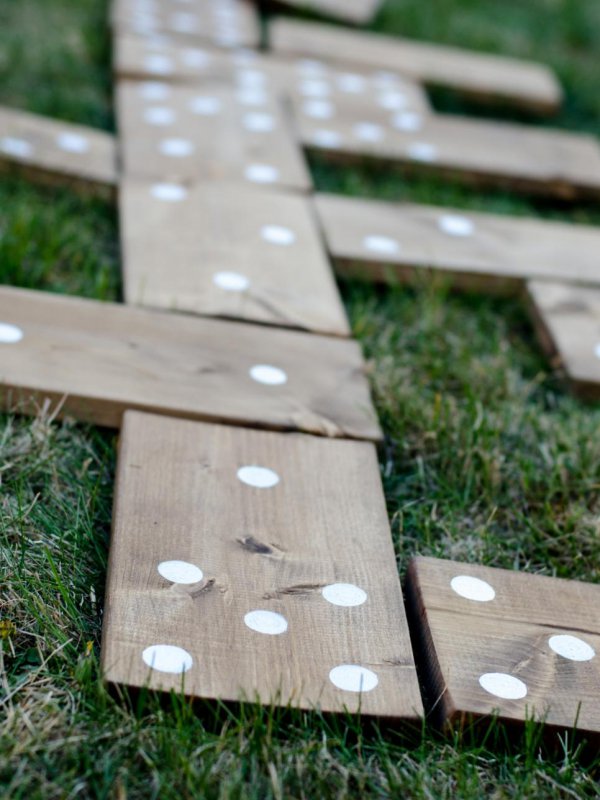 A backyard bash isn't complete without a competitive outdoor game. Make these oversized wood dominoes for a casual graduation gathering to keep guests entertained for hours.
---
32

Organize a Cornhole Tournament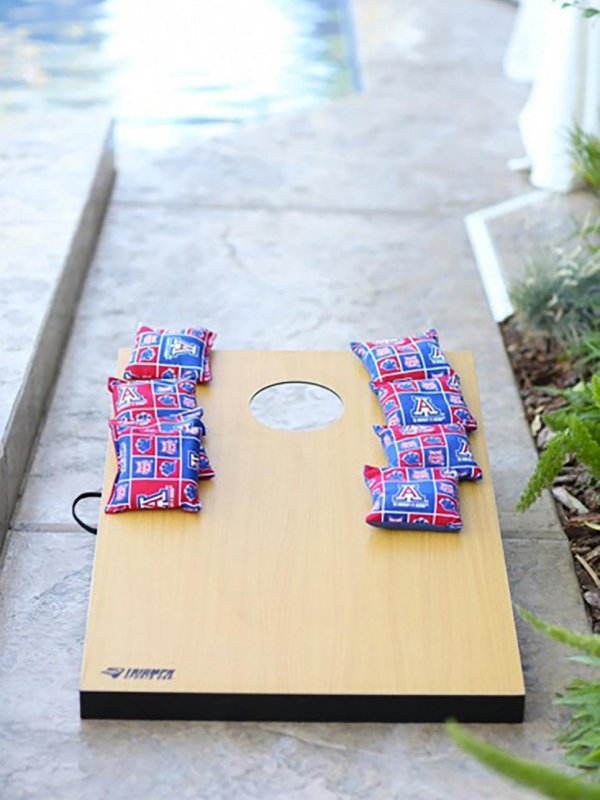 Order (or make your own) school-themed cornhole bags. Plan a competition and treat finalists to graduation-themed prizes. This idea is perfect for an outdoor party or cookout.
More
Popular
Recent