Great Gatsby may no longer be as relevant as when the latest movie adaptation came out but it's a theme that would always be beautiful when used for parties. Showcasing a good combo of black, white, gold, and art deco, a DIY Great Gatsby theme party will be picture-perfect and memorable. The following are craft projects to get you started on this event theme:
---
1

Gold-dipped Feathers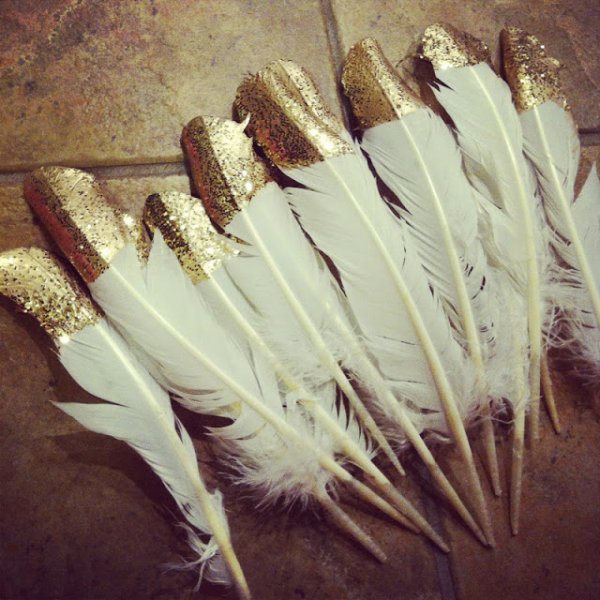 You can't throw a Great Gatsby party without feathers and gold. And because we love fun DIY projects, I say you combine the two. These cuties can be strung up and used as garlands for the party venue. If you get large size feathers, these can be great for table centerpieces, too.
Source: thecopenhaven.blogspot.com
---
2

Photo or Dessert Buffet Backdrop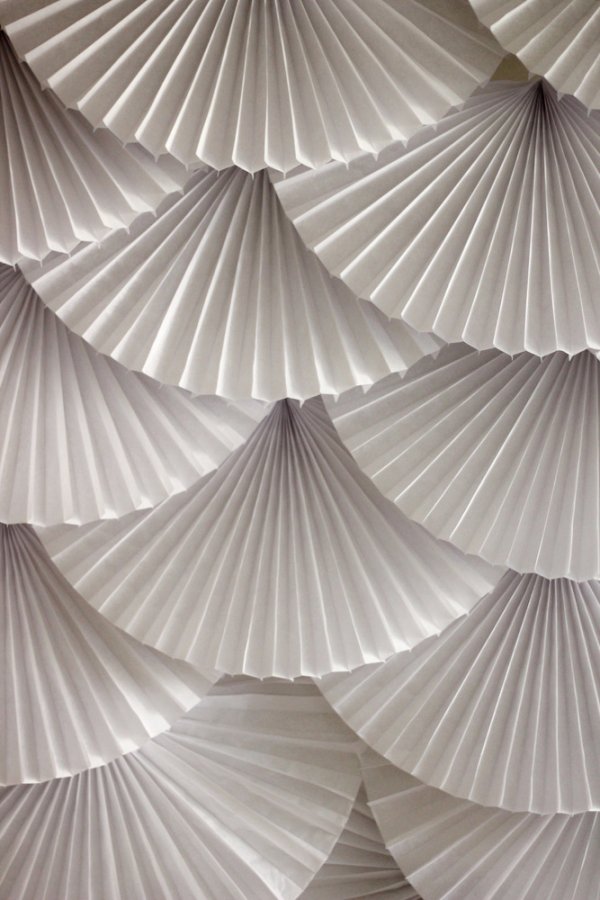 Any party with lots of DIY details couldn't possibly be complete without a photo backdrop. And because you're throwing a Great Gatsby party, said backdrop must have art deco aesthetics, such as these paper fans. These are incredibly easy to make. Design variation: make your paper fans in gold.
Source: hankandhunt.com
3

Metallic Bottle Vases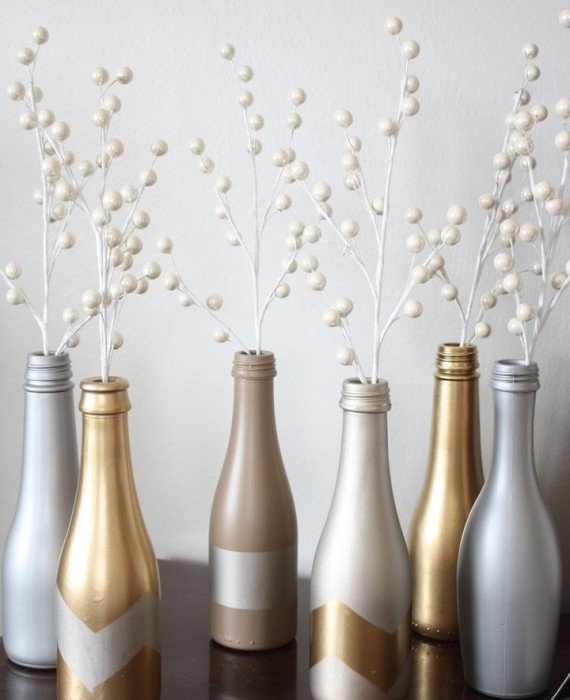 Got empty champagne or wine bottles lying around? Give them a metallic and art deco makeover for your Great Gatsby party. This is a simple tape and spray project. To create your art deco patterns, you can use thin painters tape before spraying. Another way to go about this is to spray paint the bottles in black and then add metallic art deco details using markers.
Source: latelywithkatie.com
---
4

Glitter Candles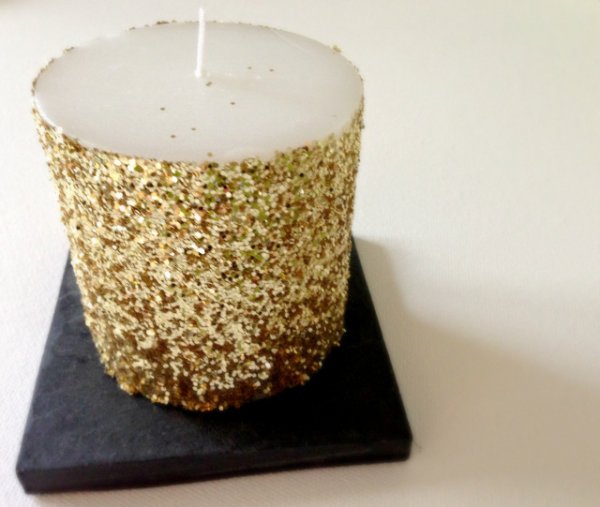 Looking for favor ideas for your DIY Great Gatsby party? Well, look no further because these glitter candles are exactly what you need. Not only are these easy to make, they are easy on the pockets, too. You get white candles from the store, slather white glue on the sides, and then roll them on glitter. For variety, you can do some in gold glitter and others in black.
Source: somekindoflovelyride.com
---
5

Glitter Tea Light Candle Holder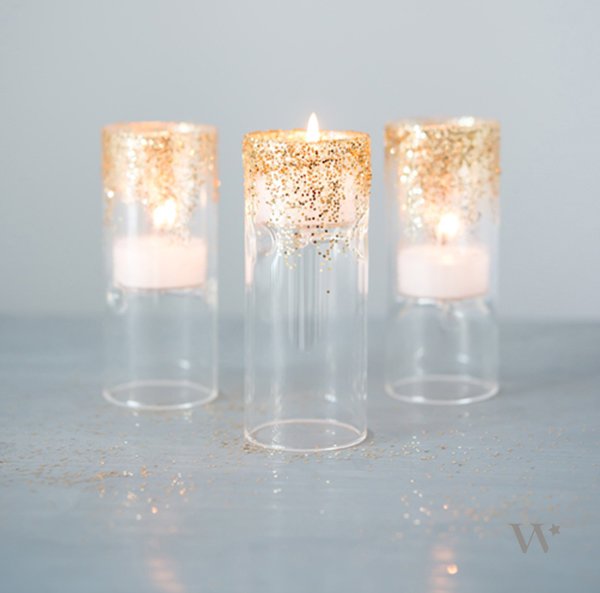 So you want glitter candles but not for giving away. You can add this magical detail to your Great Gatsby party with the use of glass tea light candle holders. Spray adhesive to the side of the candle holders and then sprinkle some glitter. Easy and fun! This will work with any type of glass candle holder. Using Mason jars should be cute, too
Sourcce: blog.weddingstar.com
---
6

Gilded Lace Champagne Glasses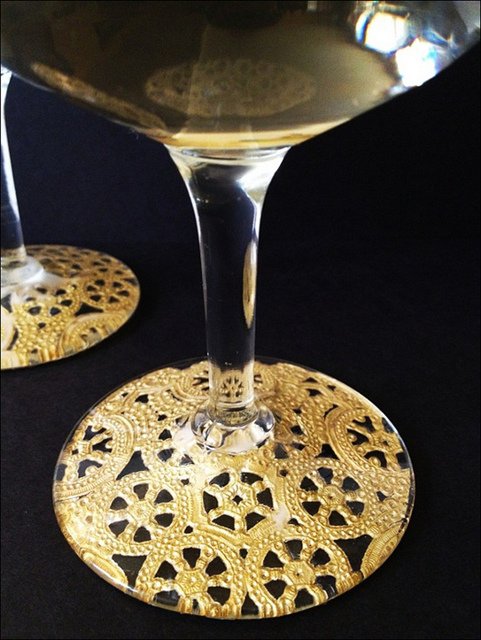 Your Great Gatsby party is sure to be overflowing with champagne. This means that your champagne glasses need a touch of DIY, too. One great idea is by gluing on these gilded doilies to the bottom. You don't have to spray paint your own doilies; there are many craft supply stores that carry them in gilded style. And if you want the doilies to be permanent, you can use sealant instead of normal glue to attach them.
Source: fabricpaperglue.com
---
7

Gilded Flutes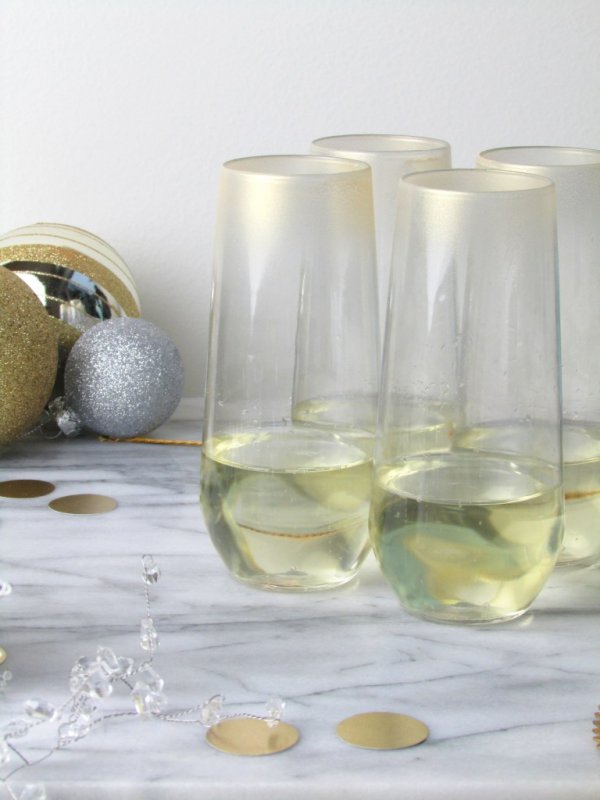 Here is another Great Gatsby gold treatment to give to your drinking vessels. You will use the ever-so-awesome gold food spray paint for this DIY. Basically, you just spray paint the mouth of your flutes with this material and then serve your cocktail. Don't you just love party details that make a huge impact but are actually easy to accomplish?
Source: francoisetmoi.com
---
8

Cotton Candy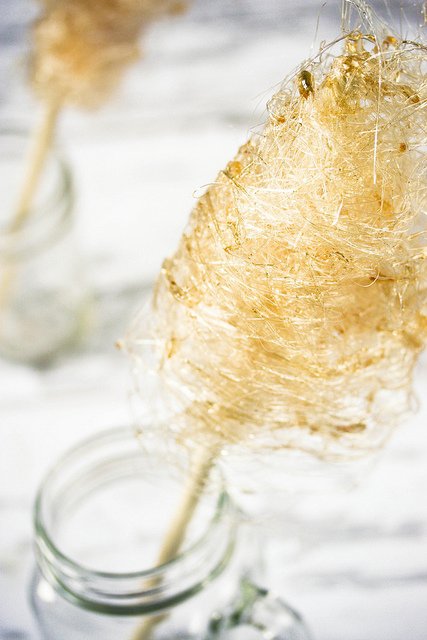 How pretty! You will need lots of decadent dessert for your Great Gatsby party and this cotton candy should be one of the highlights. This recipe calls for sugar, corn syrup, water, salt, and flavoring. You will also need food coloring. We suggest going for gold because of your theme. To make the "whisp-y" looks, a decapitated whisk is the perfect kitchen tool.
Source: cooking-books.blogspot.com
That was an overwhelming list of glitz and glamour! I love that most of them are incredibly simple to make, too. Basically, a showstopper of a party, does not have to drain your time and financial resources.
---
Comments
Popular
Related
Recent