Beach-themed crafts are perfect for summer because they get you in that warm weather mood. If you don't live near the ocean, these are great for giving you a feeling of being seaside even if you're not. I live in Colorado, so I'll take what I can get in terms of ocean living. That's why I plan to do as many of these beach-themed crafts this summer as possible. I hope you find time to enjoy a few yourself.
---
1

Seashell Letters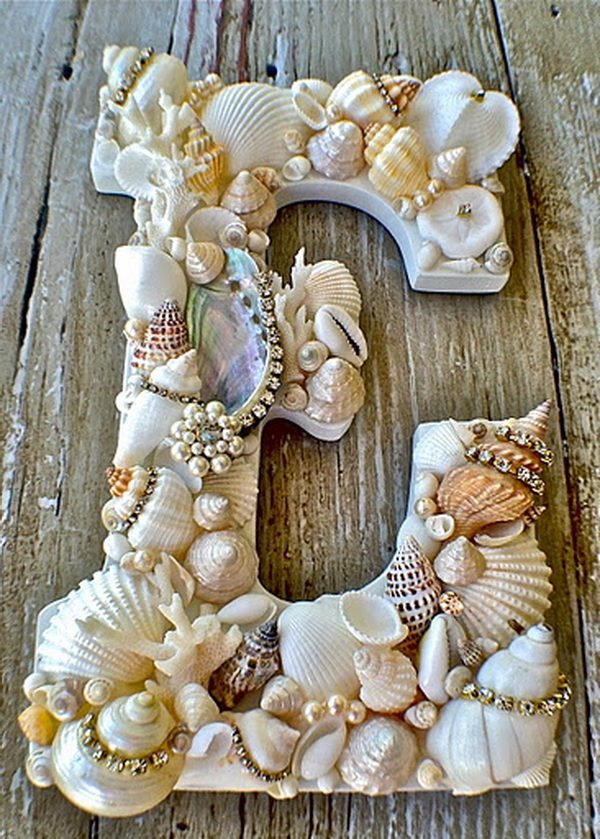 What could be more beachy than seashells? This is probably my favorite of the beach-themed crafts on my list. The end result is super cool looking and it's easy to make. Start with wooden craft letters, which you can find at any craft or fabric store. Buy a couple bags of seashells from the same store. Use hot glue to adhere the shells to completely cover each letter. Spell "beach," "ocean" or "summer."
---
2

Twine Jars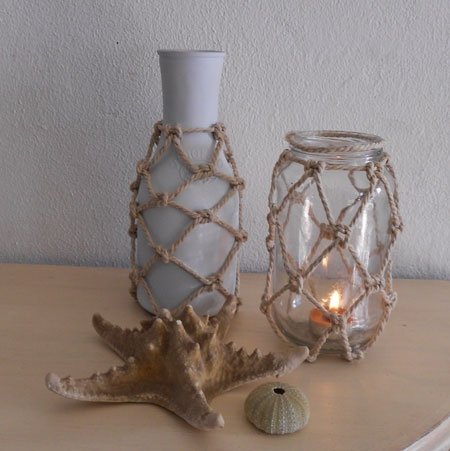 Colored glass is something that epitomizes walks on the beach. Buy some green or blue glass jars from the craft or dollar store. Use some inexpensive twine and hot glue to wrap the tops of the bottles for a beachy feel. Display the bottles on your kitchen table or mantle so you can see them all the time.
---
3

Candle Holders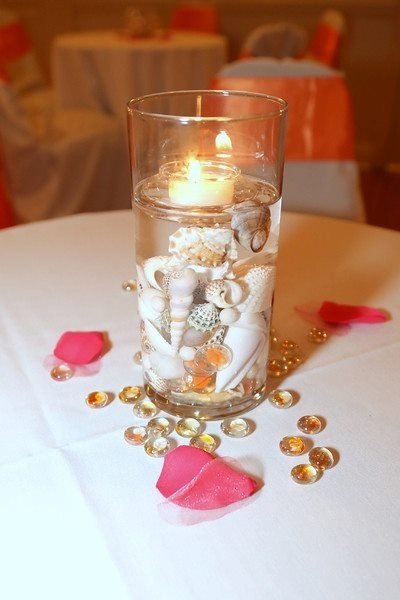 This is a fun craft and fast craft that you can use to decorate your outdoor tables during a party or you can display them on your bathroom counter for a touch of beach when you take a bath. Put some seashells in the bottom of a couple of tall clear hurricane jars. Fill the jars about halfway with water and add a floating candle.
---
4

Wooden Sign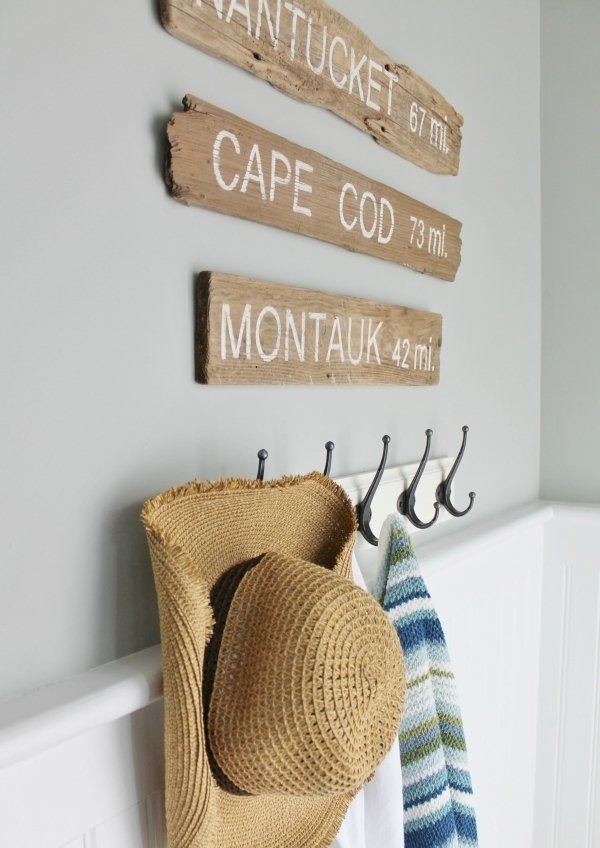 A driftwood inspired sign is a fun way to reminisce about time at the beach and boardwalk. This is a completely customizable craft that is super easy. Start with a pallet or similar piece of wood. Paint it any color you like. I enjoy coral or turquoise for sticking with the beach theme. You can add a beachy saying or quote then hang the sign on your patio or in your living room.
---
5

Wine Glasses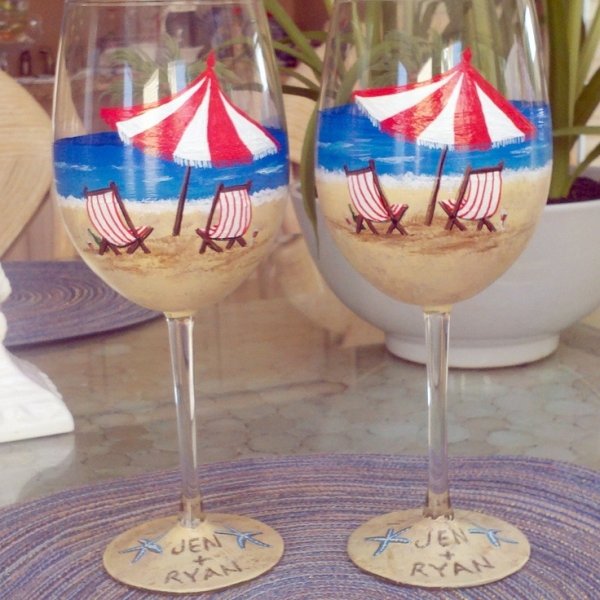 If you love to enjoy a glass of wine on the patio during the summer, you need these glasses. Buy a couple clear ones at the dollar store and choose your favorite colors of glass paint at the craft store. Use a sand dollar, crab, lobster or anchor stencil to add images to your wine glasses. Allow to dry before using. What a fun way to enjoy your drink!
---
6

Table Runner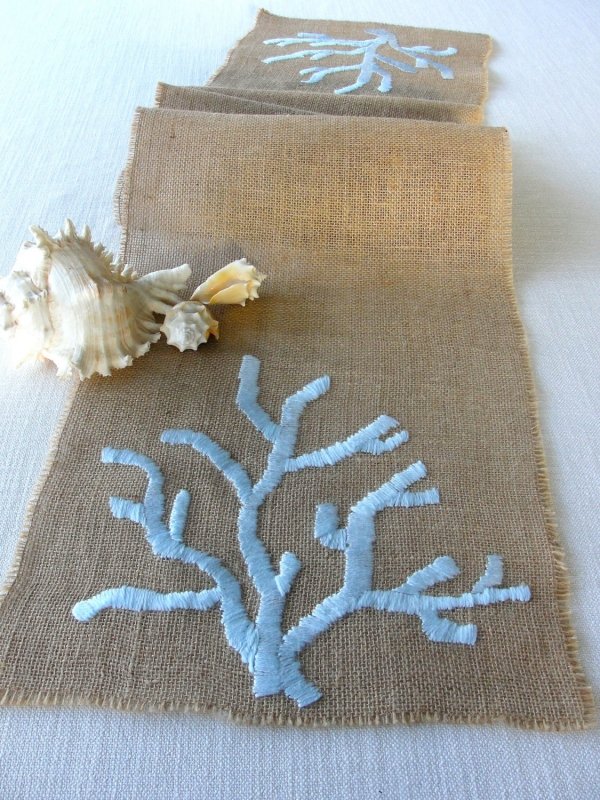 Beach vacations are all about picnics on the water. If you can't recreate that at home, you can make a fun table runner that mimics the ocean so you can pretend you're enjoying the sand and surf. Stamp images on a strip of burlap that hangs over the edges of your table with fabric paint. Black or turquoise looks great. Have dinner on your runner and enjoy the ocean feeling it evokes.
7

Mosaics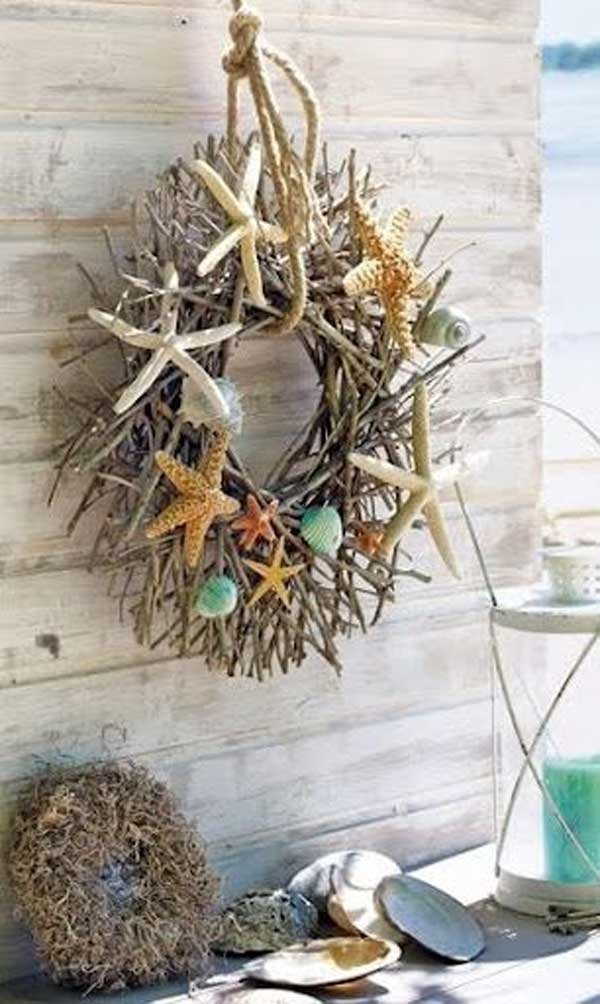 Do you have seashells or sea glass you've collected on previous beach trips? Instead of letting them just sit there, use them to create a fun mosaic you can display on your wall. Arrange the shells or glass on a canvas in the shape of a whale, anchor or other beach themed image. Glue them in place with hot glue and you're done.
Will you try any of these crafts? I've already done the mosaic and it turned out fantastic. Do you have any other fun ideas?
---
Comments
Popular
Related
Recent