7 Tips for Sewing without Patterns ...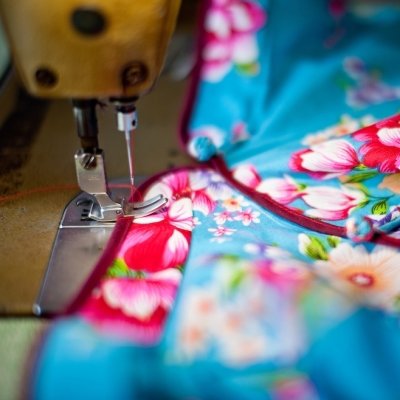 Not so long ago, I thought that sewing without patterns couldn't be done. Then I started to read some of the amazing blogs out there, and saw how many people are sewing without using commercial patterns. They're making their own patterns, or doing without a pattern altogether. So be adventurous, and try sewing without patterns yourself …
The first step in sewing without patterns is to check out some blogs. These will show you what can be done without the use of a pattern, and encourage you to experiment with making your own creations. If you've always been under the impression that a pattern was the only way to sew a garment, blogs will open your eyes to the fact that it's perfectly possible to sew clothing without using a pattern.
2.

Start with Simple Projects
One way of growing your confidence is to start by making simple projects, such as a gathered skirt or a loose top. All you need to do is be able to draw a straight line in order to make a simple pattern. If you want to venture into shaping your garment, first fold the paper in two - the fold will mark the middle. Then draw the shape. This way you can ensure that both sides are even.
Refashioning old garments is a brilliant way of sewing without using a pattern. You're less worried about making a mistake if you haven't bought expensive fabric, and the basic garment is already there. You may need to do little more than take the garment in at the sides or shorten the hem. But you can also experiment and turn the garment into something completely different.
4.

Use Garments as Templates
When you want to start drawing up your own patterns, look at your existing wardrobe. Do you have a garment that fits you perfectly? Then use it as a template. Place it on paper and draw round it, allowing extra for the seams. You could even take a worn item apart. This allows you to see how a garment is constructed, and is really useful for sewing without a pattern.
You should always baste pieces whether using a pattern or not. Basting is a temporary seam that allows you to check how the piece fits. It involves sewing the pieces together with a long running stitch. If you're working without a pattern, it will also let you see where alterations need to be made, for example where the garment is too loose.
The advantage of commercial patterns is that the measurements are already checked. So if you are drawing your own, be sure to check all the measurements and that each side is even (unless you want an angular piece).
Many seamstresses find that their body doesn't fit commercial patterns. For example, a size 8 may be perfect for their bust, but too large for their waist. So when you're working without a pattern you can take the opportunity to tailor the garment to fit your measurements.
If you've been led to believe that sewing with a pattern is the only way to work, it's a revelation to find out that many people are sewing quite happily without one. So be adventurous and try out your sewing skills - you'll soon learn more! Do you like making your own clothes, or would you like to have a go?
{{#comments_count}} Show Commnents ({{comments_count}}) {{/comments_count}}