7 Funky Geometric DIY Craft Projects to Try ...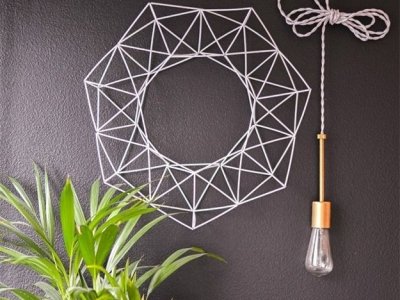 I've seen some really cool home decor geometric DIY craft projects on Pinterest and blogs that can really make a difference in a simple and plain space. From funky wreaths for your wall to cool painted rugs to give your space a pop of color and pattern, the possibilities are endless! I can't get enough of this trend and I bet you'll be obsessed with it too, after seeing these creative geometric DIY craft projects.
There are so many amazing wreath tutorials out there for holiday decor and just because. From picture frame wreaths to round yarn filled ones, there is something for everyone. But, I bet you have never seen a geometric wreath like the one over on vintagerevivals.com before! Blogger Mandi has some pretty cool geometric DIY projects on her page, heck she loves them so much she incorporated them in her blog design. I love the way the white wreath looks on the black paint, it is such a classic look that will last longer than just when the trend is hot.
Would you ever think a geometric dog house would be on my list of DIY projects today? Probably not, but just look how funky and creative this idea is over on homemade-modern.com. Oh, and how cute is the dog? Of course the first thing you want to do before you make your own geometric dog house is measure how tall your dog is; it has to suit him, not just your style! Would you leave the dog house the way it is, or paint it a cool, inviting color you know your dog will love?
Don't spend crazy money on candle trends when you can make your own. With melted wax, candle wicks, and these awesome geometric paper patterns on homemade-modern.com ,you can make geometric candles for you and your friends! Check out the link not just for the paper pattern, but for the full video tutorial on how to make colorful candles and vases.
Are you looking to dress up your fireplace with a new pattern to make it a better focal point for your space? Well, look no further than this amazing geometric pattern over on eastcoastcreativeblog.com. Blogger Monica was inspired by a hexagon pattern she saw over on vintagerevivals.com, that blogger Mandi did for her daughter's room. You really can't go wrong with geometric shapes for any room in your home. I love how two bloggers took the same idea and used them in two completely different spaces.
Home lighting doesn't have to be boring any more when you have funky geometric tutorials like the one over on viewalongtheway.com. Pretty cool, right? I really need to start doing some of these DIY projects, I could have pretty great decor if I just stop procrastinating already! I love how industrial a light like this looks, and how the blogger was inspired by a $400 light and made one of her own that cost a lot less! You don't need to spend a lot to have beautiful decor, you just need to get creative.
You can really create anything you want out of different shapes to make your own geometric wall art; from hexagons to triangles, think outside the box and make a statement. One of my favorite pieces of geometric wall art that I've seen is this idea over on alixandralewisadams.blogspot.ca. Blogger Alix used veggies like potatoes and carrots to cut out different shapes to create a map of the United States. Anyone have any potatoes lying around that they don't intend to eat?! Pretty cool, right? Here's another fun tutorial for you to try: sugarandcloth.com.
Accent rugs with really gorgeous patterns can be expensive, and if this rug is going in a space that will have a lot of foot traffic then you really don't want to spend too much on it. So, instead of looking for a fun, geometric patterned rug, why not create your own? Yes, you can paint on a rug...who knew? Check out this great tutorial over on designsponge.com to get started.
What are some crazy geometric DIY craft projects you are hoping to make this year?
{{#comments_count}} Show Commnents ({{comments_count}}) {{/comments_count}}