If you're looking for colorful projects for Halloween, we give you these DIY sugar skull crafts. A sugar skull is typically associated with the Mexican holiday, Day of the Dead. They are displayed ion altars and eaten, but their designs can now be beautifully referenced for making wonderful Halloween décor. Some of these projects require sewing, while others can be accomplished using paint. No matter which of these sugar skull crafts you pick, I am sure that you'll be dying of fun (pun intended) making them.
Table of contents:
1

Planters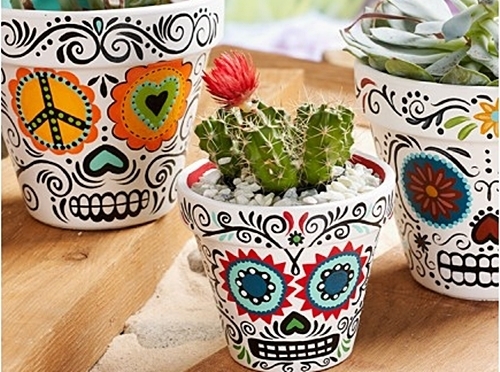 How beautiful are these DIY sugar skull planters? The great thing about this craft idea is that you can go insane with your design. You can copy sugar skull designs off the Internet or make your own. Make sure that you paint the pots white first before painting the sugar skull details.
Tutorial Source: acmoore.com
2

Fascinator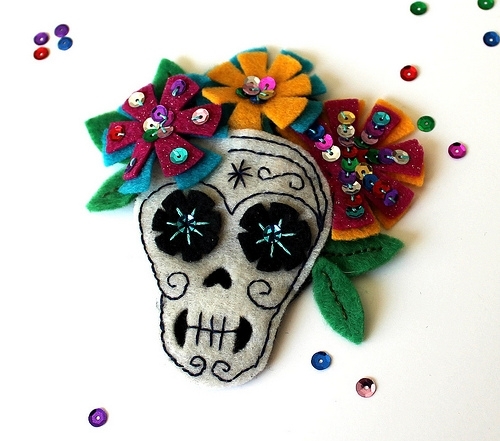 Looking for an easy "costume" to make for Halloween? Look no further because this sugar skull project is for you. You can make your version using felt of various colors. Embroider details onto the skull-shaped white felt, add floral elements around the head, add sequins and beads, and you're done. Well, almost. The last step is to attach the fascinator to a hair clip or headband.
Tutorial Source: vitaminihandmade.com
3

Clay Accessories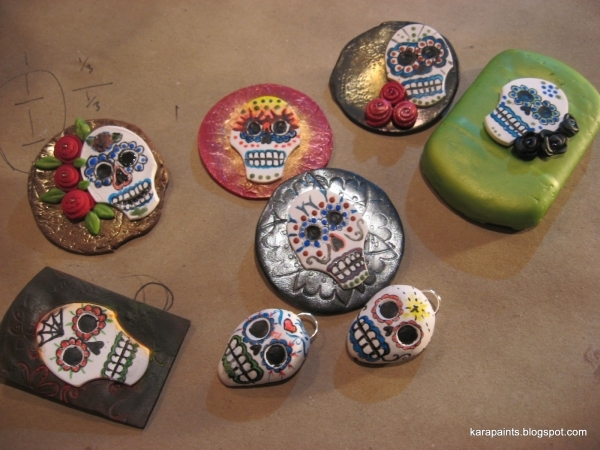 This is a fun craft project involving polymer clay. Using tools and supplies that you typically need for polymer clay crafts, you can make a good variety of sugar skull accessories and other little doodads. These clay goodies can be used as charms, brooches, and other lovely components for jewelry.
Tutorial Source: karapaints.blogspot.com
4

Paper Lantern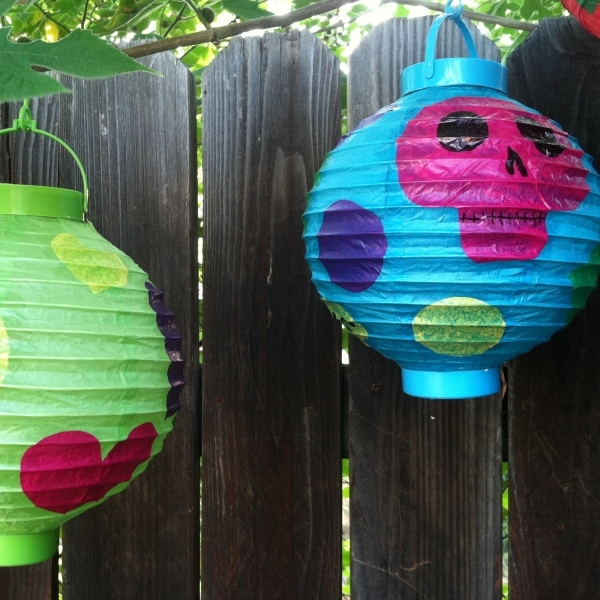 Organizing an outdoor Halloween party? Give the venue a unique look using paper lanterns with sugar skull designs. For this project, you will be needing only paper lanterns, tissue paper in different colors, Mod Podge, paintbrush, and scissors. A great design variation is using white paper lanterns and painting on the sugar skull elements instead of using colored tissue paper.
Tutorial Source: pearmama.blogspot.com
5

Stuffed Felt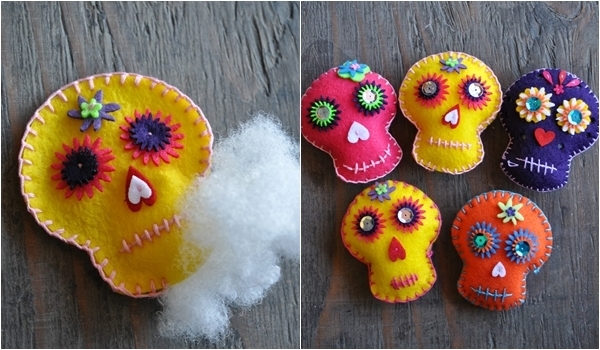 These DIY sugar skulls sure are adorable. You can make these using felt in different colors. You can go for white, too, if you're looking for a more traditional look. After you construct the felt sugar skulls, you can then use them for making a Halloween banner. They make for cute pin cushions as well.
Tutorial Source: artelexia.blogspot.com
6

Pin & Thread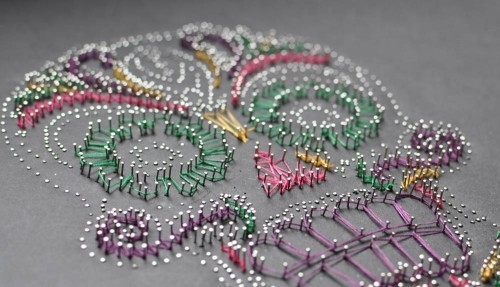 Now THIS is a work of art. There is no tutorial for this particular sugar skull project but recreating doesn't look that hard. All you need are a foam core for the base, flat head pins, and colorful thread. For forming the skull, you can use any image as a guide. The most fun part, however, will probably be the looping of the thread to emphasize the eyes, teeth, and the pattern on the sugar skull.
Inspiration: twigandthistle.com
7

Pumpkins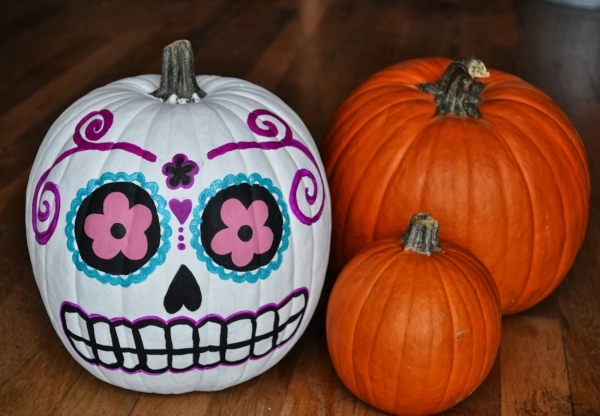 Of course a list of sugar skull crafts for Halloween should include a tutorial for a painted pumpkin. The basic concept here is similar to the planter idea. You simply paint the pumpkin white, add the face details, let dry, and that's it.
Tutorial Source: artelexia.blogspot.com
I'm sure you can think of more fabulous ways to make DIY sugar skulls. Care to share some ideas with us? We'd love to feature your tutorial, too. If you have a craft blog, hit us up with your URL.
Please rate this article