Use Creative Tricks to Decorate Small Spaces and Studios ...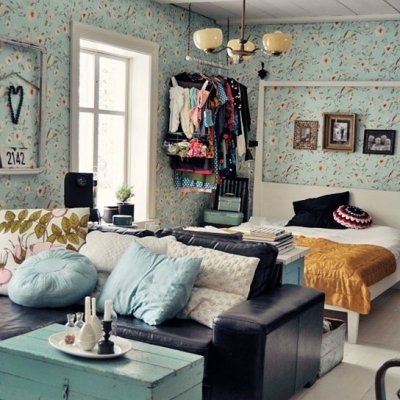 If you're moving into a compact space, you might be wondering where you're going to put all your stuff, but don't worry - there are plenty of creative ways to furnish a small studio! From ensuring every piece of furniture you buy has hidden storage to making the most of the space you have, I've been researching creative ways to furnish a small studio just in time for my move in two weeks time. So I thought I would share my top 9 ideas with you - let me know what you think!
1.

Make Your Furniture do Double-time
By making sure every piece of furniture you buy for your studio has storage of some kind too, you're creating a multi-tasking piece of furniture. For example, a coffee table could have a shelf, or you could use a chest with interior storage. A sofa could fold out to become a bed; desks could have drawers for keeping bits and bobs. This is one of the best ways to furnish a small studio, so make sure you carefully consider every item you buy!
Your apartment may be small, but that doesn't mean you need to bin all your belongings. Instead of storing things at floor level, adding shelves and wall storage (if your landlord allows it) can help to store books, trinkets and even clothes, leaving you more floor space and helping your apartment to look roomier. If you're not allowed to use shelves, even lifting things away from floor height on shelving units/bookcases or in decorative boxes can help add a feeling of space.
When furnishing a tiny apartment, be creative with your ideas. If you're using your studio as a crash pad during the week for work, do you really need a full size sofa? Perhaps a cosy tub chair would work better, leaving you room for a full size bed. Or you could opt for a day bed which can be used as a sofa during the day. You don't have to stick to traditional layouts and ideas when it comes to furnishing a small space.
Dark, bold colours such as deep, rich purple and vivid pink will make your space look smaller. It's best to decorate your apartment in neutral tones - white or off white is a great choice. Remember, you can add colours with curtains, cushions, candles and even rugs which can all be easily changed if you decide to change your colour scheme. Plus, it's so much fun shopping for home accessories! Pick a palette of two to three complementary colours and stick to them for a polished look - for example chocolate brown, taupe and teal look gorgeous together!
I'm furnishing my new apartment on a limited budget, but that doesn't mean I don't want beautiful, unique furniture. I've purchased a lot of second-hand pieces on eBay and at local charity shops and upcycled them with Annie Sloan chalk paint, which provides a great, shabby chic finish and is SO easy to use. You can turn shopping for furniture into a craft project by doing the same! Try Freecycle, Gumtree, Craigslist and thrift stores in your area to find some real bargains - you'll be amazed at what people will part with. So far I've picked up a bed, sofa, side table, chest of drawers and bedside cabinet for under £100 ($161)!
If all the storage your carefully-thought out furniture has provided you with just isn't enough, you can create more storage space quite simply. Under bed storage boxes or drawers (I prefer boxes) are a great place to store winter clothes, bedding and linens, or anything else that you don't need regularly. You can buy vacuum-seal bags which compress bulky linens and duvets so that they don't take up so much space.
7.

Downsize Your Furniture
Instead of large, bulky items such as a traditional coffee table, buy smaller pieces that can be easily moved, such as a side table or nest of tables. Or choose furniture on castors (Ikea is great for this) - you could even add castors to your existing furniture if you're feeling handy. This means you can move your furniture around to suit your room. Add versatile seating options such as pouffes and bean cubes that can be stacked away when not in use but pulled out for guests.
Living in a tiny space can be comfortable; it just requires a little more thought and planning than when you live in a bigger apartment. If you're renting or buying a studio apartment in the city, hopefully these tips will help you! I'd love for you to share with me some of your own tips - how have you furnished your studio apartment?
{{#comments_count}} Show Commnents ({{comments_count}}) {{/comments_count}}