7 Adorable and Funny Olaf DIY Projects for a Frozen-Inspired Party ...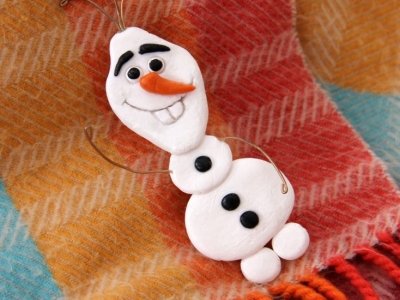 If your kid is currently obsessed with the movie Frozen, we give you these fun and cute Olaf DIY projects. Olaf would be the Snowman, in case you weren't paying attention when your family watched the film. He is goofy and a wonderful friend and there is no doubt that having a Frozen-inspired party (starring Olaf) will be a big hit. Check out the following Olaf DIY projects to get you started on your party-prepping duties.
This particular Olaf DIY project will be perfect as party table toppers. If you don't have time to make several, doing one or two will be good enough as party décor. For Olaf's body, you will be needing Styrofoam pieces in several sizes and shapes. You will also need toothpicks, floral tape and wire, various paints, orange clay (for the nose), and some tools.
Tutorial Source: craftsncoffee.com
The tutorial linked below is in Italian but with the pictures, it is easy enough to understand. You can choose to simplify this mask so that you'll have enough time to make them for each kid invited to the party. I suggest adding holes by the "ears," so that you can attach a string for wearing the mask. Using real twigs is not recommended because the kids might poke their eyes.
Tutorial Source: paneamoreecreativita.it
Look at that funny miniature Olaf! His face just makes me smile. And if you're planning on holding a puppet show, making this finger puppet is highly recommended. You can also construct a cloud to hover over his head and if you're feeling particularly artsy, Anna and Elsa finger puppets will be great as well.
Tutorial Source: theidearoom.net
This Olaf DIY project will give you a longer lasting party décor. In fact, I bet your kid will want to keep this for years after his or her party. To make your own version, you will need only twigs on top of the clay. For Olaf's nose, eyes, and eyebrows, you will be using polymer clay in orange, black, and brown. The twigs will be for his hands and hair, of course.
Tutorial Source: spoonful.com
What's a Frozen-inspired party without DIY Olaf treat bags? Here is how you make them: draw Olaf's mouth and eyebrows using Sharpie, add craft eyes, and then orange pop-poms for the nose. Brown construction paper for the twig hair will serve as the finishing touch. Another nose option is to use orange paper shaped into a cone. Glue to the paper bag and that's it.
Tutorial Source: teamskelley.com
6.

Tic Tac Snow Olaf Game
How adorable are these Svens and Olafs? These are made of champagne corks. The details were painted using acrylic paint. For the hair and antlers, felt in black and brown will do. Simply glue them to the painted corks. The mat used here is craft felt divided into grids using zig zag stitches.
Tutorial Source: spoonful.com
How great would this Olaf towel be for a pool party? I bet the kids will not want to go into the pool when they see that they each get a towel this cute. They'd simply want to wrap themselves in this comfy goodness.
Tutorial Source: crazylittleprojects.com
We hope that these Olaf crafts helped you in preparing for the fantastically Frozen party. On top of these projects, you can make invitations with Olaf, too. There are many printables that you can download online for this purpose. Will you be throwing a Frozen fete any time soon?
{{#comments_count}} Show Commnents ({{comments_count}}) {{/comments_count}}