COMMENT
It's one of the annual celebrations that calls for special decorations so if you're looking for ways to style a Thanksgiving table, I've got a great selection to inspire you. Making use of all the symbols of the fall season, these ways to style a Thanksgiving table will make your meal an occasion to remember.
1. Faux Pumpkins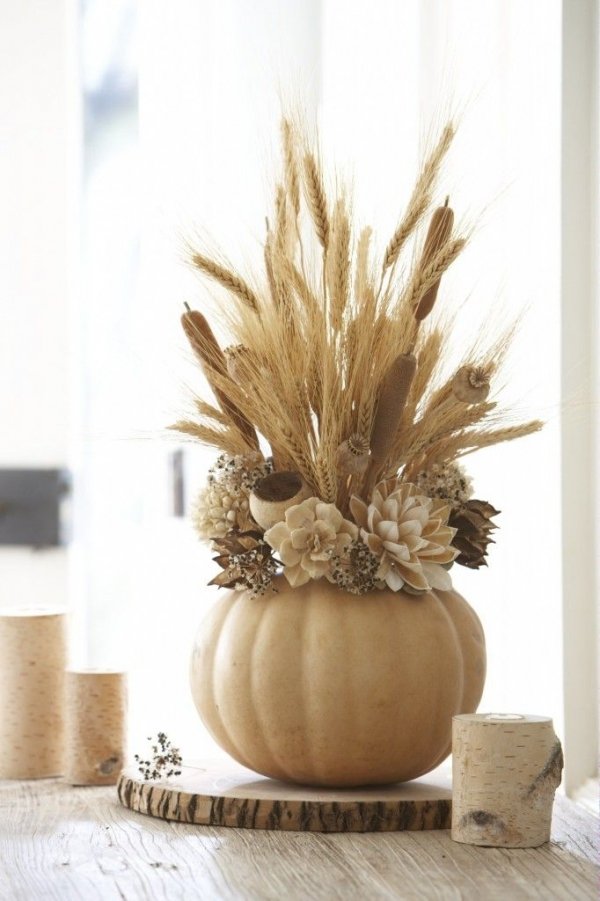 If you're clever, some ways to style a Thanksgiving table can last throughout fall. Like these faux pumpkins.
2. Metallic Pumpkins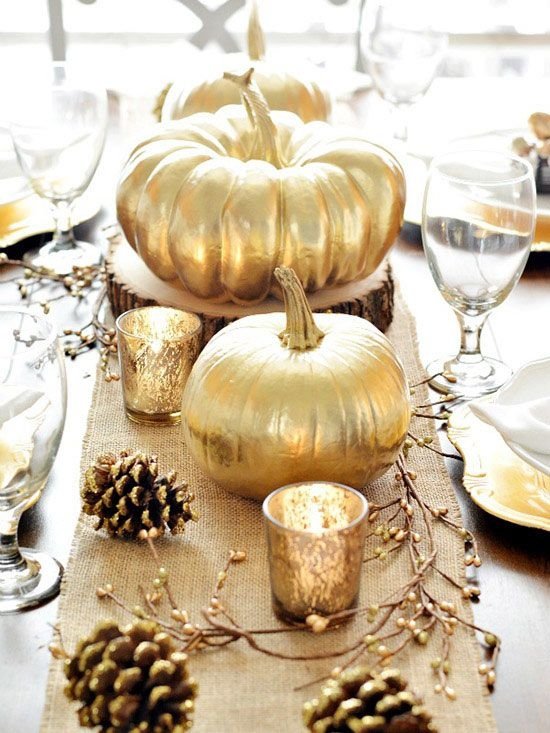 Gold pumpkins will add glam to your table.
3. Autumn Leaves Runner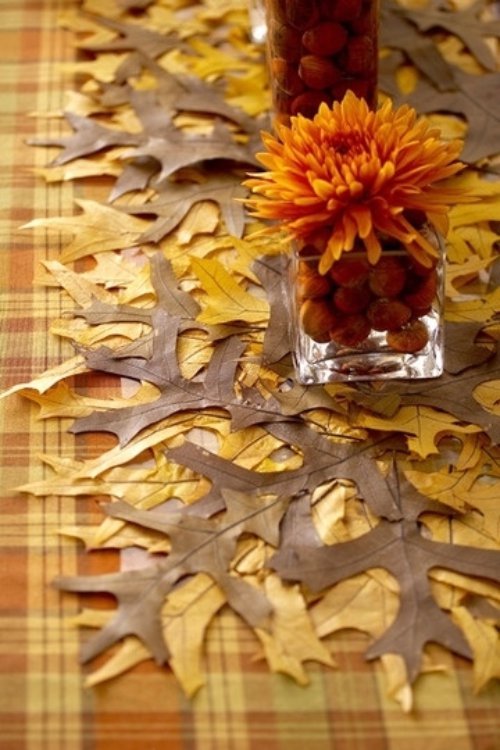 Use multicolored autumn leaves and clear cellophane to make a table runner that is not only gorgeous but functional as well!
4. Branches and Flowers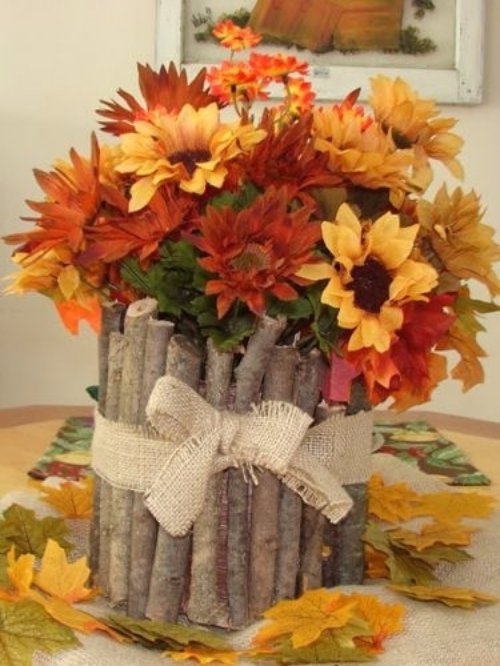 Using branches from your backyard, attach them to an empty coffee can with hot glue, then fill with flowers.
5. Thanksgiving Place Cards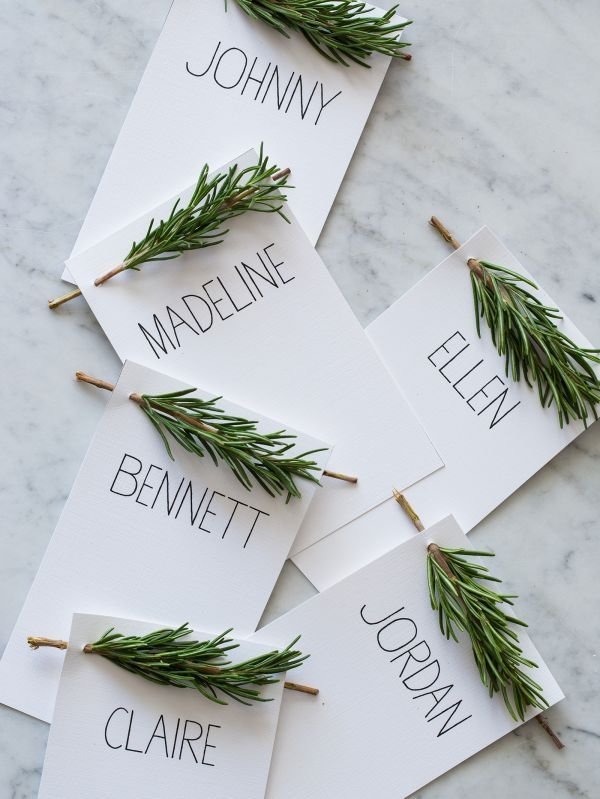 Simplicity that combines rustic charm with elegance.
6. Pumpkin Centerpiece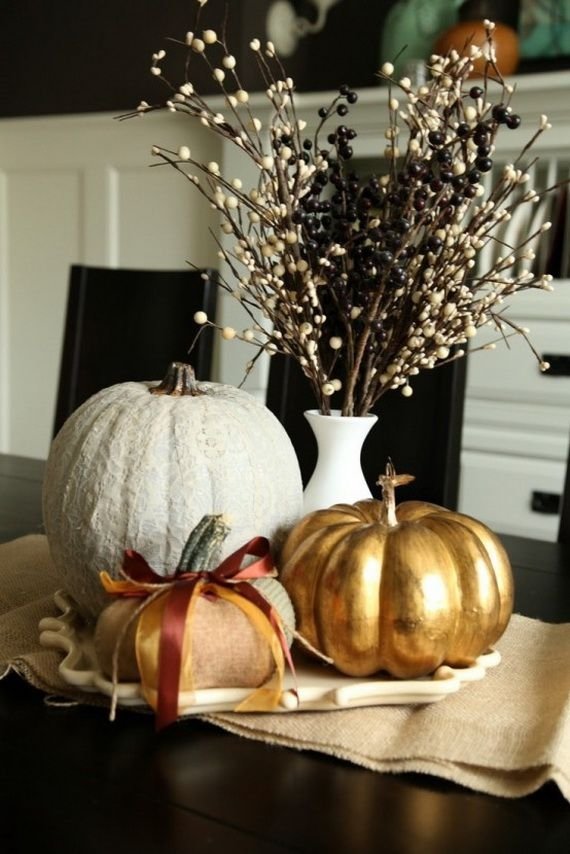 Pumpkins and burlap are a good mix.
7. Wine Glasses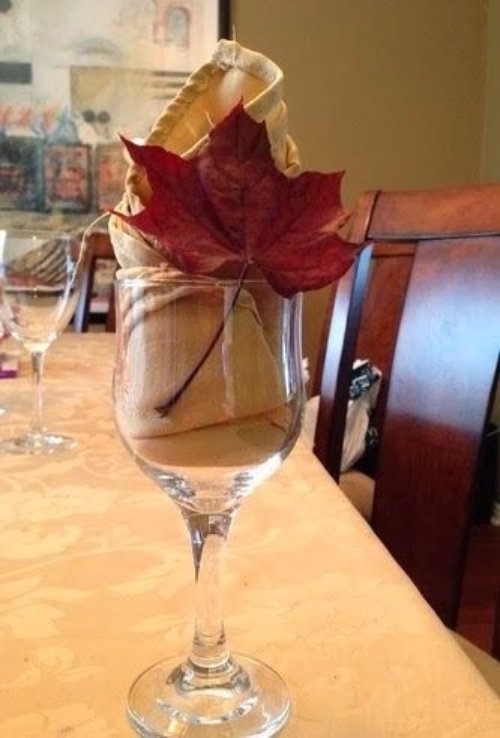 If you're on a budget, there are still easy but chic ways to style a Thanksgiving table.
8. Wheat Centerpiece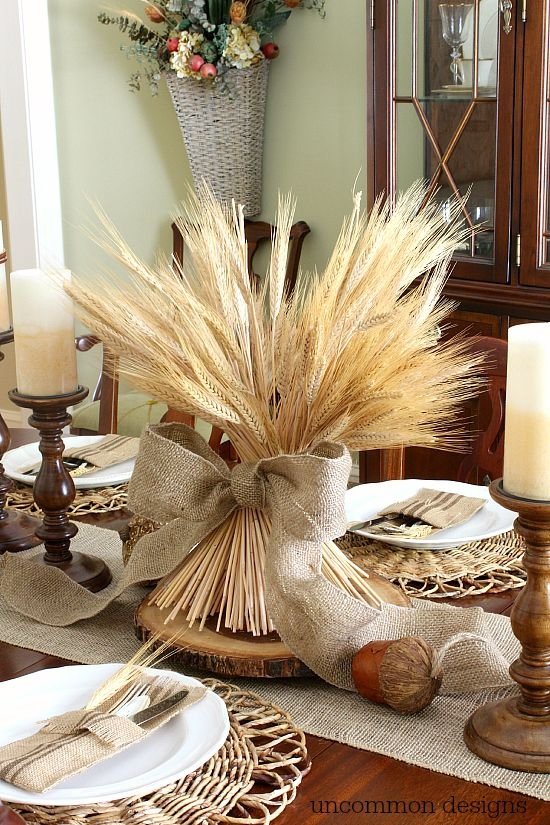 If you can get your hands on a sheaf of wheat, this is a great idea.
9. Planter Box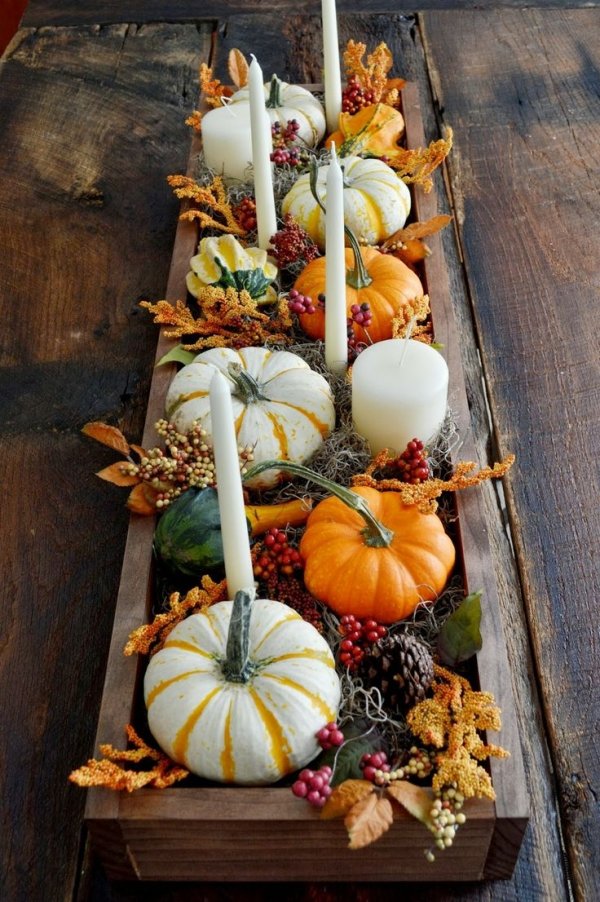 You know that old wooden box you've had lying around for simply ages?
10. Kraft Paper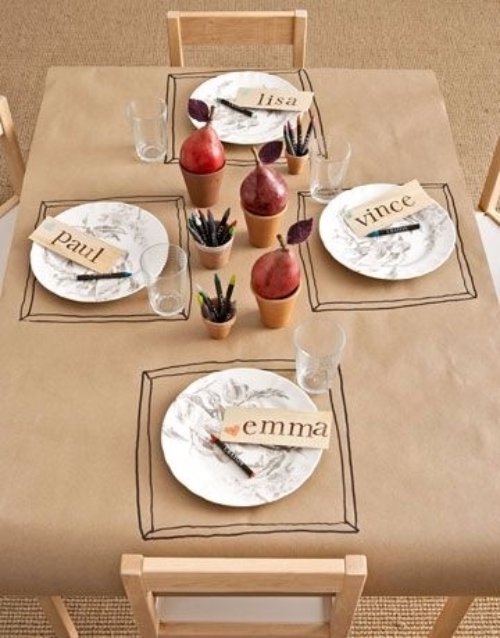 Now this is what you call super budget-friendly! Draw place settings on a kraft paper tablecloth and stick some fruit in pots!
11. Chocolate Brown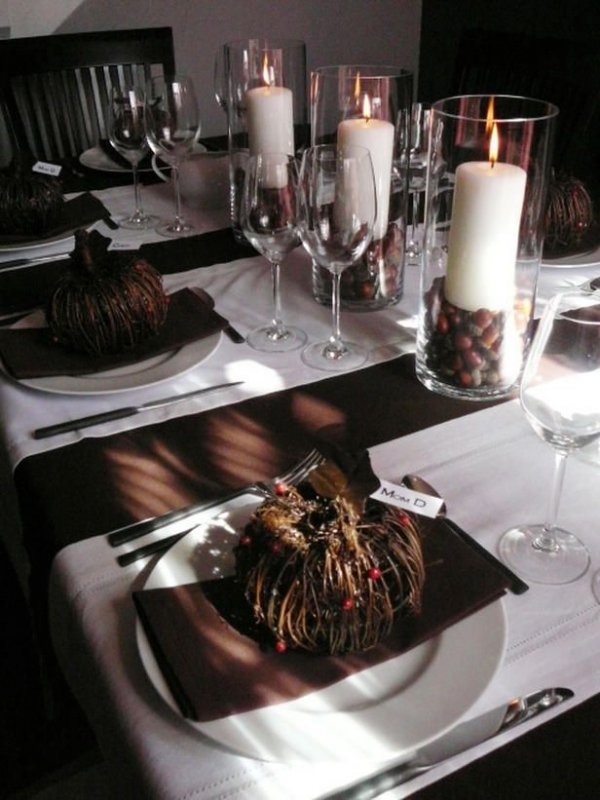 There's no rule that says you can't choose a different color to the traditional.
12. Organic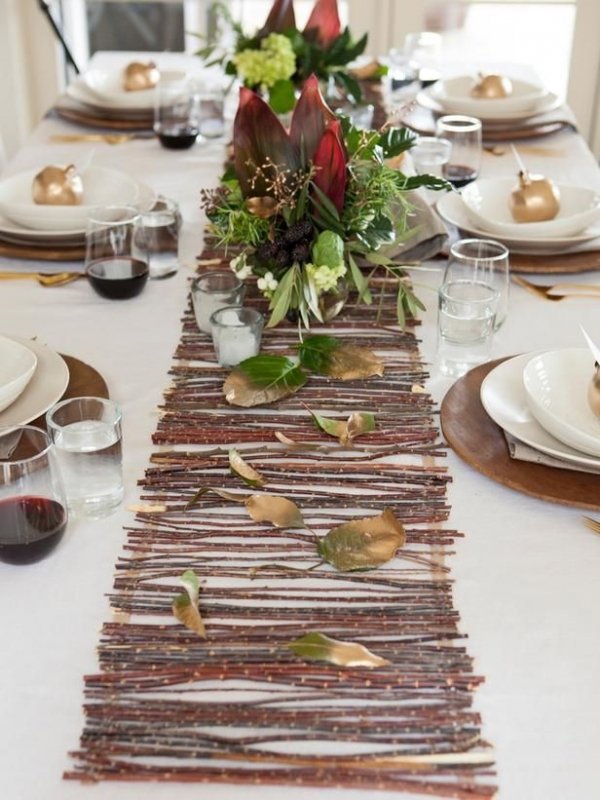 Make a runner from twigs and scatter some leaves.
13. The Kids Table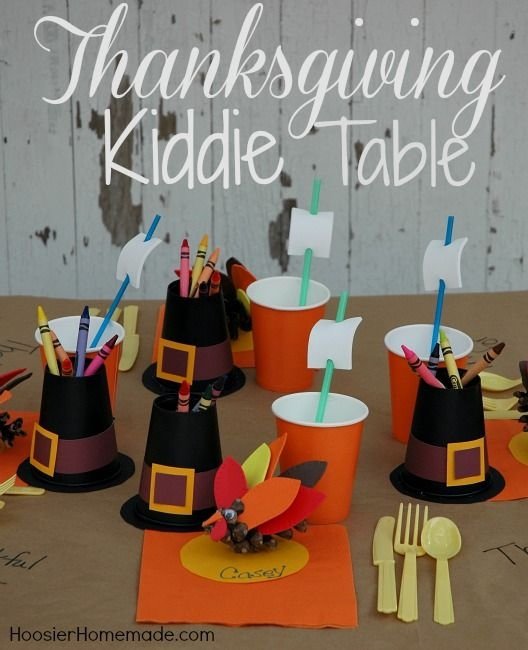 Get the kids involved in making the decorations for their table.
14. Napkins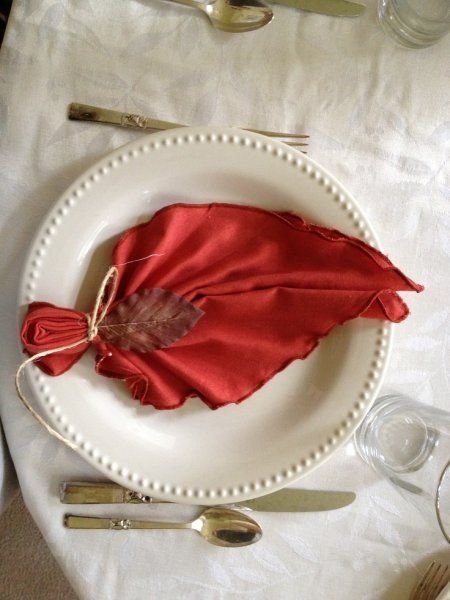 15. Linen, Rosemary and Twine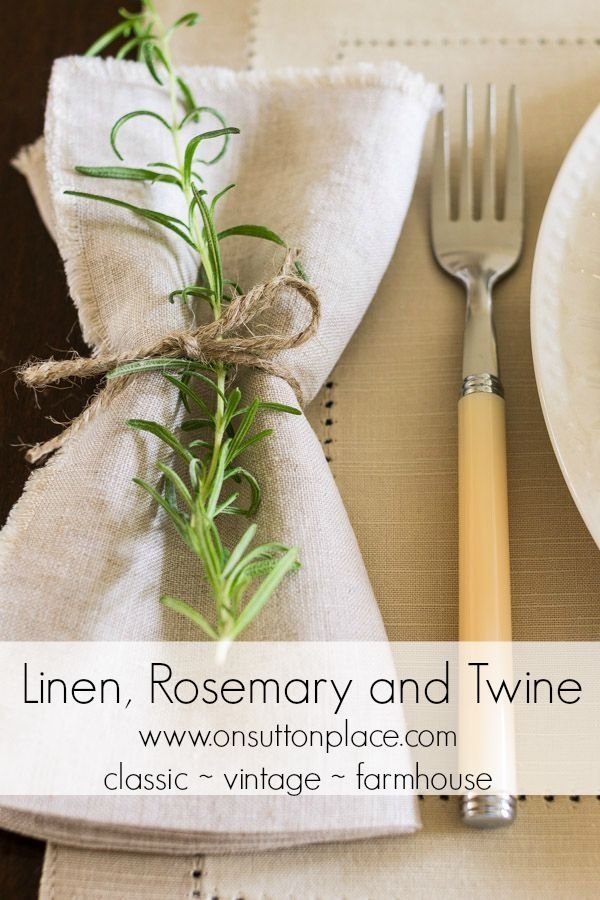 16. Nutty Condiments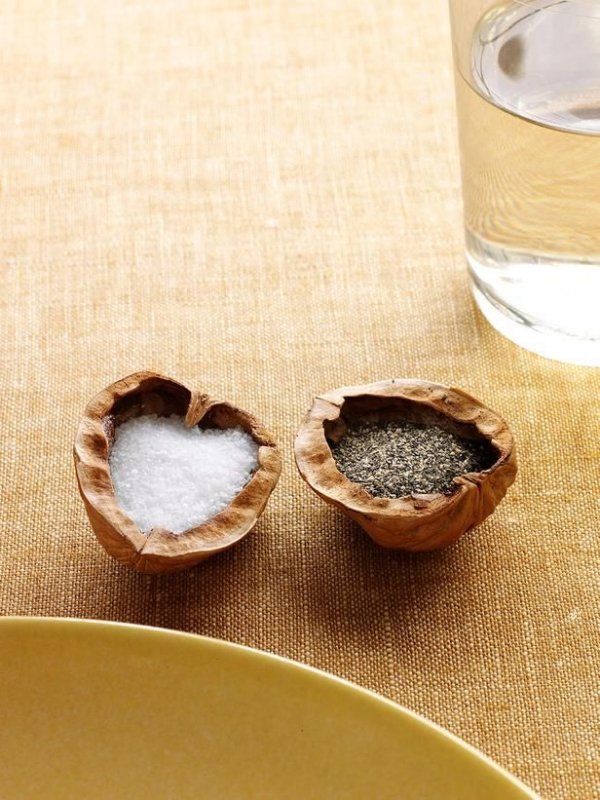 Halve a walnut and use the shells to fill with salt & pepper. Each person gets one at their place setting and you won't need to keep passing condiments around.
17. Paper Pumpkins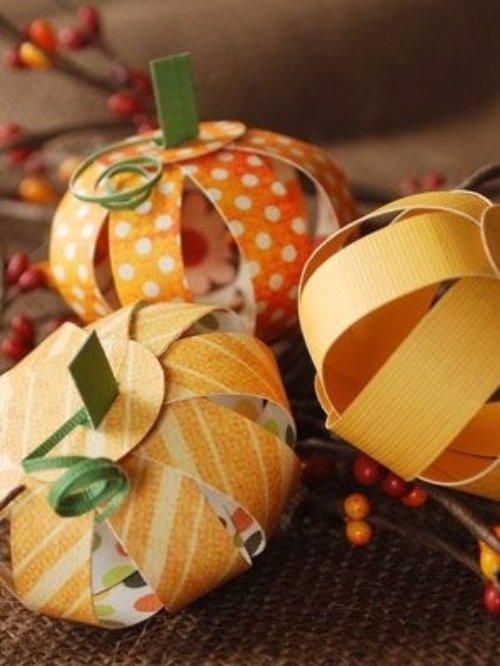 Handy at crafts? Get out your paper and scissors.
18. 5 Minute Centerpiece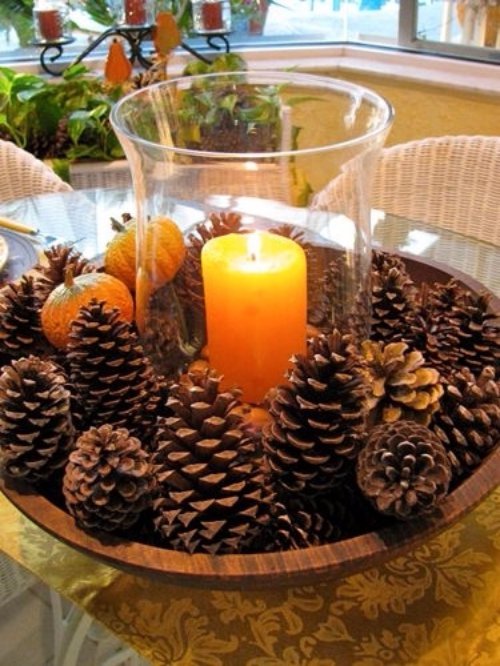 Put a hurricane vase with candle in a large bowl and surround with pine cones, fruits and mini pumpkins.
19. String of Blessings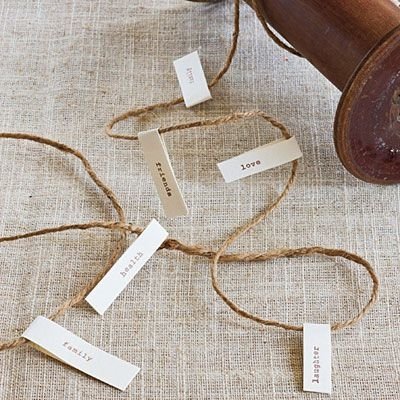 Print out individual words on tabs, and fold them around twine. Weave the twine along the center of the table and around the place settings.
20. Pumpkin Bling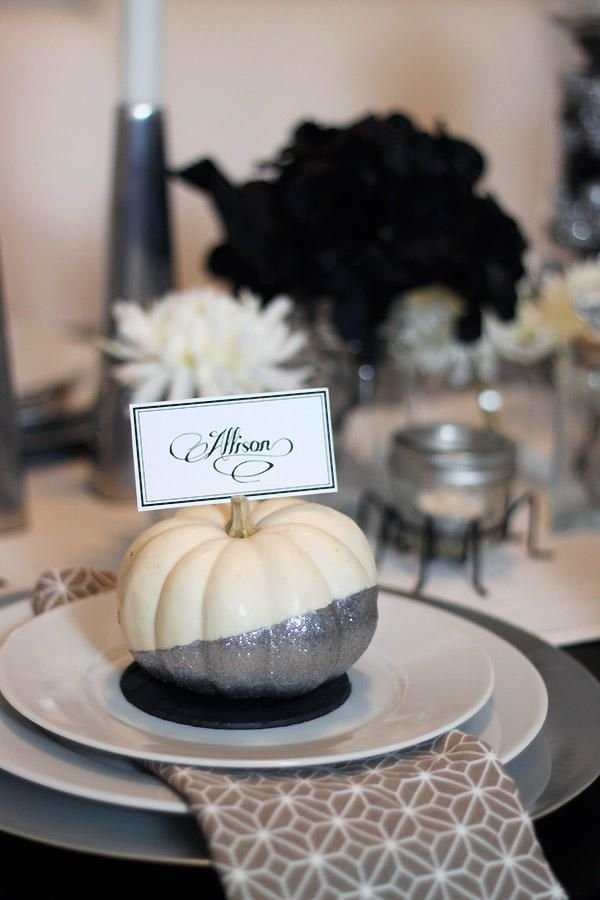 Go with a gold or silver theme.
21. Fall Centerpiece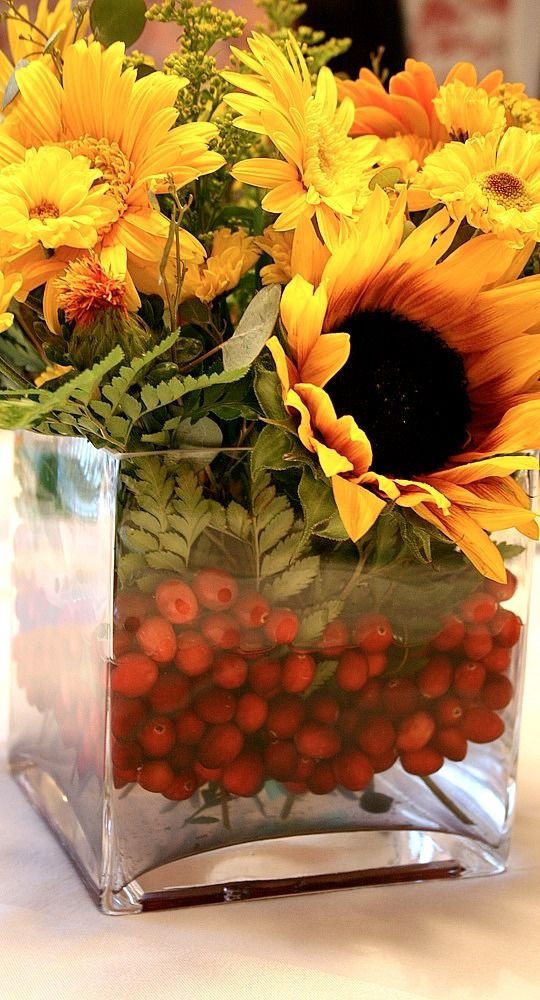 Fill a vase with cranberries and then fresh flowers.
22. Pumpkin Jars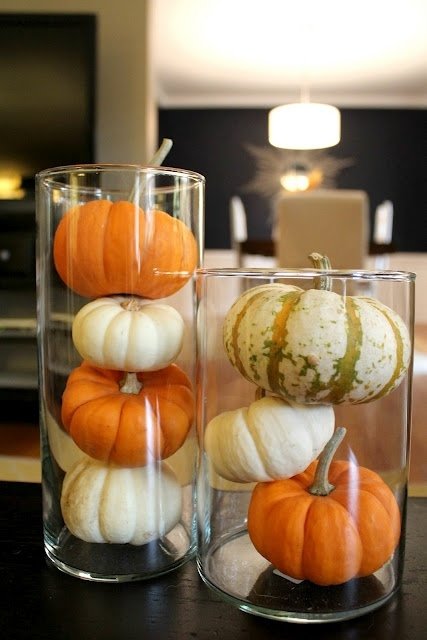 Buy faux pumpkins from the hobby store and use them year after year.
23. Assorted Pumpkins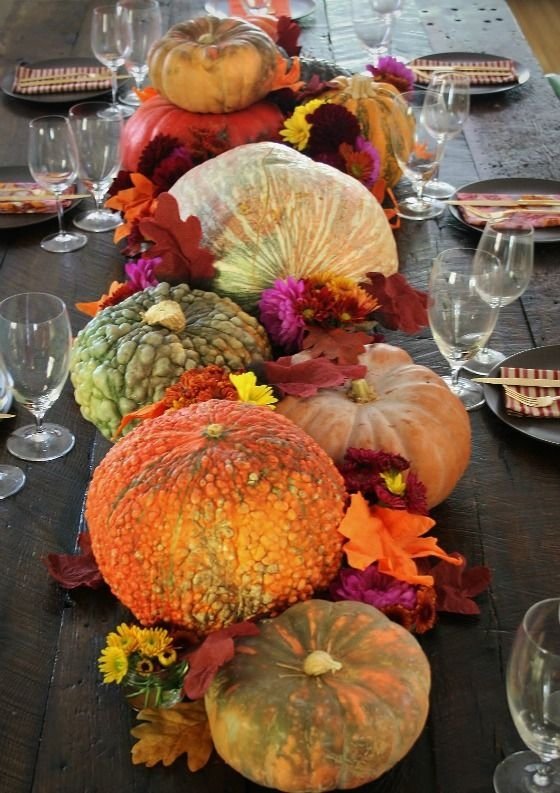 Make a centerpiece of interesting pumpkins and gourds interspersed with leaves and flowers.
24. Pumpkin and Gourd Candles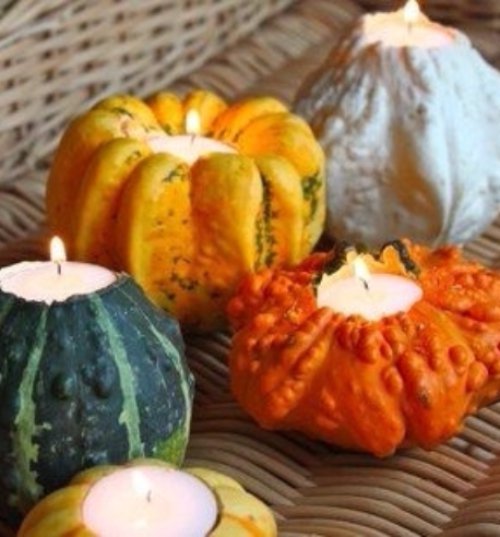 Cut out enough flesh to make room for a candle.
25. Peas and Beans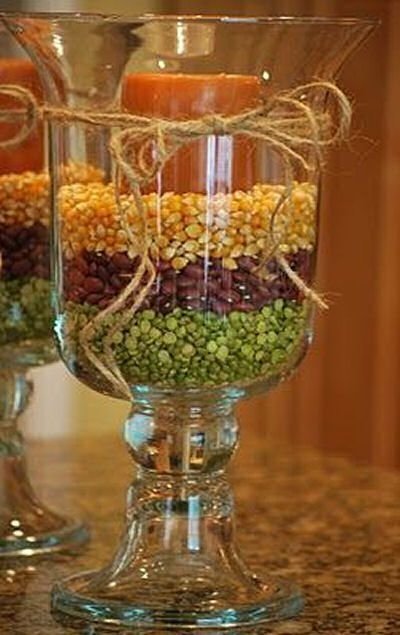 Use different beans, seeds and corn in layers.
26. Rosemary Wreath Napkin Holders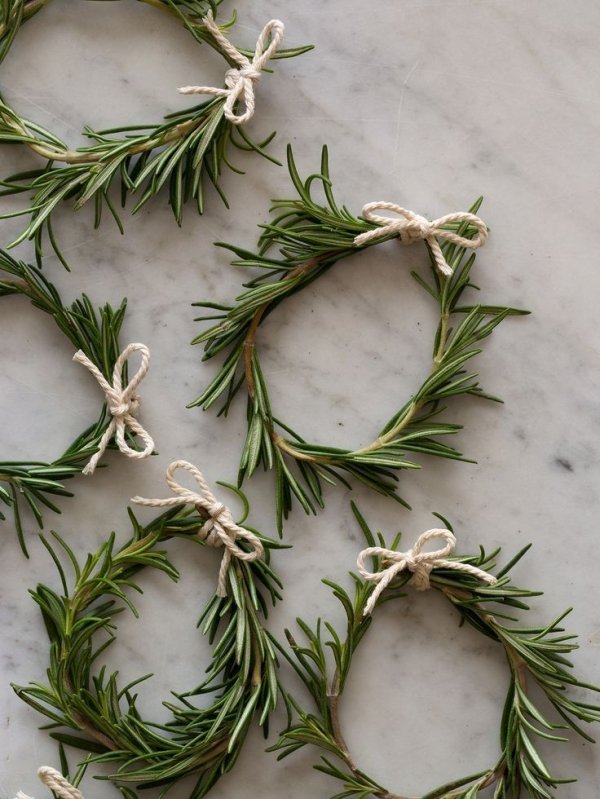 27. DIY Thanksgiving Table Runner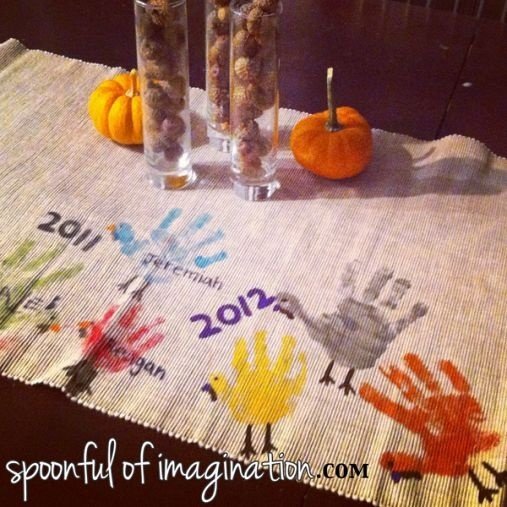 What a great family tradition to start this year.
28. Acorns and Flowers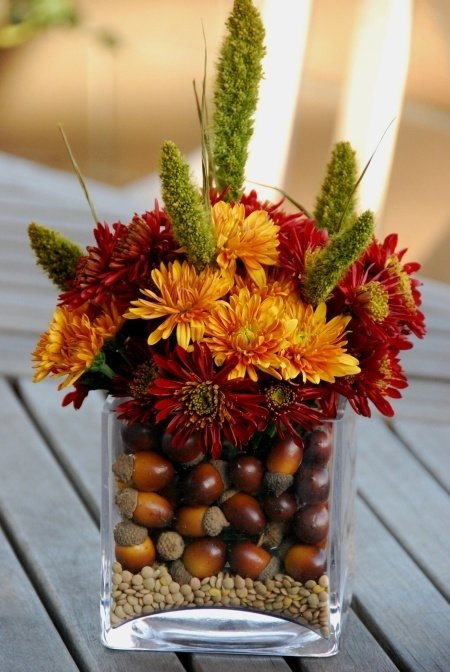 You can get beautiful artificial flowers that will last for years to come.
29. Wheat and Cranberries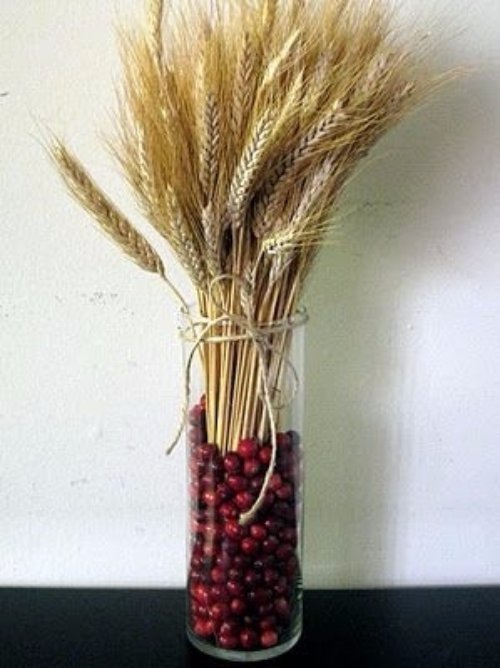 30. Pine Cone Turkeys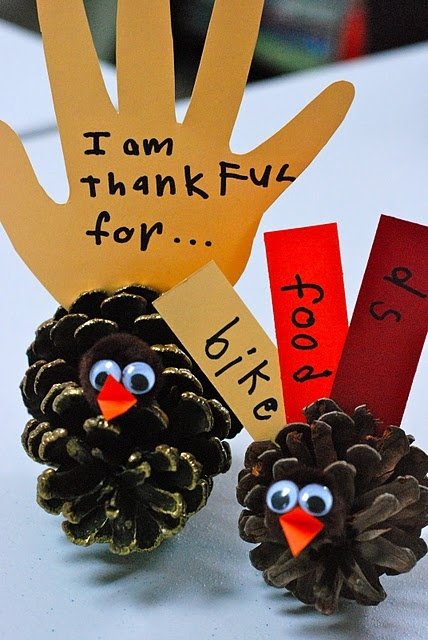 31. Gold Leaf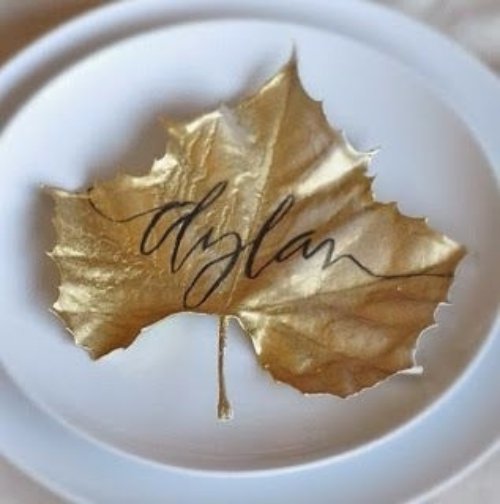 32. Burlap Table Runner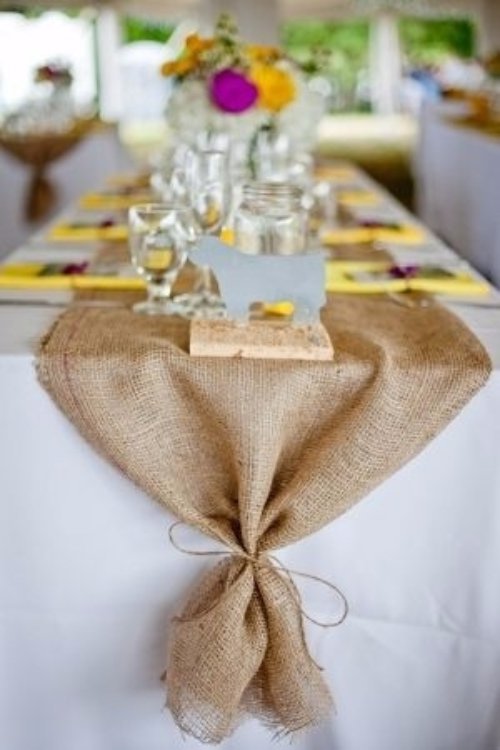 A simple burlap runner makes a really good base for any Thanksgiving table setting. Or ...
33. Printed Burlap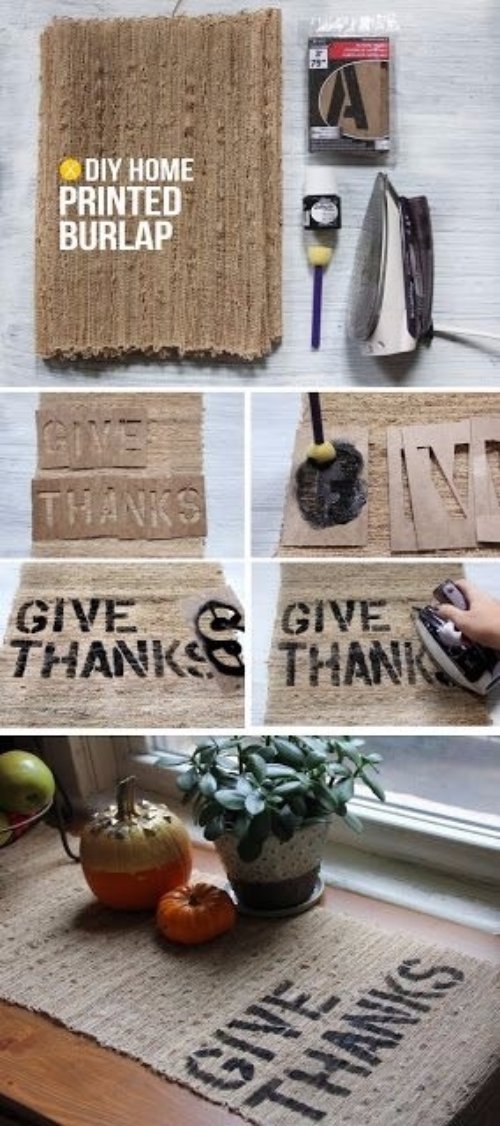 ... you could try your hand at stenciling.
34. Pine Cone Place Card Holder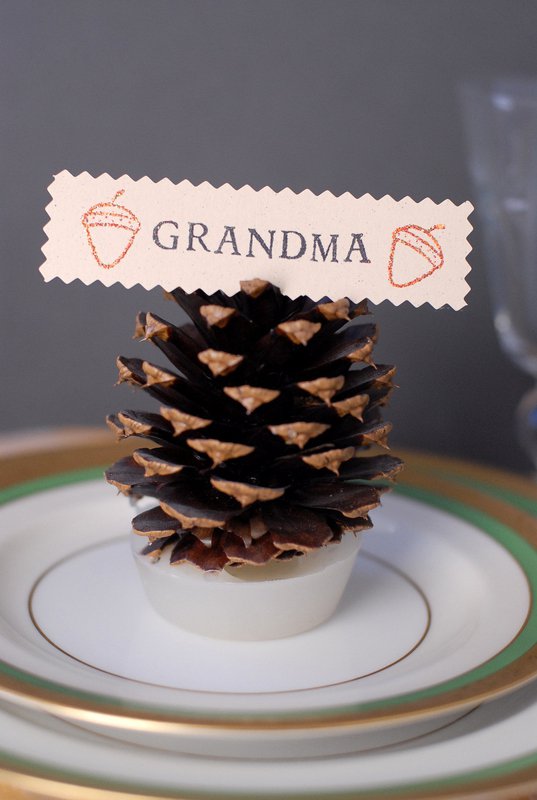 Good for Thanksgiving or Christmas
35. Drop Cloth Tablecloth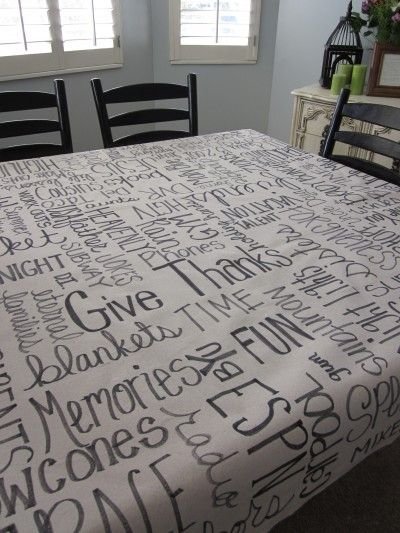 Write all the things you are thankful for.
36. Candle Apples
Did you know you can buy a gadget that makes holes the perfect size for tea lights?
37. Feast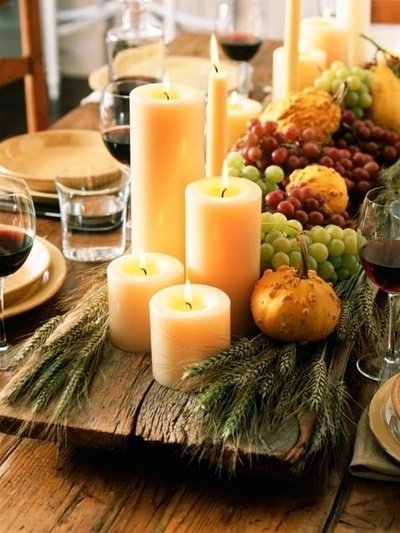 Mix up candles, fruit, grains and wood for a rustic banquet feel.
38. Pumpkin Candles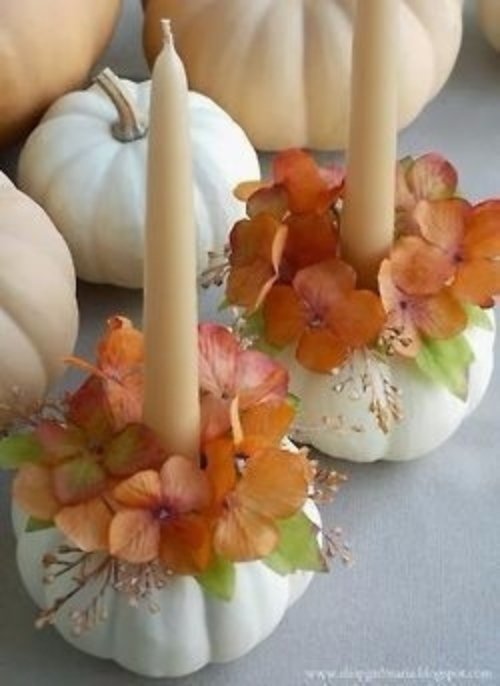 I like this one because of the use of tall candles.
39. Pile of Pumpkins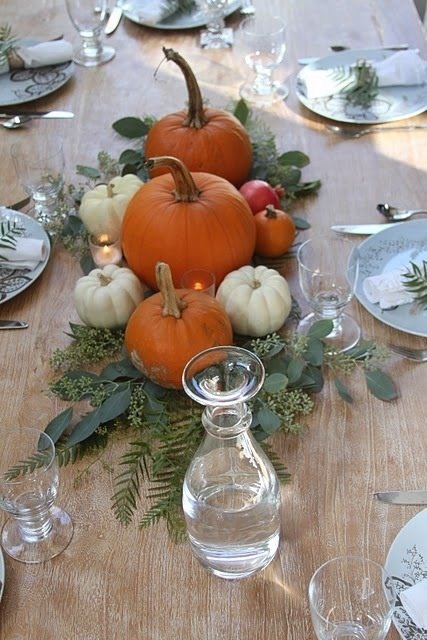 40. Wine Glass Candle Holder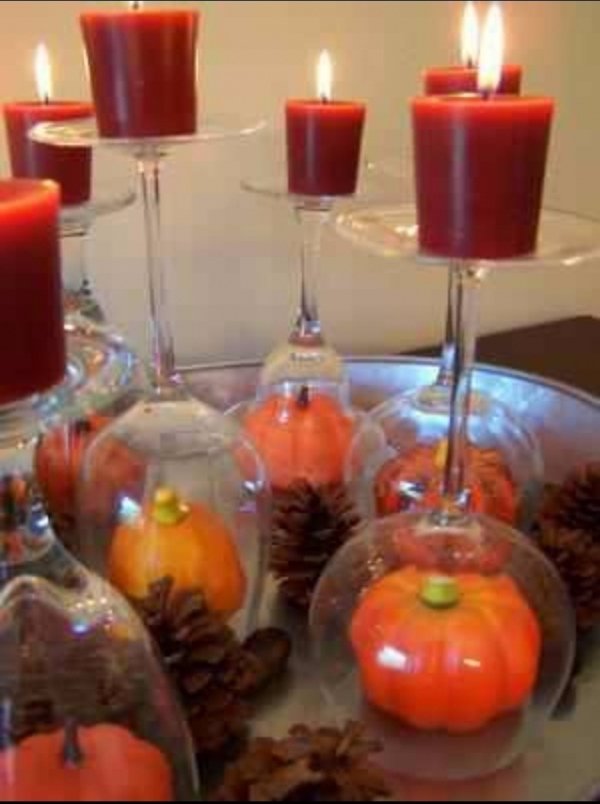 If you can't find mini gourds and pumpkins, use silk or fresh flowers in autumnal colors.
41. Tablescape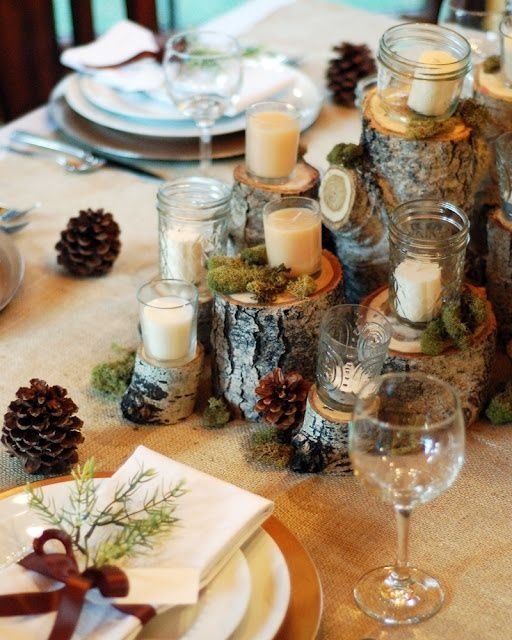 Bring the outdoors indoors.
There are so many things you can use to dress your Thanksgiving table - leaves, pumpkins, acorns, pine cones, grains, grasses, fresh and silk flowers, candles, wood, burlap etc - and the color palette is so easy to work with. Do you go to town with your Thanksgiving table?
Articles related to "Stunning 😱 Thanksgiving Table Inspo for Girls Looking 👀 for Fresh Decor Ideas ...":
Explore more ...